Donald Trump Calls Andrew Gillum a 'Thief,' Ron DeSantis a 'Harvard/Yale Educated Man'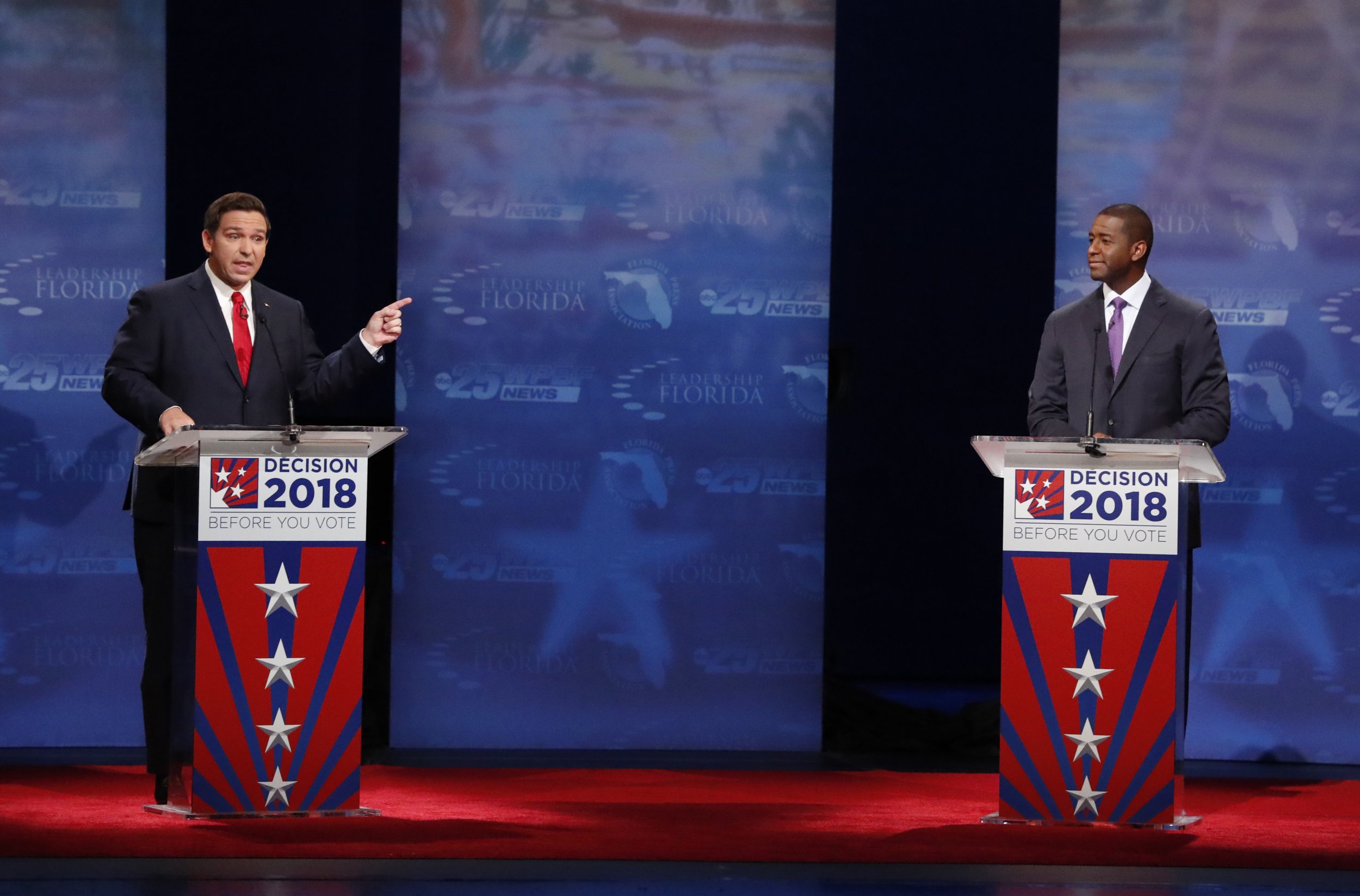 President Donald Trump once again weighed into Florida's gubernatorial race on Monday, labeling Democratic candidate Andrew Gillum a "thief" while calling his GOP opponent Ron DeSantis a "Harvard/Yale educated man."
"In Florida there is a choice between a Harvard/Yale educated man named [Ron DeSantis] who has been a great Congressman and will be a great Governor," Trump tweeted. "And a Dem who is a thief and who is Mayor of poorly run Tallahassee, said to be one of the most corrupt cities in the Country!"
The president is scheduled to host a political rally Wednesday evening in Fort Myers, Florida, for DeSantis as part of his nationwide tour stumping for Republicans in tight races. Trump, who endorsed DeSantis during the primary, has supported the candidate for some time. Trump's eldest son, Donald Trump Jr., held a campaign event for DeSantis in the summer.
Gillum responded by saying there was a "choice between having the courage to @ the person you are trash talking, or not." He added that Trump is "howling because he's weak."
In his attack on Gillum, the president was likely referring to a state ethics investigation that the Democrat has been entangled in over potentially accepting unreported gifts that were worth more than $100 during trips to New York and Costa Rica in 2016.
Through a release of documents by Tallahassee attorney Chris Kise last week, who is representing a former lobbyist and a former longtime friend of Gillum's, Adam Corey, it was revealed that Gillum may have knowingly accepted Broadway tickets to the show Hamilton from an undercover FBI agent posing as a business developer. The FBI agent was reportedly investigating public corruption in Tallahassee and posed as a potential business developer from the city, which is where Gillum was, and still is, mayor.
Through a second release of documents by Kise on Friday, which were provided to Newsweek, it appeared as though the same undercover agent might have paid for a $4,300 fundraising dinner for Gillum's political action committee, Forward Florida, in 2016. It's unclear whether the payment was ever made by the undercover agent to the campaign, but an invoice was sent by Corey to the undercover agent for the "dinner you graciously offered to sponsor."
Speaking on SiriusXM's Breitbart News Daily Monday morning, DeSantis claimed Gillum was "knee-deep in corruption."
Gillum has maintained there was no wrongdoing by him or his campaign during either incident.
DeSantis has also seen his fair share of controversy during his campaign. The former congressman, who resigned because of his aspirations to become the state's next governor, was accused of dog whistling after he told Florida voters in a Fox News interview to not "monkey this up" by electing Gillum. If elected, Gillum would become the state's first black governor.
On Monday, The Daily Beast unearthed a video from a DeSantis campaign event on Friday where the GOP candidate told a small group of supporters that Gillum "could be seeding, into our state government, you know, Soros-backed activists." DeSantis was referring to billionaire Democratic Donor George Soros, one of the top contributors to Gillum's campaign.
The timing of the jab came just days after Soros was one of 13 prominent Democrats or Trump critics who were targeted in a series of pipe bombs sent in the mail. Soros has also been the subject of numerous far-right and false conspiracy theories.
Update: This story has been updated to provide further information and to include a tweet from Andrew Gillum.