Michael Cohen's new attorney came out firing Monday against President Donald Trump and his personal attorney Rudy Giuliani, challenging Giuliani over a recent interview and claiming that the president and his lawyer together calling for the truth was an "oxymoron."
Lanny Davis, who previously worked for President Bill Clinton's administration and has staunchly defended Hillary Clinton following her 2016 loss to Trump, attacked Giuliani's call on Sunday for Cohen to cooperate with federal prosecutors and tell "the truth."
"Did @RudyGiuliani really say on Sunday shows that @MichaelCohen212 should cooperate with prosecutors and tell the truth? Seriously? Is that Trump and Giuliani definition of "truth"? Trump/Giuliani next to the word "truth" = oxymoron. Stay tuned. #thetruthmatters," Davis tweeted.
Davis was referring to Giuliani's appearance on ABC's This Week With George Stephanopoulos. "Michael Cohen should cooperate with the government," Giuliani said.
And when Giuliani was pressed about whether he had "concerns" about what Cohen could tell investigators, he stated firmly that he had none.
"Zero. None," Giuliani said. "As long as he tells the truth, we're home free."
Davis appears to have taken an approach similar to that of Michael Avenatti, the attorney for porn actress Stormy Daniels (real name Stephanie Clifford) who often uses social media to blast Trump, as well as Cohen and many of the president's supporters.
Avenatti reacted to Daniels' tweet later Monday morning, chiding him for saying "stay tuned" and stating Cohen should tell the public what he knows immediately.
"Stay tuned? This isn't some game or opp to tease for a reality show. This is serious business. If Cohen has info, he needs to share it NOW with the American people. He can't standby while more damage is done & then later claim he's a hero because he cut a plea to save himself," Avenatti tweeted.
The president as well as Giuliani have often used media interviews or social media to deride the special counsel's investigation into Russia's meddling in the 2016 election, usually referring to the probe as a "witch hunt" orchestrated by "13 angry Democrats" hell-bent on rectifying the 2016 election.
Davis also took to Twitter Saturday to explain why he was defending Cohen in a case brought by federal prosecutors in the Southern District of New York. He said Cohen's recent statements about wanting to tell the truth, and putting his family and country above anything else, made him "glad to help."
"Why is my representing @MichaelCohen212 as attorney of such high interest? Not about me. It's about a nation's yearning for truth. And Michael Cohen has said it's time for him to speak the truth and put his family and Country first. I am glad to help him," Davis tweeted.
Cohen's hiring of Davis, as well as his comments to ABC last week, increased speculation that Trump's former fixer was inching closer to cooperating with federal prosecutors rather than face serious charges stemming from his businesses and payments made to women, including Daniels, in order to secure their silence over alleged affairs with Trump.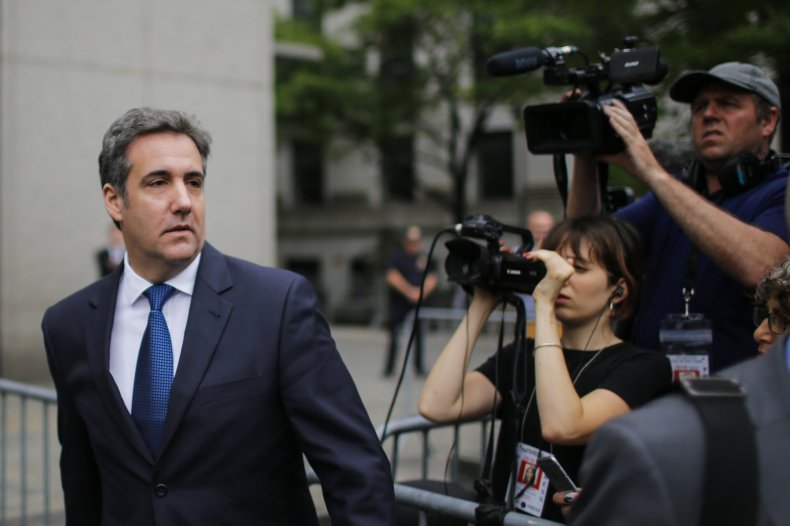 This story has been updated to include Michael Avenatti's response to Lanny Davis' tweet about President Trump and Rudy Giuliani.