Donald Trump Is Giving Mixed Messages on Russia's Annexation of Crimea, Senators Argue
Members of the Senate Foreign Relations Committee called attention to President Donald Trump's "mixed messages" about Russia's annexation of the Crimean peninsula on Thursday, and said that there are two U.S. foreign policies—one promoted by the Republican leader and one promoted by the rest of the administration.
"Is it still the policy of the United States to not recognize the illegal annexation and occupation of Crimea?" Senator Robert Menendez (D-N.J.) asked Wess Mitchell, the State Department's assistant secretary of European and Eurasian affairs, during the committee hearing.
"Indeed," Mitchell responded.
"I appreciate you saying that, because then I see the president go ahead and veto elements or say that the elements of the National Defense Authorization Bill or the President reject Senator-approved language of the non-recognition of the illegal annexation and occupation of Crimea, that's worrisome for some of us. I don't know why you would do that when it's the policy of the administration. Also the Secretary of State has said that. And then you get a different message," Menendez said.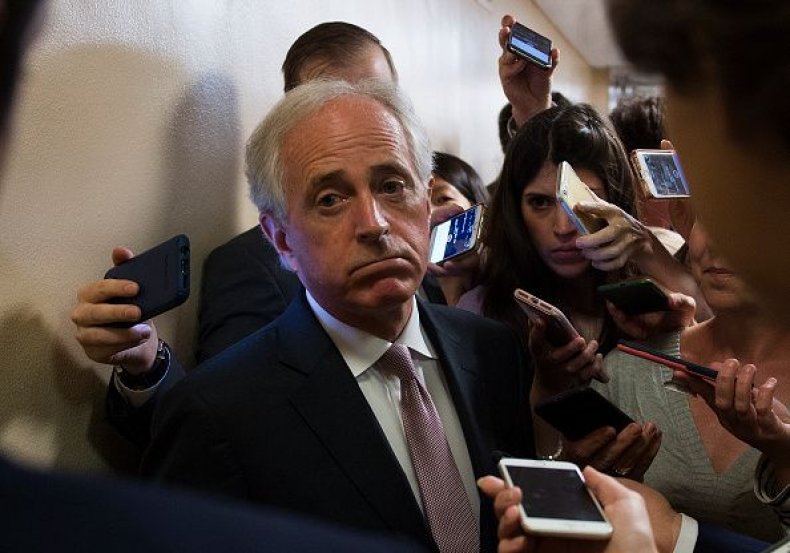 Section 1241 of the 2019 National Defense Authorization Act, passed by Congress in early August, prohibits the Defense Department from using funds for any activity that recognizes the sovereignty of Russia over Crimea. The secretary of defense or secretary of state could, however, issue a waiver arguing that such recognition is in the national security interest.
Senators also raised questions about the president's ability to waive sanctions against Russian entities when he deems it appropriate.
"Sanctions without discretion is in my mind the antithesis of strategy. You have to have the flexibility," Mitchell told the committee, in defense of the policy.
Senators said they had heard complaints from U.S. allies in Europe about a lack of senior-level coordination within the U.S. government on sanctions. Senator Jeanne Shaheen (D-NH) asked Mitchell if the U.S. is supporting British foreign minister Jeremy Hunt's call for greater sanctions on Russia.
"Yes we are," Mitchell responded.
At the same hearing, Marshall Billingslea, assistant secretary of terrorist financing at the State Department, said it is crucial that U.S allies in Europe work to combat money laundering from Russia in order to pressure the country to stop malign activities abroad.
"It's incredibly important that we message very clearly to a number of European allies, particularly Eastern European allies, that it is crucial that they shore up their anti-money laundering regimes, and that they clamp down and tighten down on how they regulate money coming out of Russia," Billingslea told the senators.
"There is an enormous amount of money that is still being exfiltrated from Russia by both organized crime and cronies surrounding [Russian President Vladimir] Putin. So to the extent that you have parliamentary relations with Latvia, or that you engage with Cyprus and Malta and other offshore jurisdictions, I think reinforcing that message would be incredibly helpful."