Trump Tells Progressive Democrats 'Go Back' to Native Countries, Says Pelosi Will Help Deport Congresswomen
President Donald Trump railed against a group of progressive Democratic congresswomen on Saturday, appearing to claim they all "originally came from countries whose governments are a complete and total catastrophe" and that they should "go back" to "fix" those countries before worrying about U.S. politics. However, almost all of the lawmakers Trump targeted were born in America.
Trump used his Sunday morning to lash out at the so-called "Squad" of progressive House members, including Ilhan Omar of Minnesota, Rashida Tlaib of Michigan, Ayanna Pressley of Massachusetts and Alexandria Ocasio-Cortez of New York, claiming they are from "corrupt" and "inept" foreign countries. The president incredulously railed against these elected members of government for "viciously telling" Americans "how our government" should be run.
Update: Ocasio-Cortez responded to Trump later Sunday, "Mr. President, the country I 'come from,' & the country we all swear to, is the United States. But given how you've destroyed our border with inhumane camps, all at a benefit to you & the corps who profit off them, you are absolutely right about the corruption laid at your feet."
Only one of the implied congresswomen, Omar, is foreign-born despite Trump's vitriolic suggestion the House members return to their "broken and crime infested" home countries. Omar was born in Somalia, but fled the African nation with her family as a young child, and has been living in the U.S. since she arrived 1992 at the age of 10.
Despite this fact, Trump tweeted Sunday: "So interesting to see 'Progressive' Democrat Congresswomen, who originally came from countries whose governments are a complete and total catastrophe, the worst, most corrupt and inept anywhere in the world (if they even have a functioning government at all), now loudly and viciously telling the people of the United States, the greatest and most powerful Nation on earth, how our government is to be run. Why don't they go back and help fix the totally broken and crime infested places from which they came. Then come back and show us how it is done."
The president tried to capitalize on rifts among Democratic Party members of the House by pitting Speaker Nancy Pelosi against the congresswomen, particularly in the wake of the two groups splitting over a recent border funding bill.
"These places need your help badly, you can't leave fast enough. I'm sure that Nancy Pelosi would be very happy to quickly work out free travel arrangements!" he continued.
Despite Trump's claim, only 13 members of the current House and one U.S. Senator — Democrat Mazie Hirono of Hawaii — are immigrants, accounting for a little more than 2 percent of the 535 total voting members in both chambers of Congress.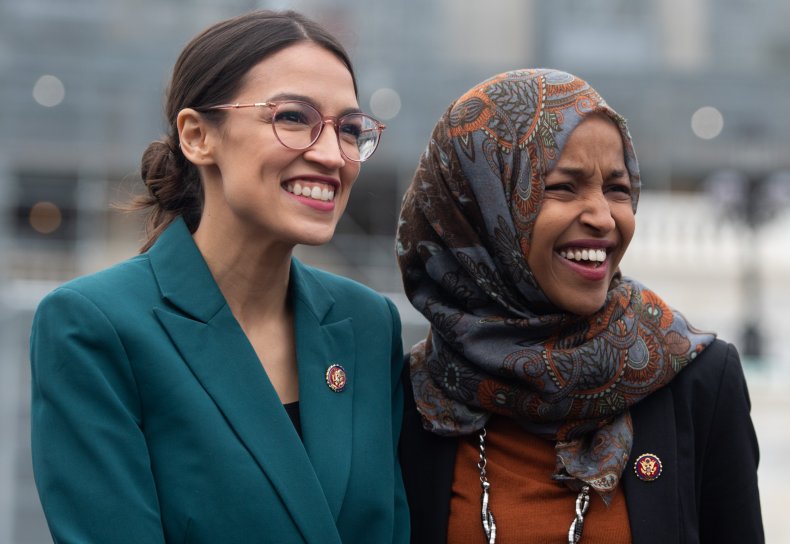 In total, there are 52 immigrants and children of immigrants serving in the House and 16 currently in the Senate, according to a tabulation by the Pew Research Center.
In January 2018, Trump reportedly complained about immigrants coming from "s**thole countries" in a closed-door rant in the Oval Office, asking "Why do we want all these people from 'sh**hole countries' coming here?"
Of the other congresswomen, Pressley was born in Cincinnati, Ohio, Ocasio-Cortez was born in New York City and Tlaib was born in Detroit. During former President Barack Obama's tenure in office, Trump led repeatedly disproven "birther" demands calling into question whether Hawaii-born Obama was native to America.
An earlier version of this story inaccurately stated that Ayanna Pressley had been born in Chicago. In fact, she was born in Cincinnati, Ohio, and then grew up in Chicago.