Trump Campaign Staffer Claims 'Twitter Is Lying,' Says President Never Tweeted 'Go Back' To House Democrats
A Trump 2020 campaign director claimed the president did not tell several U.S.-born Democratic congresswomen to "go back" to their native countries — by re-sharing the exact tweet in which the president wrote those very words.
Matt Wolking, Deputy Director of Communications at Donald J. Trump for President, Inc., claimed Sunday afternoon that Twitter was "lying" and that President Donald Trump had not, in fact, suggested just hours earlier that several progressive House Democrats should go back to their "crime infested" countries of origin. Trump administration critics immediately called out what appears to be a blatant attempt by a staffer to cover up Trump's own very public, harsh words.
"Anyone who says the president told members of Congress to go back to where they came from is lying. He told them to, 'Then come back and show us how it is done,'" Wolking tweeted Sunday, showing a screenshot of Trump's earlier Sunday tweets.
"So @TwitterMoments is lying," Wolking continued, claiming the social media platform's news feature was surfacing words other than the president's own. "Fake news @pbump wrong again," he tweeted later Sunday afternoon.
Of the "Squad" members Trump referenced-- New York congresswoman Alexandria Ocasio-Cortez, Michigan's Rashida Tlaib, Minnesota's Ilhan Omar and Massachusetts' Ayanna Pressley — only Omar was born in a foreign country, Somalia, though she has lived in the U.S. since she was 10 years old.
Trump's initial Sunday morning tweet directly contradicted Wolking's claim, "Why don't they go back and help fix the totally broken and crime infested places from which they came. Then come back and show us how it is done. These places need your help badly, you can't leave fast enough. I'm sure that Nancy Pelosi would be very happy to quickly work out free travel arrangements!"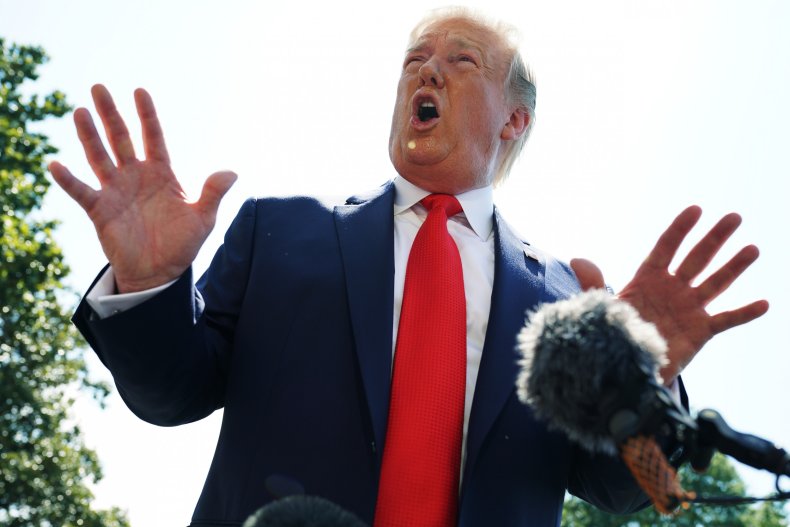 "If your job is to put a good face on Trump's tweets, here's where you land," replied a stunned Philip Bump of The Washington Post. "The guy who says that telling someone to leave and then come back doesn't count as telling them to leave also claims that Trump not presenting evidence when making a claim doesn't count if evidence comes out later."
"This is astonishing gaslighting. He's pretending the sentence right before the highlight simply doesn't exist," National Review Institute Fellow David French responded, retweeting Wolking's commentary.
"Quoting Trump is now 'lying' according to Trump's 'Director of Rapid Response'," wrote frequent Trump critic Judd Legum, of Popular Information.
"The Trump rapid response team is under the impression people can be tricked with some sneaky highlighting of the one non racist clause in the tweet," mocked Tim Miller of The Bulwark.
Wolking responded to several journalists calling out his contradiction, "As usual, members of the media are misleading Americans by using selective quotes and not telling the whole story," he replied Sunday afternoon.
Former Republican and Trump nemesis, Michigan congressman Justin Amash had previously blasted Trump as a "racist" for suggesting several of the U.S.-born women "go back" to so-called "crime infested" countries: "To tell these American citizens (most of whom were born here) to 'go back' to the 'crime infested places from which they came' is racist and disgusting," Amash tweeted Sunday.
House Speaker Nancy Pelosi also piled on the criticism of Trump's "go back" demand, "When @realDonaldTrump tells four American Congresswomen to go back to their countries, he reaffirms his plan to "Make America Great Again" has always been about making America white again. Our diversity is our strength and our unity is our power."
As of Sunday afternoon, Trump's "go back" tweets toward the congresswomen remain, although the morning rant is buried under more than 20 retweets from unverified well-wishers and several seemingly random videos ripping on liberals or urging support of his presidency.