Donald Trump Angrily Slammed Golf Club Into Bag, Hit His Head and Asked if His Caddy Did It: Report
It's not uncommon for golfers to forcefully shove a club into a bag in anger—for the average player, golf is a game of frustration with fleeting moments of excellence. It seems President Donald Trump is no exception to that.
On Thursday, Politico published an excerpt from Commander-in-Cheat: How Golf Explains Trump, a forthcoming book from sportswriter Rick Reilly. The title explores Trump's relationship with golf—as well as his relationships with his current caddy—identified as A.J—and his former-caddy-turned-staffer Dan Scavino. One brief passage details a funny exchange that came as a result of Trump's anger at a wayward drive.
Reilly wrote in the Politico excerpt:
"One time, after a bad drive, Trump slammed his driver back in his bag, as guys will do, and wasn't really watching what he was doing, and the driver ricocheted back and hit Trump in the head. 'A.J.?'Trump asked, pissed. 'Did you just hit me in the head with my own driver?'

'Sir, Mr. Trump, why would I do that?' A.J. said. 'You're my president!'
The excerpt from Commander-in-Cheat looks at A.J.—described as "a 60-something ex-Marine"—bending over backward to praise Trump as they loop around one of his home courses, Trump National Golf Club Washington. Trump is, of course, an avid golfer whose company owns more than a dozen courses, including elite courses like Trump Turnberry in Scotland and Trump National Doral in Florida.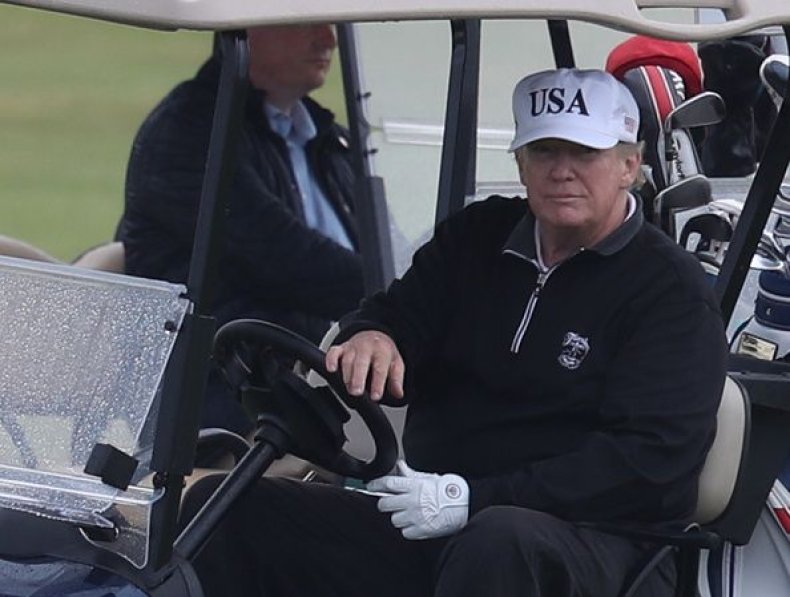 While he used to criticize President Barack Obama for golfing—and even claimed he wouldn't have time to hit the links if he made it into the White House—Trump been a frequent golfer during his time as commander in chief. Through two years in office, he visited a golf course in the daytime more than 150 times and was documented golfing on at least 70 occasions.
The president even reportedly paid to have a swanky simulator installed in the White House. Citing a White House official, The Washington Post reported in February that Trump shelled out $50,000 to have a top-of-the-line simulator put into the White House.