Donald Trump Golf Course Hit by Vandalism, Theft and Threatening Message Since President Took Office
Donald Trump's golf course in Aberdeenshire, Scotland, has been the site of several reported crimes over the last four years—including instances of vandalism, fire-raising theft and a threatening message.
Data obtained by Newsweek under the Freedom of Information Act shows the majority of the reported crimes at the Trump International golf course on the Menie Estate in Aberdeenshire took place after President Trump was elected in November 2016.
Between the start of the 2015/16 financial year and August 31 this year, Police Scotland recorded 11 crimes at the golf course—including "urinating etc" and one incident filed under "threats and extortion."
Six of the 11 reported crimes took place after Trump was elected in November 2016, and four others were recorded earlier that year as he secured Republican primary victories and the presidential election campaign entered full swing.
A Police Scotland spokesperson said "recorded crimes" did not always involve charges being brought against individuals or imply that anyone charged in connection with reported incidents was guilty.
Responding to Newsweek's freedom of information request, Police Scotland said attributing data to a specific address was "problematic" for them, explaining that "any incident or crime recorded at a specific address or within a limited area may have taken place outside the boundary or in the general area surrounding it," giving the example of a road outside the property.
But the Scottish force still identified recorded crimes and incidents referring to the Trump International golf course in Aberdeen.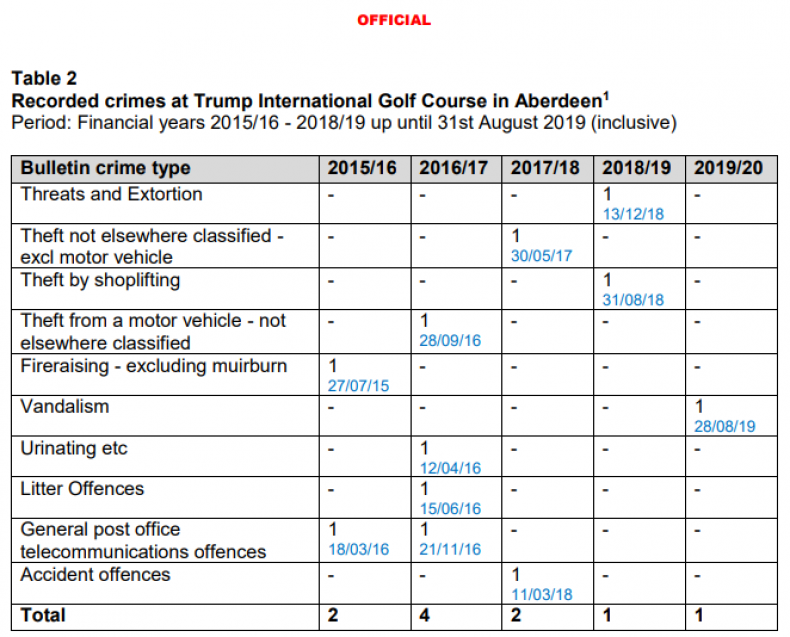 The most recent recorded crime by Police Scotland was an instance of "vandalism" on the 28 August this year. Police Scotland said the case involved "vandalism to a vehicle belonging to a member of the public parked at the site," and said inquiries were ongoing.
Four other crimes were recorded by police in 2017 and 2018, with one case of "threats and extortion" being recorded in December last year. The other incidents noted by officers in that period were one accident offense and two reports of theft—including one "theft by shoplifting" and a "theft not elsewhere classified."
The case filed under "threats and extortion" was reported after a "threatening message" was received by staff at the golf course. Authorities said "there was not believed to be any credible threat," and noted that no charges had been made relating to the incident.
Almost half of reported crimes at the course since April 1, 2015 took place the following year, with police noting one urinating case, a litter offense, theft from a vehicle and two "post office telecommunications offenses" in 2016.
Asked for more information about the two reported "telecommunications offenses," Police Scotland said offensive phone calls were reported in both March and November 2016 and inquiries found "no credible threat" from the earlier call.
The urinating case reported on April 12, 2016 relates to a then 61-year-old woman, who was photographed urinating and later brought a privacy case against Trump International, which she lost in 2017.
The woman said in a Facebook post that she was being charged under a law that dishes out fines for urinating in a way that could cause "annoyance to any other person," but the Scottish procurator fiscal, or public prosecutor, did not take further action against her.
Police Scotland recorded a separate incident of "fire-raising" at the Trump International golf resort in Aberdeen around nine months before the urination case.
Responding to questions about the incident, a Police Scotland spokesperson said: "A report was received on 27 July, 2015, of a reported fire-raising whereby a small patch of grass was found damaged. Inquiries were carried out to establish the nature of the incident."
The force again clarified that no charges had been brought against anyone in relation to the fire-raising.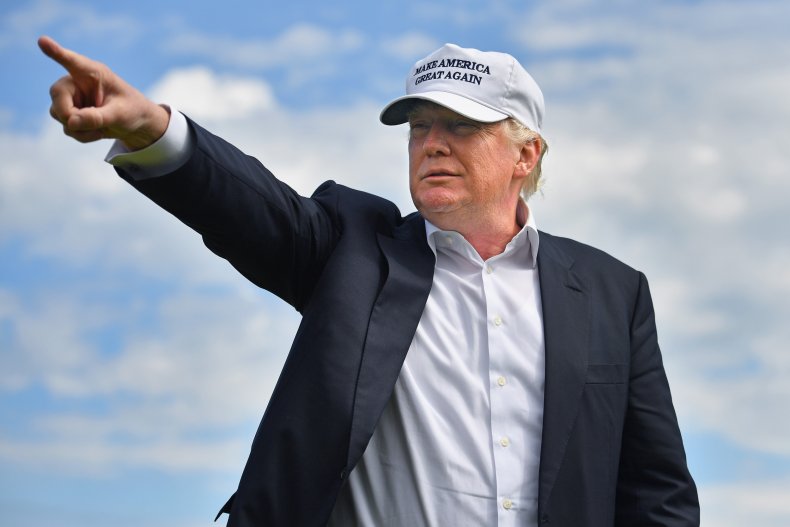 Speaking to Newsweek, local councilor and Trump critic Martin Ford said: "Compared with the monthly crime reports I see for other parts of rural Aberdeenshire, there appears to be a relatively high incidence of 'crime' associated with Mr. Trump's property.
"It's impossible to know the seriousness of the occurrences from the figures, as reported incidents have simply been placed in police categories. But, for example, the single statistic for 'urinating etc' refers to a retired woman with a medical condition who was caught short while, perfectly legitimately, walking in the dunes.
"Few people would regard what she did as a 'crime' at all and it is difficult to imagine any other landowner contacting the police in such circumstances. So the figures may be inflated by reporting of minor matters which would perhaps not usually come to the attention of the police."
The data obtained by Newsweek also showed Scottish police deployed at a public demonstration at Trump International Golf Course in Aberdeen on July 13 last year, the same day the President Trump arrived in Scotland for a U.K. visit.
The Press and Journal, a local newspaper covering the city of Aberdeen and surrounding areas, reported on July 14, 2018 that "hundreds of protesters" demonstrated outside the Trump golf course and noted a "heavy police presence" at the protest.
Trump International Scotland has not responded to repeated requests for comment on this story.
The Ferret, a Scottish investigative news website, gave an idea of the strength of security at Donald Trump's Aberdeenshire golf course in 2017.
It disclosed that private security staff hired by the golf resort had handcuffs in their possession and that police patrolled Trump International's Menie estate course 263 times between mid-2009 and December 2012.
The Aberdeenshire golf course has been the cause of some controversy since its development. Many have raised fears about its impact on the local environment, with thousands sending objections to newly approved plans that will see 500-homes built on the estate.
Earlier this year the Scottish Natural Heritage conservation group said the course had "partially destroyed" sand dunes within a site of special scientific interest (SSSI) status.
The Evening Express reported that the announcement led one local councilor to call the impact on the dunes "environmental vandalism."
In 2010, The Scotsman reported that vandals opposed to plans for the Aberdeenshire golf resort damaged the site of the course to the tune of £50,000.
Trump Property in U.S. Target of Vandalism
There is a history of property linked to Donald Trump in the U.S. being vandalized by the president's critics—particularly since he launched his political career ahead of the 2016 elections.
As recently as last month, a man in New Jersey was charged with doing around $17,000 of damage to the Trump National Golf Course in the state. Time magazine reported that 26-year-old Richard J. McEwan performed "doughnuts" in his car on two occasions at the course.
Back in 2016, the Trump International Hotel in Washington D.C. was tagged with graffiti as a man scrawled "Black Lives Matter" and "No Justice, No Peace" on an entrance wall.
Donald Trump's Hollywood star has also been put through the ringer, with one man going so far as to destroy the star with a pickax last year and another targeting it with a sledgehammer in 2016.
It was reported in 2017 that environmental protesters carved a message into the fifth-hole lawn of the Trump National Golf Club in Los Angeles after climbing a fence.