Trump Has Been on a Golfing Binge in Florida, Delaying White House Duties
Just about every single American should be able to agree Donald Trump broke at least one promise he made before his 2016 presidential election victory: no golfing.
"If I were in the White House … I don't think I'd ever see any of the places that I [own]," Trump said along the campaign trail last year, citing one of his golf courses in Florida. "I just want to stay in the White House and work my ass off, make great deals. Right? Who's going to leave? Who's going to leave?"
Related: Here's How Donald Trump Could Actually Be Impeached
Trump in 2017 could easily answer the questions he had just last year: as president, he's left the White House more so than any other in modern American history during their first year in office, racking up an exorbitant bill for taxpayers as he continues a golfing binge at Trump-branded properties across the country.
The president spent Saturday morning golfing at the Trump International Golf Club in West Palm Beach, his fourth consecutive day visiting the club this week and his 102nd day visiting one of his own properties since assuming the Oval Office.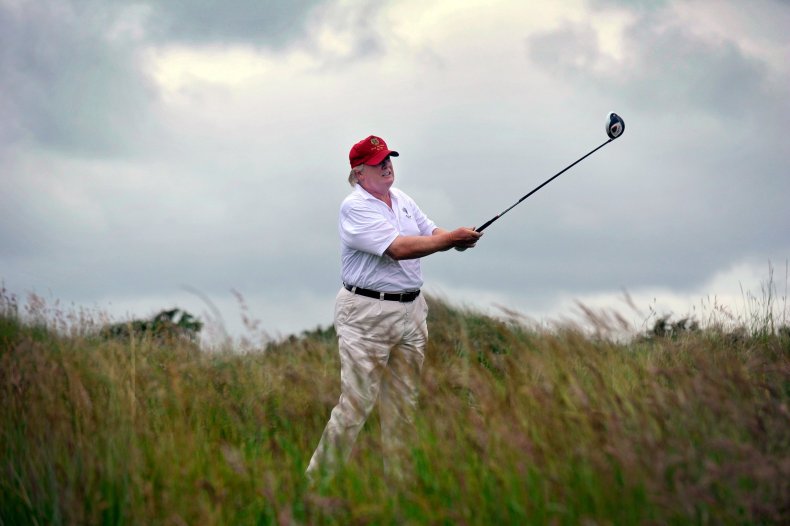 Despite having visited the club each day since Wednesday, the president only began admitting he was golfing at the exclusive course on Friday, when he tweeted that he would "quickly" play with professional golfers Tiger Woods and Dustin Johnson before taking care of his presidential duties from his private Mar-a-Lago resort.
"After Turkey call I will be heading over to Trump National Golf Club, Jupiter, to play golf (quickly)," Trump wrote Friday, before departing in the presidential motorcade minutes later for his golfing excursion. "Then back to Mar-a-Lago for talks on bringing even more jobs and companies back to the USA!"
Images of the president and his golfing partners quickly reached social media, with videos showing Trump and his extensive security detail walking throughout the course.
The golfing trip may have been more than a relaxing getaway for Trump, whose private business organization is working on a foreign contract to build the Trump World Golf Club Dubai, with a course designed by Woods himself. Trump claimed he was heading back to his resort to work on creating new American jobs immediately after golfing, though it remains unclear whether he and Woods discussed his company's international project, which will include thousands of villas, as well as an elite community complete with restaurants, nurseries, shops, schools and a lake.
"This unparalleled development provides luxury living on a grand scale, with over 2,000 hotel apartments of varying size, all offering exceptional views of the development, the lake and the lush fairways of the Trump World Golf Club Dubai," a brochure of the site reads. "The properties are fully furnished and our staff is available to you 24 hours a day, to ensure that you enjoy premium service on a par with the world's finest hotels."
Thought it appears Trump has continued a more than healthy schedule of golfing and visiting his own properties as president, perhaps that's not the only promise he broke to the American people: as president, he said his company would not work with foreign entities.