How Many Times Has Trump Played Golf? Not Enough to Know He Shouldn't Drive a Cart Across the Green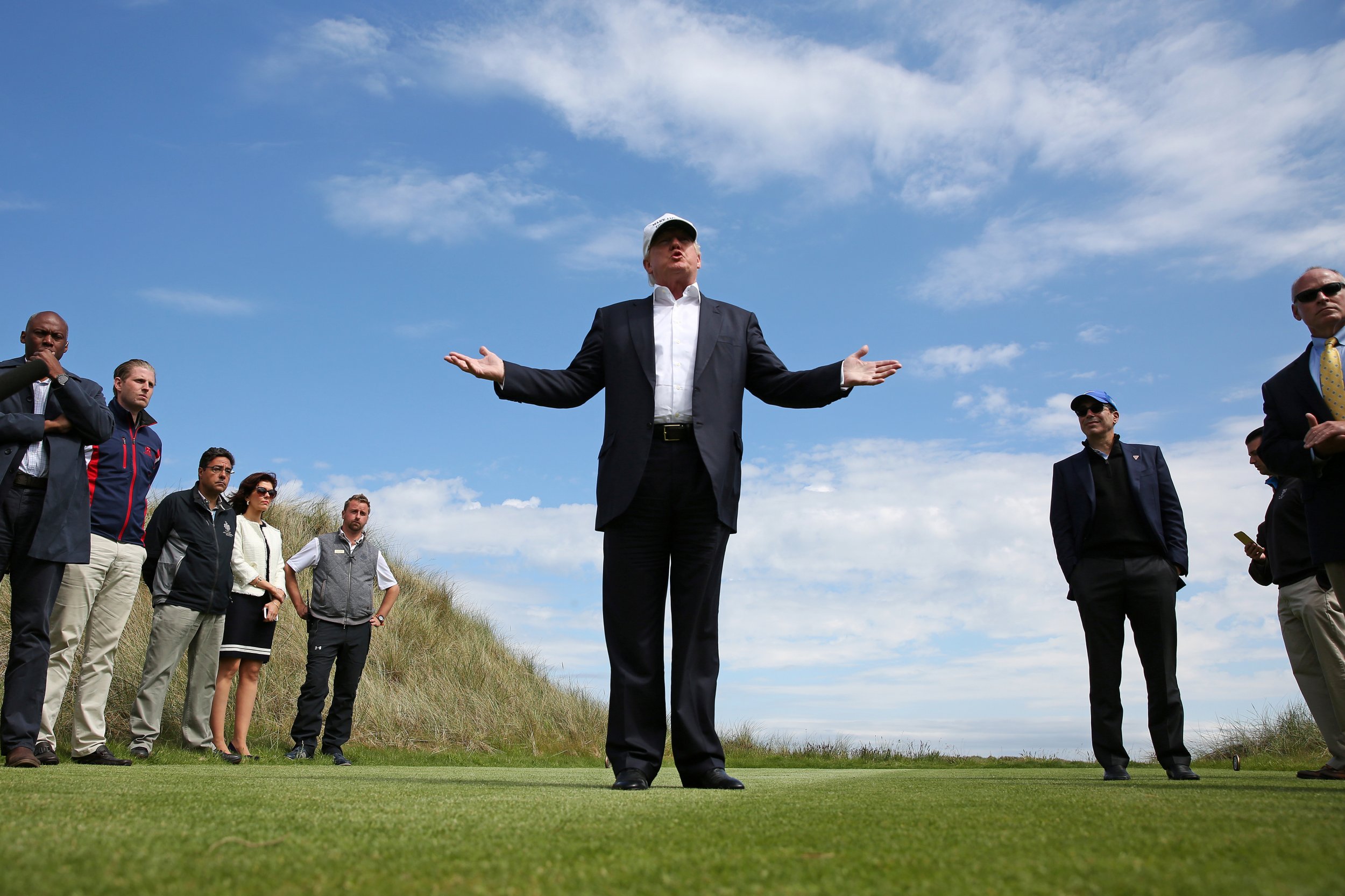 Golf is a game of unwritten rules. When a player takes a divot out of the fairway, that divot should be replaced. When one is about to take a shot, other players should be silent. And when players needs to get from one side of the green to the other, they certainly shouldn't drive their freaking golf carts across the freaking putting surface.
You won't find this last guideline in many books of golf etiquette, though, because careening across the green in a cart would have been unthinkable to most if the president of the United States hadn't done it during a weekend round of golf.
As Twitter user @MikeNFrank notes with the video, Trump does own the golf course on which this abhorrent breach of etiquette takes place—Trump National in Bedminster, New Jersey—but this is hardly an excuse. Greens are the most delicate parts of a golf course, and their surfaces must be treated with care so that the roll of putts is true. This is why when an approach shot strikes the green, the player must repair the indentation made by the ball. This is why a player should never step in another player's putting line, as the weight could create an impression that disturbs the roll of the putt. To carelessly careen a heavy golf cart containing a heavy person across the green is laughably disrespectful, to the course and to everyone who will play the hole afterward.
Related: Trump's New York golf club seeks to avoid tax bogeyman
Despite repeatedly criticizing President Barack Obama for the time he spent on the golf course while in office, Trump has spent an unprecedented amount of time at his golf courses since taking office. According to a tracker put together by NBC News, of the 153 days Trump has been in office, 29 have been spent at his golf properties. During his first 100 days in office, Obama made one trip to a golf course, compared to 19 for Trump. This despite Trump saying during a campaign rally in October: "I'm going to be working for you. I'm not going to have time to play golf."
Trump's disrespect for the game goes beyond driving his cart across the green. According to an investigation by The Washington Post, the president has been known to cheat, as well. Though it was denied by Trump, the Post recounted a story by then-Sports Illustrated managing editor Mark Mulvoy about playing golf with Trump in the '90s. When Mulvoy disputed a claim by Trump that a ball that mysteriously appeared on the green was his, Trump said that "the guys I play with cheat all the time" and that "I have to cheat just to keep up with them."
The Post also points out a 2012 interview with musician Alice Cooper in which he says that Trump is the worst celebrity golf cheat. Golf-loving sportswriter Rick Reilly, meanwhile, once said Trump was "an 11 on a scale of one to 10" when it comes to cheating, and that he once took a gimme on a chip shot. Trump again disputed the accusation, calling Reilly a "terrible writer."
Despite his reputation as a cheater, the Post reports that most of the people who played with Trump enjoyed doing so, and noted that he always tipped caddies well. This may be because the caddies at his courses were known to make sure to improve Trump's lies after he hit unfavorable tee shots.