What Photos of Donald Trump on Golf Course Reveal
Photos of Donald Trump at one of his golf courses have emerged, amid speculation about an unannounced visit to the Washington, D.C. area.
There were several unsubstantiated rumors, ranging from the former president about to be arrested, to a visit the Walter Reed hospital for health reasons after Trump's plane landed at Dulles Airport in Virginia on Sunday evening, an airport frequently used by those heading to the nation's capital.
Trump eventually wrote on Truth Social on Monday that he was working at his Trump National Golf Club Washington, D.C. resort in northern Virginia.
Photos from the Associated Press news agency emerged showing Trump and several other people, including his son Eric, gathering at the course.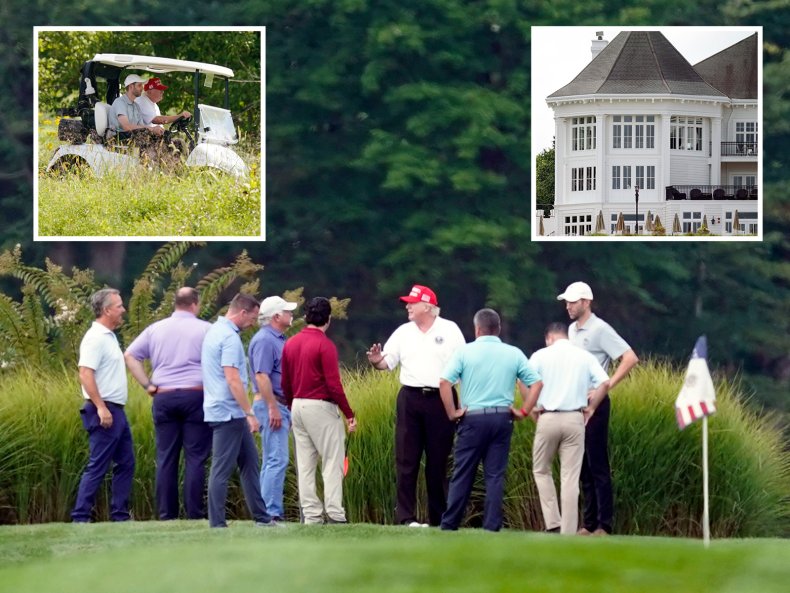 The photos show the former president and Eric Trump riding together on a golf course, with at least four carts containing others present at the gathering alongside.
Other pictures show Trump, his son, and seven other men appearing to have a conversation on the course.
There had been reports that Trump arrived at his resort to play golf, although none of the photos show him or any of the people he was with holding clubs or actually playing.
It is unclear if Trump or anyone else he was with teed off on Monday.
There were also rumors that those who joined Trump at the course were House Minority leader Kevin McCarthy, Fox News host Sean Hannity and former congressman turned CEO of Truth Social Devin Nunes.
However, none of these men were at the course with Trump on Monday.
Some of those who are reported to be among the group of men pictured along with Trump include Larry Glick, executive vice president for development at the Trump Organization, Brad Enie, the director of grounds for the Trump National Golf Club, and the course's general manager, Joe Roediger.
There are no indications as to what the apparent meeting between the former president and those who work at The Trump Organization and his courses was about.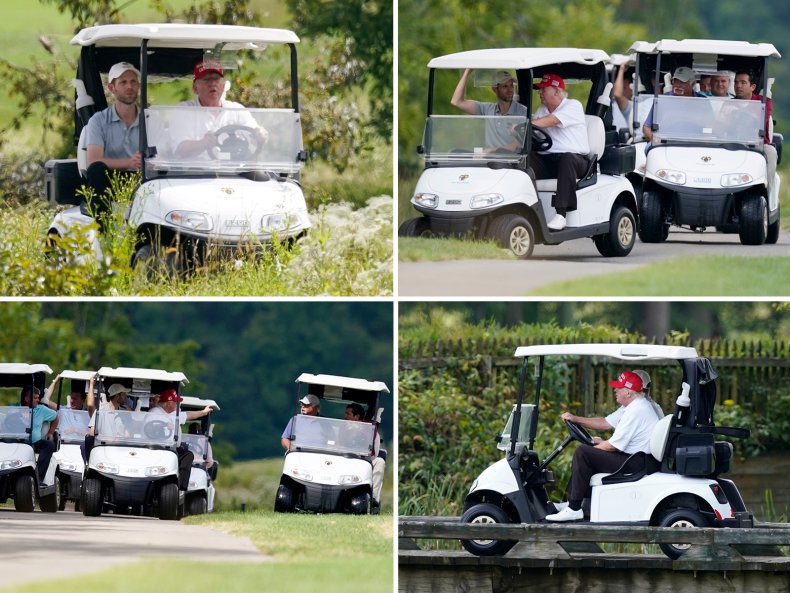 While Trump often played at the course just outside D.C. while president, he has only returned to Washington on one occasion since he left the White House in January 2021.
In July, Trump gave a speech at the end of the America First Policy Institute's two-day "America First Agenda" summit.
Speculation that Trump was traveling to D.C. to face indictment grew as he is currently under a federal investigation into claims he mishandled classified documents seized by the FBI from his Mar-a-Lago resort.
He also faces a number of other charges in relation to the January 6 attack and his alleged attempts to overturn the 2020 election results.
The Walter Reed hospital could not confirm or deny the former president was checking in, citing patient privacy.
The Trump Organization has been contacted for comment.