Trump Told Obama to Golf With Republicans but He Hasn't Golfed With a Single Democratic Lawmaker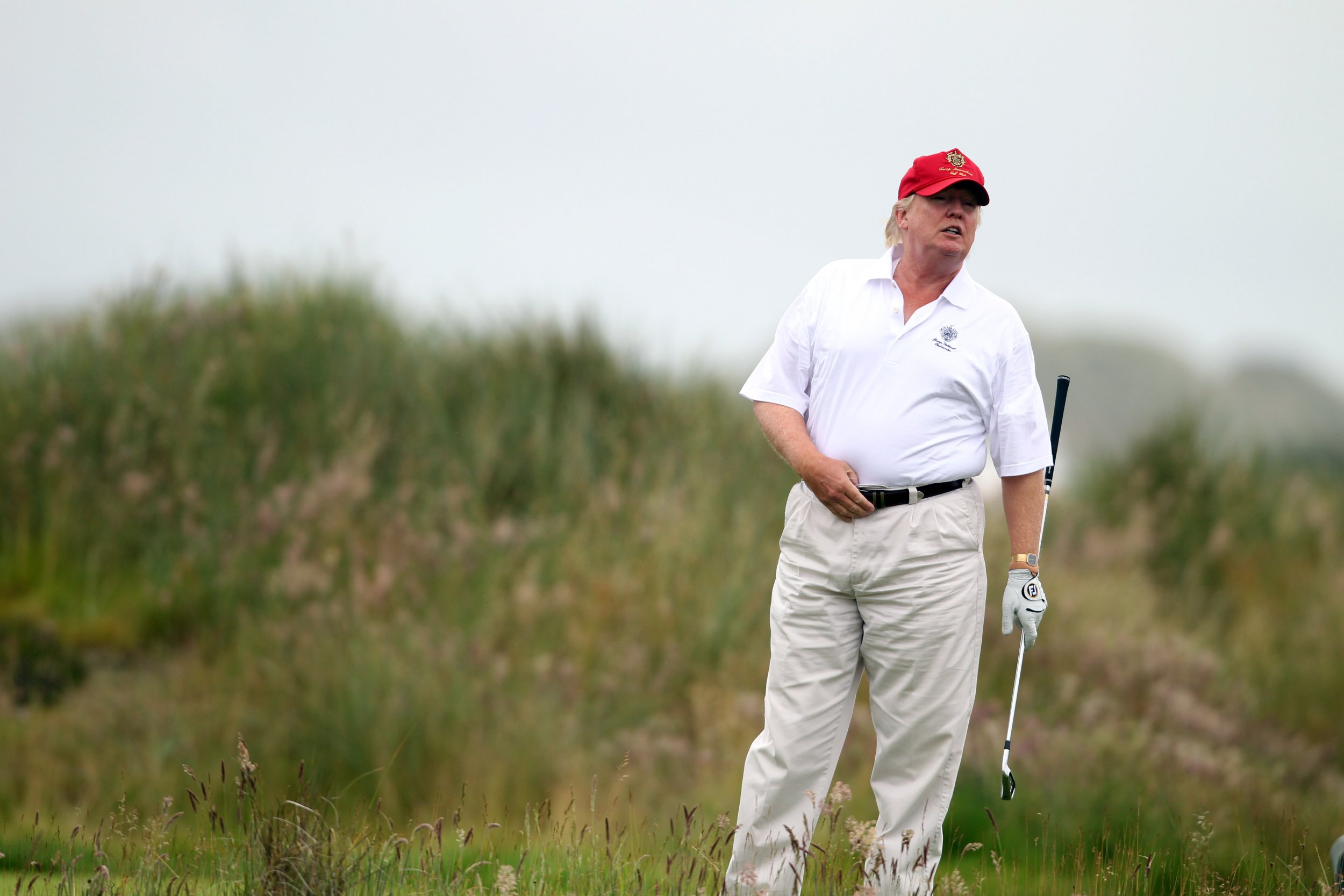 President Donald Trump does not appear to be following his own golfing advice.
In 2012, Trump offered then-President Barack a dipolomatic pointer: "Obama should play golf with Republicans & opponents rather than his small group of friends," he said. "That way maybe the terrible gridlock would end."
Obama did, in fact, golf with Republicans. He played a round with Republican Senators Saxby Chambliss of Georgia and Bob Corker of Tennessee, as well as Democrat Mark Udall of Colorado, a few months after Trump's tweet.
"He's willing to try anything," Obama's White House press secretary Jay Carney said at the time.
But Trump hasn't hit the links with a single democratic member of Congress since taking office. Instead, he's golfed with at least 23 people, from world leaders like Japanese Prime Minister Shinzo Abe to athletes like Tiger Woods.
Bureaucrats in general don't appear to be his partner of choice. He has golfed with just four politicians—Mick Mulvaney, Director of the Office of Management and Budget ; Senator Bob Corker of Tennessee; Senator Rand Paul, of Kentucky; and Lindsey Graham of South Carolina—compared to the 13 athletes, like retired quarterback Payton Manning and golf legend Jack Nicklaus, according to the website TrumpGolfCount.com, which is tracking Trump's golf outings. The rest of his partners have been business executives and Abe, according to the site.
RELATED: Trump's New York Golf Course Has Seen Massive Decline in Visitors Since He Became President​
It's not clear what party the athletes belong to, but all of the lawmakers have been on Trump's side of the aisle.
Graham's first outing on the green with Trump was in October, but he's since golfed with him two more times, immerging as his most consistent partner. No other member on the list has more than two golf trips.
Trump is on pace to obliterate Obama's golf count. As of Nov. 7, Trump was on pace to play about 80 rounds of golf in his first year, according to Golf Digest. By comparison, Obama averaged half that, at 38.25-rounds-per-year.
Trump has visited at least 79 golf courses during his 11 months as Commander-in-Chief, though he hasn't necessarily played golf every time. The tally varies slightly from source to source. TrumpGolfCount.com reports he's visited 79 courses through Dec. 10 while CNN reported Trump had been to a course 81 times as of Nov. 25.
Trump famously criticized Obama for his golf game.
"If I win I may never see my property, I may never see these places again," Trump said at a presidential campaign rally in August 2016. "But because I'm going to be working for you, I'm not going to have time to go golfing, believe me. Believe me. Believe me, folks."