Trump-Backed Government Shutdown Devastated Morale, Caused Lasting Damage to Federal Workforce: Report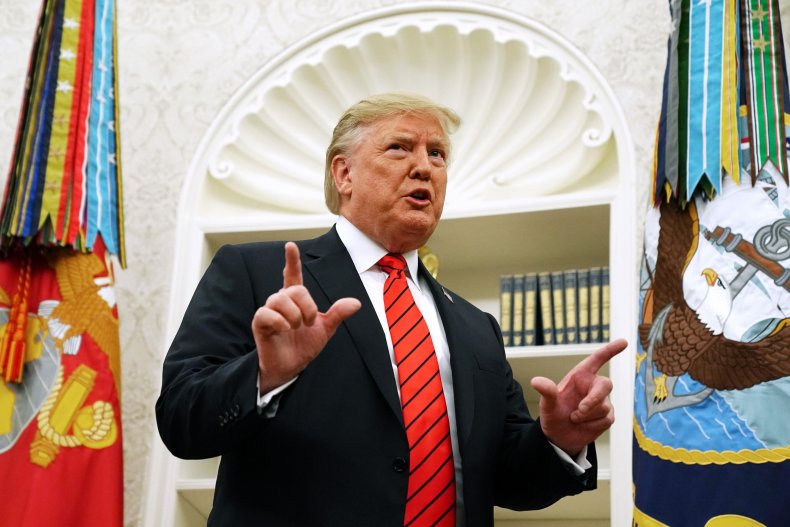 The longest government shutdown in American history—a collapse of 25 percent of federal government operations that President Donald Trump tried to use as leverage to secure funds for his border wall—resulted in a steep "decline in morale" among federal workers and devastated the government's recruiting capabilities, a new report from the Partnership for Public Service has found.
The shutdown, which began days before Christmas last year and lasted a total of 35 days, shuttered most of the government's discretionary operations and left around 800,000 federal employees without continuous pay. As hundreds of thousands of workers were furloughed, many critical government operations ground to a halt: the Food and Drug Administration discontinued food safety inspections and immigration court hearings were routinely canceled, for example.
The non-partisan Congressional Budget Office estimated that $11 billion in potential economic growth was sapped from the economy due to the budgetary standoff. Ultimately, the impasse ended without the extraordinary multi-billion dollar border package Trump had demanded from Congress as part of any spending deal. Trump eventually declared a national emergency in an attempt to siphon off funds from other parts of the government in order to cobble together the budget for his wall, but the impacts of the historic shutdown have endured despite its resolution almost a year ago.
"The federal government as a whole is finding it hard to attract a new generation to serve, a problem exacerbated by the 35-day shutdown and a healthy job market that offers many opportunities to people," a September report from the Partnership for Public Service, a non-profit organization that advocates for a robust federal workforce explained. "Currently, just 6 [percent] of all permanent, full-time federal employees are under the age of 30, a decline from 9 [percent] during this decade. In comparison, about 21 [percent] of all private sector employees are under the age of 30."
Young workers were especially discouraged by the shutdown, the report noted. Kevin Mahoney, the chief human capital officer at the Department of Commerce, observed that workplace inconsistency can help foster a sense of alienation among new employees.
"If we make a habit of this, it will be difficult to recruit the next generation of people under 30 because they look at us and think, 'They don't know what they're doing there,'" Mahoney was quoted as saying in the report.
To be sure, the economic effects of furloughs and missed paychecks devastate not only young employees but all workers, especially those with families. The Partnership for Public Service homed in on one agency in particular, the Internal Revenue Service, to better understand the downstream impacts of stalled funding.
"Some [IRS] employees endured significant financial hardship and a decline in morale," the report noted. "There were reports of employees having to rely on food banks and the support of family and friends. Some were even advised to see doctors for symptoms of depression."
The psychological and budgetary effects of the shutdown were not confined to any one agency, and the IRS can serve as an example of how the rolling agency shutdowns metastasized across government. The report noted that "a number of leaders [said] that their employees felt discouraged and unappreciated during and after the shutdown."
Overall, the Federal News Network found that 90 percent of employees reported a decline in morale once the shutdown was over.
"Members of Congress from every corner of our country encountered constituents who were harmed by the shutdown personally or alarmed by the toll it was taking on their friends, neighbors and community," the report concluded. "And as the case studies in this report suggest, for many people, the shutdown's damaging effects continue to linger."