Donald Trump Said Government Shutdown Could Last for 'Months or Even Years,' Chuck Schumer Claims After Meeting
Emerging from a meeting with President Donald Trump on Day 14 of a partial government shutdown Friday, Speaker of the House Nancy Pelosi and Senate Minority Leader Chuck Schumer, flanked by other Democratic leaders, said there was still no deal on a spending bill to end the shutdown.
"We told the president we needed the government open. He resisted," Schumer said. "In fact, he said he'd keep the government closed for a very long period of time, months or even years."
Speaking to reporters in the Rose Garden afterward, Trump confirmed he "absolutely" said he'd keep the government closed that long.
When asked if he was considering declaring a national emergency in order to obtain funding for his border wall, as ABC News reported he was, Trump confirmed he "may do it."
"I haven't done it, but I may do it," he said. "I am allowed to do that. It's called a national emergency."
The president called the meeting with congressional leaders "very, very productive," a stark contrast from Democrats calling it "contentious." Vice President Mike Pence said a negotiating group consisting of himself, Trump's son-in-law and senior adviser Jared Kushner and Department of Homeland Security Secretary Kirstjen Nielsen would be meeting with congressional leaders from both parties over the weekend to continue negotiating on a deal to reopen the government.
Congress has adjourned until Tuesday, meaning the shutdown will last into next week.
Trump said he was "very proud of doing what I'm doing," and that he doesn't "call it a shutdown."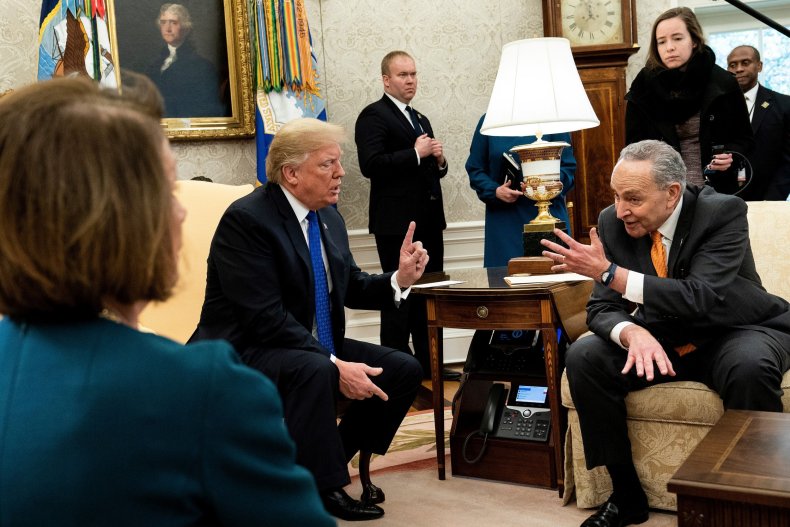 On the first day of the new session of Congress on Thursday, the House passed a spending bill package that would reopen the government by funding the closed portions through September 30, minus DHS, which would only be funded through February 8. Republicans, Democrats and the White House would then continue hashing out a deal over the wall. While providing additional money for border fencing and other border security, the spending bill package would not provide funding for the president's long-desired concrete border wall, which in recent weeks has transformed into a wall with "steel slats."
All Democrats voted for the spending package, along with the support of seven Republicans. But the Senate will likely not take up the measure because it does not provide more than $5 billion for the wall, as demanded by Trump, who has promised to veto anything that does not provide the funding.
Trump said multiple times that a "see-through wall made out of steel is far stronger than a concrete wall." He also repeated the false claim that construction for "many miles" of the border wall has already begun and been completed. In fact, no construction of the border wall that he's demanded funding for has been started, much less completed.
Portions of the current border wall have been replaced, in addition to new portions built, in some areas. But it is the same type of border wall that's been constructed under Presidents George W. Bush and Barack Obama.