Donald Trump Grand Rapids Rally Live Stream: Watch President's First Campaign Event Since End of Muller Probe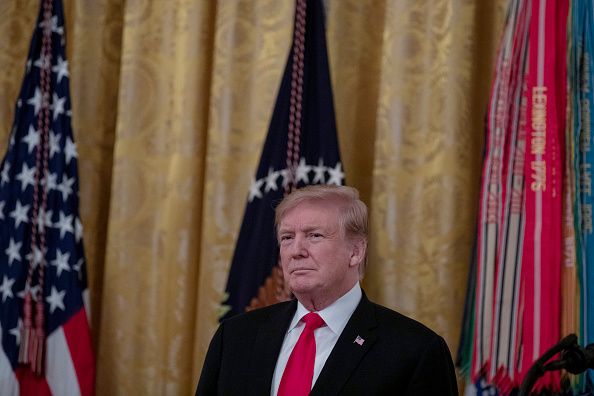 President Donald Trump will travel to Grand Rapids, Michigan, on Thursday evening for his first rally since the conclusion of special counsel Robert Mueller's investigation into Russian election interference and collusion.
The rally will start at 7:00 p.m. ET and can be live streamed below via CBS News.
Trump's popularity in the swing state was pivotal for his victory in the 2016 presidential election, as he barely edged out Hillary Clinton for the state's 16 electoral votes. The president defeated Clinton by less than 1 percentage point.
"Will be heading to Grand Rapids, Michigan, tonight for a Big Rally. Will be talking about the many exciting things that are happening to our Country, but also the car companies, & others, that are pouring back into Michigan, Ohio, Pennsylvania, North & South Carolina & all over!" Trump wrote on Twitter on Thursday morning.
This will be the first campaign-style event for President Trump since Mueller handed over his final report on the Russia probe. While the full report has yet to be made public, Attorney General William Barr provided lawmakers with a four-page summer of the special counsel's key findings.
Most notably, Barr wrote that the investigation did not "establish that members of the Trump Campaign conspired or coordinated with the Russian government in its election interference activities."
Mueller did not determine whether Trump obstructed justice during the probe, but Barr and Deputy Attorney General Rod Rosenstein said that there was insufficient evidence to bring a formal charge against the president.
The conclusions sparked celebration from the president and his allies, who claim that Barr's summary exonerates Trump of any wrongdoing. The president even went so far as to say that Mueller acted "honorably" throughout the probe, which he had attacked as a "witch hunt."
Now that the dark cloud of the Russia probe has cleared, Trump is going full-steam ahead on Republican goals like repealing Obamacare and building his long-promised border wall between the United States and Mexico.
The president pounced on health care this week, telling voters that the GOP would be known as the "party of great health care." His announcement came after the Justice Department backed a lawsuit intended to gut the entire Affordable Care Act.
Trump has tried several times to repeal and replace Obamacare, but has failed to get the number of votes needed to scrap the law—even with Republicans controlling both the House and Senate in the first half of his term.
But the topic is likely to be a big issue in the 2020 election, with several Democratic candidates making health care a focus of their platform. Bernie Sanders said that Trump's renewed attacks on Obamacare will "put lives at risk" and fellow senator Kamala Harris accused him of "playing politics with people's public health."
A new poll by Quinnipiac University indicated that Trump may be more vulnerable in the 2020 election than he cares to admit. In the survey, over 50 percent of Americans said they "definitely will not" vote for the president in his re-election bid.