Donald Trump Greeted With 'Impeach' and 'Liar' Lettering on Mountains in Montana Rally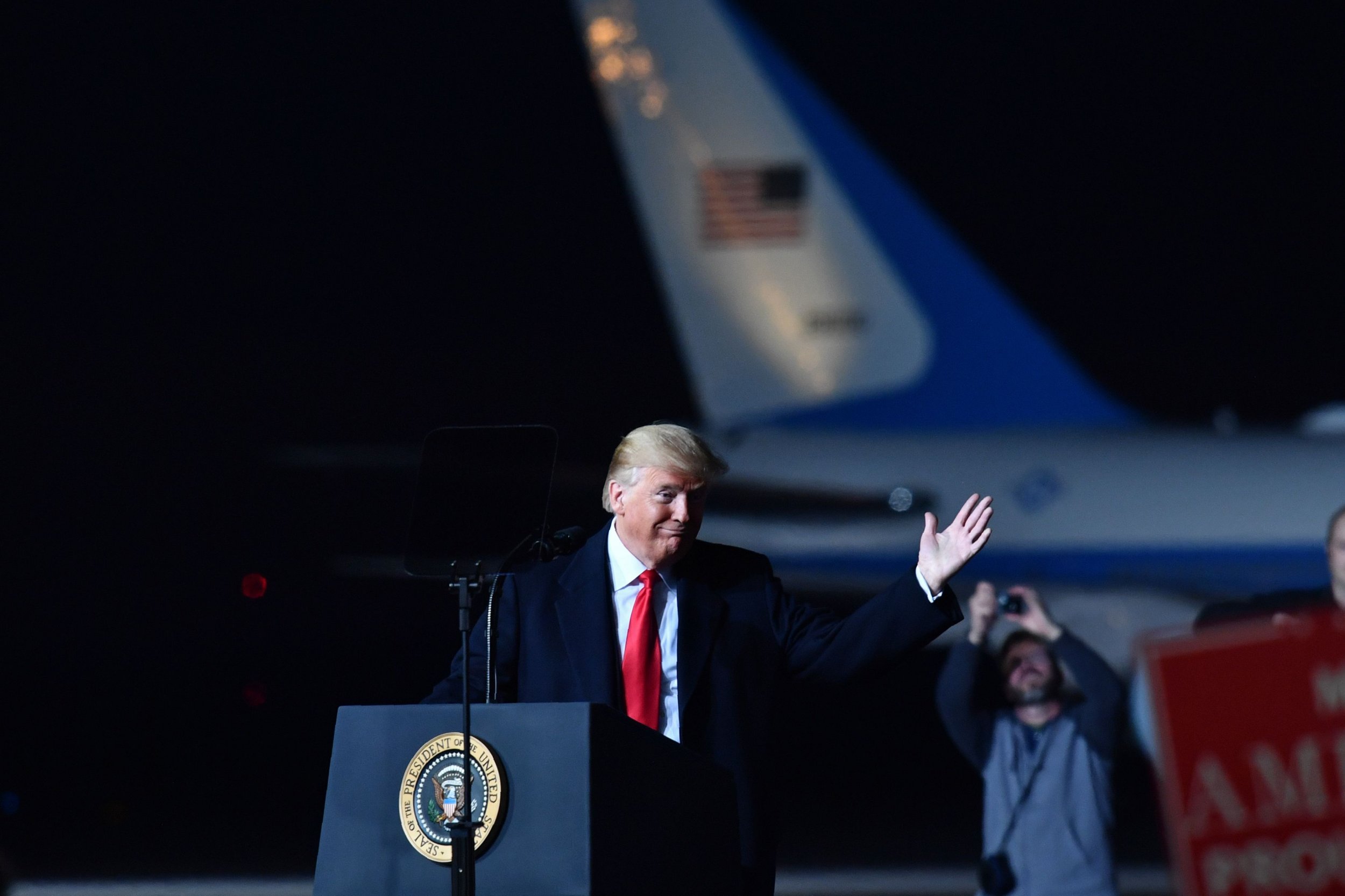 Before President Donald Trump stepped foot onto a hangar in Missoula, Montana, to rally for GOP candidates in the midterm elections on Thursday evening, he was greeted by two large, capitalized words lettered on the mountains that could likely be read from aboard Air Force One: "IMPEACH" and "LIAR."
The white M on Mount Sentinel was accompanied by six other letters to spell impeach. The white L on Mount Jumbo had three letters added to spell liar.
It is unclear whether Trump saw the lettering.
They were the actions of people who were not thrilled about the president coming to town to campaign for two Republicans in one of the six counties in Montana that voted for Hillary Clinton in 2016. Missoula is a blue island in the red state, which Trump won by 20 points that year.
Trump is stumping for Republican Senate candidate and state auditor Matt Rosendale, who seeks to unseat two-term incumbent Democratic Senator Jon Tester, as well as Republican Representative Greg Gianforte, whose challenger is Democratic candidate Kathleen Williams.
The president said he has "a lot of respect for" Rosendale and bashed Tester for lodging allegations that Rear Admiral Ronny Jackson, whom Trump nominated to lead the U.S. Department of Veterans Affairs, was improperly prescribing medication and drinking while at work. It led to Jackson withdrawing his nomination.
"What [Tester] did was unfair, what he did was vicious, what he did was…almost, almost, if this is believable, worse" than Democrats did to try to stop Brett Kavanaugh from sitting on the Supreme Court, Trump said.
Trump applauded Gianforte for assaulting Guardian reporter Ben Jacobs while the candidate campaigned last May.
"Never wrestle him, you understand that?" Trump said of Gianforte. "Any guy who can do a body slam is my kind of guy."
Trump's actions and sometimes untruthful words have prompted Democrats and others to call for his impeachment. Two forced votes in the House to begin impeachment proceedings on Trump have failed by large margins. Democratic leaders saying they are awaiting the results of special counsel Robert Mueller's investigation into possible collusion between the Trump campaign and Russians in the 2016 election.
Impeachment efforts could receive a boost if Democrats win one or both houses of Congress come the midterms in November.
The "LIAR" letters were organized by Maggie Williams and Betty Tschudi, and about 50 volunteers sat and guarded them on Thursday.
"We chose 'liar' because it felt like the strongest word," Tschudi told the Missoulian. "It's unbelievable how many times he lied and says things about people that aren't true. And we needed something that started with a 'L.'"