Trump Grumbles that U.S. Loses 'Tremendous Amount Of Money' Defending Saudi Arabia
President Donald Trump says the U.S. is losing a "tremendous amount of money" defending Saudi Arabia, complaining that the Gulf monarchy is treating the United States unfairly.
In a wide-ranging interview with Reuters, in which Trump discussed his first 100 days in office, the President criticized the key Middle Eastern ally, claiming the Kingdom wasn't paying its way, and was relying on U.S. defense spending for its security.
"Frankly, Saudi Arabia has not treated us fairly, because we are losing a tremendous amount of money in defending Saudi Arabia," he said.
It is not the first time Trump has accused Saudi Arabia of failing to pull its weight on defense. During a presidential campaign rally in Wisconsin in 2016 when Trump appeared to be the frontrunner for the nomination, he told the crowd: "They're not paying us a fair price. We're losing our shirt."
Read More: Trump Admits He Thought Being President 'Would Be Easier'
The president met with Saudi Arabia's deputy crown prince Mohammed bin Salman, the oil-rich nation's defense minister, in March in what was hailed by the Saudi delegation as a "historical turning point" in relations between the two countries.
The current administration appears far more amenable to Saudi interests than under Trump's predecessor President Barack Obama who pursued a nuclear deal that ended most sanctions against Iran, Saudi Arabia's principal regional rival.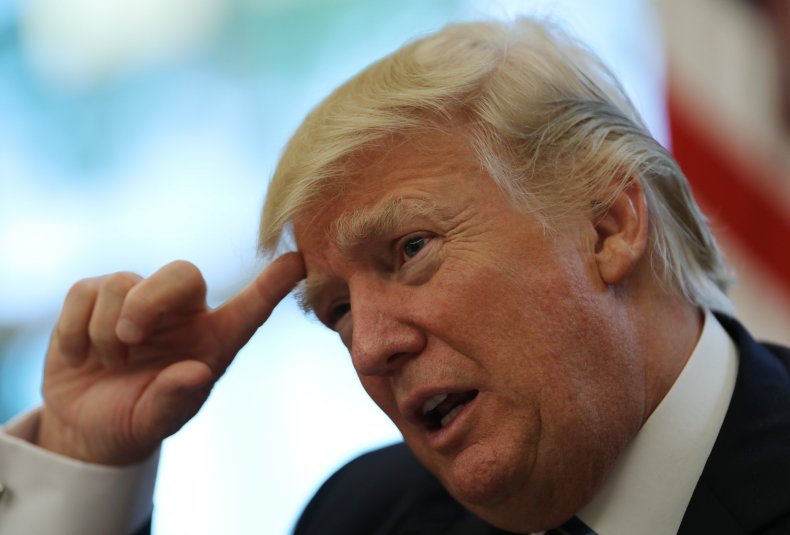 On the campaign trail, Trump said it was his "number one priority to dismantle the disastrous deal with Iran," and in April, the U.S. president complained Iran was "not living up to the spirit of the agreement" in a joint press conference with Italian Prime Minister Paolo Gentiloni, the Associated Press reported.
Trump confirmed to Reuters that his administration was in discussions over a possible trip to both Saudi Arabia and Israel in the second half of this month. The visit to the two Middle Eastern nations could be included as part of a trip to Brussels for a NATO summit on May 25, and would mark his first foreign trip as president.
Trump refused to be drawn on whether, while in Israel, he would recognize Jerusalem as the capital of Israel. "Ask me in a month on that," he said.
It has been the policy of successive U.S. governments not to recognize Jerusalem as the capital and keep its embassy in Tel Aviv, counter to Israel's wishes. The status of the city, which contains some of the holiest Jewish, Muslim and Christian sites in the world, is one of the most contentious obstacles to overcome in any peace deal between Israel and Palestine.
Trump pledged himself once again to pursuing a solution to the intractable conflict. "I want to see peace with Israel and the Palestinians," he said. "There is no reason there's not peace between Israel and the Palestinians - none whatsoever."
Palestinian President Mahmoud Abbas is due to meet Trump next Wednesday in Washington. The Israeli Premier Benjamin Netanyahu visited the White House in February.
In his first 100 days the president indicated he will be closely aligned with the interests of Israel. Meeting Secretary of State Rex Tillerson on 21 April Netanyahu said he sees a "great change" in the direction of U.S. policy in the Middle East, praising the White House's stance on Iran, which Israel also considers the greatest threat to its interests in the region, Haaretz reported.
On the issue of countering the threat posed by the Islamic State militant group (ISIS), the main point of U.S. military engagement in the Middle East, Trump was unequivocal. "I have to say, there is an end. And it has to be humiliation," Trump said when asked about his strategy to defeat violent Islamic terrorism. "There is an end. Otherwise it's really tough. But there is an end."