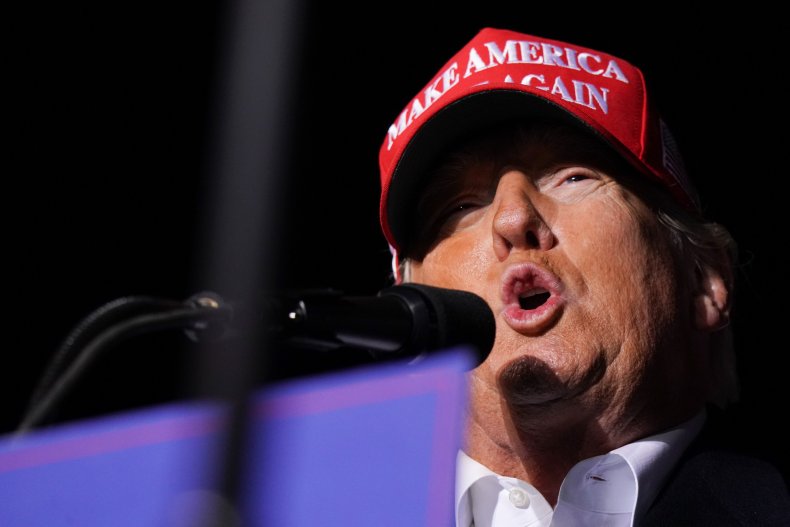 A former New York City prosecutor who resigned last month over a stalled indictment of former President Donald Trump reportedly claimed that he had proven the former president was guilty of multiple felonies.
Prosecutors Mark F. Pomerantz and Carey R. Dunne resigned after Manhattan District Attorney Alvin Bragg, who was sworn in at the beginning of the year, abruptly announced that he had stopped actively pursuing a criminal indictment of Trump. The investigation, into whether Trump inflated the value of his assets in order to get better loan terms from banks, is still ongoing.
Trump was thought to be only weeks away from a potential prosecution when Bragg announced the decision to pull back. Pomerantz's resignation letter described the shift as "a grave failure of justice" and claimed Trump was "guilty of numerous felony violations" that had been proven "beyond a reasonable doubt," according to a copy of the letter obtained by The New York Times.
"The team that has been investigating Mr. Trump harbors no doubt about whether he committed crimes—he did," Pomerantz reportedly wrote to Bragg on February 23. "The investigative team that has been working on this matter for many months does not believe that it makes law enforcement sense to postpone a prosecution in the hope that additional evidence will somehow emerge."
"I and others believe that your decision not to authorize prosecution now will doom any future prospects that Mr. Trump will be prosecuted for the criminal conduct we have been investigating," the letter continued. "We believe that the prosecution would prevail if charges were brought and the matter were tried to an impartial jury."
Bragg spokesperson Danielle Filson stressed that the investigation into Trump was still going, saying in a statement that "a team of experienced prosecutors is working every day to follow the facts and the law. Filson added that there was "nothing more we can or should say at this juncture about an ongoing investigation."
The criminal probe has already resulted in felony tax evasion charges against the Trump Organization and its former chief financial officer Allen Weisselberg. There is also an active parallel civil investigation into the Trump Organization and the former president by New York Attorney General Letitia James.
The Trump Organization reportedly described Pomerantz as "a never-Trumper" and an example of a previously unseen "level of corruption in our legal system" in response to the Times report.
Trump lawyer Ronald P. Fischetti told the Times that the claims in the resignation letter were unwarranted, while arguing that Pomerantz "had the opportunity to present the fruits of his investigation to the D.A. and his senior staff on several occasions and failed." Fischetti also praised Bragg for "adhering to the rule of law."
Newsweek reached out to Pomerantz and Trump's office for comment.