Under Donald Trump, What Will Happen on Guns?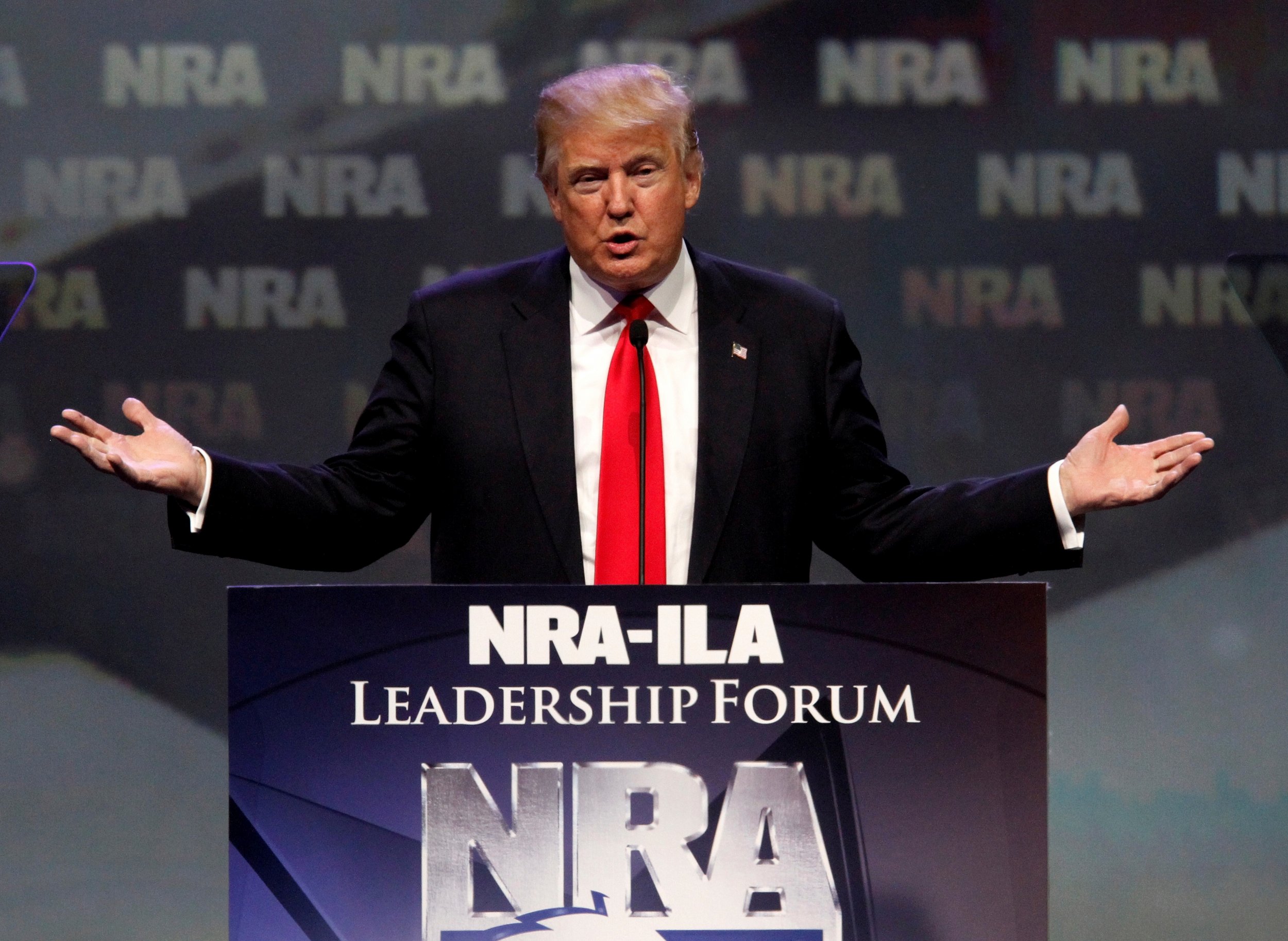 Throughout his almost 17-month presidential campaign, Donald Trump vowed that, if elected, he would "totally" protect the Second Amendment. He even has promised to swiftly "unsign" the executive actions President Barack Obama issued in January to streamline the gun purchase background checks system and to abolish gun-free zones at schools and on military bases, which he called "a catastrophe." He also said he wanted to implement national right to carry in all 50 states, and he appeared to suggest that gun rights advocates should take lethal action against his Democratic rival, Hillary Clinton, should she be elected president and threaten the Second Amendment by appointing a far-left justice to the U.S. Supreme Court. (His campaign later said he was referring to convincing supporters of the Second Amendment to rally votes for him.) And, just five days before the presidential election, he formed a 64-member Second Amendment coalition—featuring National Rifle Association board members, pro-gun U.S. representatives and firearms manufacturers—that seeks to advise him on protecting the constitutional right to keep and bear arms.
Now that he has won the election, what will President-elect Trump actually do when it comes to gun laws? During the campaign, the billionaire businessman touted many big plans—including building a wall at the Mexican border, changing U.S. trade relations and backing away from climate change agreements—but in the week since his victory he has appeared to soften his tone on some of his key complaints, including saying he wants to repeal only parts of Obamacare and contemplating not prosecuting Clinton for her use of a private email account as secretary of state.
On the guns issue, one prominent Democrat says she is optimistic Trump will live up to his promise to shake up Washington and not be beholden to the political party he represents. "In the Nixon goes to China mode, Donald Trump may be exactly the president who could do something positive on gun safety," U.S. Representative Elizabeth Esty of Connecticut tells Newsweek. Esty, who represents the district where the 2012 Sandy Hook Elementary School mass shooting took place, is vice chairwoman of the House Gun Violence Prevention Task Force.
Gun rights were a potent issue in the 2016 campaign. Trump planted himself firmly on the side of gun owners with his "law-and-order" campaign and channeled some of the NRA's most incendiary rhetoric. He said he's in favor of empowering gun owners to defend themselves and thwart crime, has called on the government to expand gun rights for law-abiding Americans and has argued that arming civilians could stop mass killings. He said he opposes new gun-control measures and even owns and carries a gun in his home state of New York, "sometimes a lot."
The campaign named Chris Cox, the NRA's executive director, and one of Trump's sons, Donald Jr.—an avid hunter and outspoken proponent of gun rights—as the chairmen to lead his Second Amendment coalition. Antonio Hernández Almodóvar, who is part of the group and an attorney in San Juan, Puerto Rico, says it's unclear when the members will meet or start to advise Trump. In the meantime, he says his two goals for the administration are to prosecute criminals who try to purchase guns—instead of placing restrictions on lawful gun owners—and to institute National Right-to-Carry Reciprocity legislation. "I think it's fair that if we have a good citizen who's law-abiding in one state, that he does not fear prosecution because he crosses state lines or he goes to another state to enjoy the sport," he tells Newsweek.
The NRA might push ahead most aggressively on the reciprocity bill, says Robert Spitzer, Political Science Department chairman at the State University of New York at Cortland. The measure would force states that allow concealed carry to recognize each other's permits, similar to driver's licenses. Opponents argue that would enable the least restrictive requirements to apply to the whole country, thus undercutting stricter requirements in some states. But such legislation in the past has been backed by members in both chambers of Congress and could soon land on Trump's desk in the Oval Office. Just this week, the NRA's executive vice president and chief executive officer, Wayne LaPierre, in a video message requested that Trump enact such reciprocity legislation "as quickly as it can be written and signed." He also asked Trump and lawmakers to abolish gun-free zones and get rid of bans on certain firearms, types of ammunition and large-capacity magazines. An NRA spokesperson didn't respond to Newsweek's requests for additional information on the organization's goals under Trump's administration.
Another member of the Second Amendment coalition, U.S. Representative Tom Emmer of Minnesota, says he looks forward to working with Trump to roll back Obama's "overreaching, executive actions" on guns. "Under President Obama, Americans witnessed numerous unilateral actions seeking to deprive law-abiding Americans of their Second Amendment rights. Thankfully, we now have the opportunity to reverse course," he tells Newsweek in an email. Specifically, Emmer wants to work with Trump to pass the Firearm Due Process Protection Act, legislation he introduced in April that seeks to ensure Americans can correct false information if they are denied owning a gun.
Before the election, both Trump and the NRA told Americans that the future of the U.S. Supreme Court rested on their votes. The president-elect has promised to appoint a pro-Second Amendment justice to fill the seat left vacant when conservative Justice Antonin Scalia died suddenly in February. But that nomination likely would simply restore the Scalia-era balance to the court. It was Scalia who wrote the landmark District of Columbia v. Heller ruling eight years ago, when the court recognized an individual right to keep guns at home for self-defense. Since then, though, the justices have declined to review dozens of cases that have upheld gun-related bans. It likely would take another Supreme Court appointment to shift the balance on the issue. Trump has made it clear how he views it: "Gun and magazine bans," he said in his position paper, "are a total failure."
But Trump wasn't always such a strong supporter of gun ownership. Before he became a presidential candidate, the businessman called out Republicans who "walk the NRA line" and "refuse even limited restrictions" on firearms laws. "I generally oppose gun control, but I support the ban on assault weapons and I also support a slightly longer waiting period to purchase a gun," he wrote in his 2000 book, The America We Deserve. At the time, he was considering a bid for the presidency but hadn't declared his intention to run.
Fourteen years later, in April 2014, Trump made an appearance at a pro-gun rally in Albany, New York, and spoke about the importance of protecting the Second Amendment. The next year—two months before he entered the presidential race—he told those gathered at an NRA forum: "I love the NRA. I love the Second Amendment." He went further during a debate this year in March, saying he no longer supported a ban on assault weapons. In May, the NRA endorsed him, and it then spent heavily to bolster his campaign. The group was one of the few enthusiastic organized backers of Trump, as most other conservative groups sidestepped the former reality TV star's campaign.
In general, the debate over the need for gun control could become more muted with the GOP controlling both houses of Congress and a Republican in the White House, and with Democratic lawmakers in red states—including senators Joe Manchin of West Virginia and Heidi Heitkamp of North Dakota—up for re-election in 2018 and thus unlikely to be as outspoken on the issue.
One wild card, however, is the idea put forth by Spitzer and others that Trump simply used his guns stance to establish his conservative credentials on the campaign trail, and that loosening gun restrictions is not really a top-tier issue for him. In the wake of the deadliest mass shooting in U.S. history—in June at the Pulse nightclub in Orlando, Florida—Trump appeared to show support for prohibiting known or suspected terrorists from buying guns. Those who oppose stricter gun laws, including many in the Republican Party, have stood firm against such a change. The NRA has said it wants to ensure that Americans wrongly placed on the no-fly list are given their legal rights to due process.
Regardless of what happens at the federal level during Trump's presidency, gun-control groups including Everytown for Gun Safety are promising to build on their momentum in the fight for stricter legislation at the state level. On Election Day, measures seeking to tighten gun laws passed in three out of four states where they were on the ballot. While Everytown endorsed Clinton in the presidential race, says the group's chief communications officer, Erika Soto Lamb, it doesn't view her loss as "a statement about gun safety in America."