President Donald Trump has defended at least a half dozen men who have been accused of abusing women—including himself. He has stood up for politicians, people who have worked for him, members of conservative media outlets and, most recently, his Supreme Court nominee.
Trump's pattern of defending men facing allegations, including sexual misconduct, over the years could be seen as an indication of his eagerness to protect those who have supported or continue to boost him.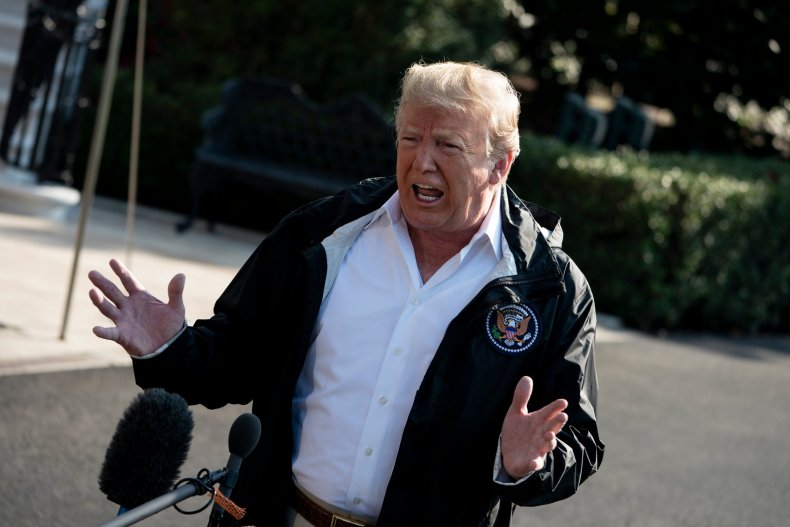 Here are men Trump has defended and the allegations they faced:
Brett Kavanaugh
The president's Supreme Court nominee was hit with a sexual assault allegation last Sunday, as he awaits his confirmation vote. Christine Blasey Ford, a 51-year-old California psychology professor, claimed to The Washington Post that Kavanaugh forced himself on her, groped her over her clothes and tried to undress her during a party when she was 15 and he was 17.
Trump on Friday defended Kavanaugh in a couple of tweets.
"Judge Brett Kavanaugh is a fine man, with an impeccable reputation, who is under assault by radical left wing politicians who don't want to know the answers, they just want to destroy and delay," Trump tweeted.
Addressing Kavanaugh's accuser, Trump tweeted: "I have no doubt that, if the attack on Dr. Ford was as bad as she says, charges would have been immediately filed with local Law Enforcement Authorities by either her or her loving parents. I ask that she bring those filings forward so that we can learn date, time, and place!"
Roy Moore
Trump in November 2017 broke from GOP leaders and backed Alabama Republican Senate candidate Roy Moore, who faced more than a half dozen sexual misconduct allegations from women who were underage at the time, including a 14-year-old girl.
"He totally denies it," Trump said of Moore, who lost the race to Democrat Doug Jones.
"He says it didn't happen," Trump told reporters at the White House at the time. "You have to listen to him also."
Rob Porter
Trump voiced a similar defense for his staff secretary Rob Porter, who resigned in February amid allegations of domestic violence from two of his ex-wives. Both women said they had informed the FBI of the abuse as Porter went through the security clearance process.
The president told the media, "He says he's innocent, and I think you have to remember that. He said very strongly yesterday that he's innocent."
Trump also complained on Twitter that there was a lack of "due process" and that it destroyed lives and careers.
Bill O'Reilly
The president in April 2017 called his longtime friend and Fox News host Bill O'Reilly a "good person" as reports broke out that five women received payouts totaling $13 million after claiming O'Reilly harassed them.
"Personally, I think he shouldn't have settled," Trump said. "Because you should have taken it all the way. I don't think Bill did anything wrong."
O'Reilly was forced out of Fox News that month.
Corey Lewandowski
Trump defended his campaign manager Corey Lewandowski when Breitbart News reporter Michelle Fields accused him of a misdemeanor battery charge. Fields showed bruises on her arm to police, and Trump in March 2016 questioned her claims.
"How do you know those bruises weren't there before?" Trump said. "Wouldn't you think she would have yelled out a scream if she had bruises on her arm?"
Donald Trump
The president vehemently denies any allegation against him under any circumstances, and that extends to numerous allegations that he abused women, and one occasion on which he boasted of doing so himself. At least 19 women have accused Trump of misconduct. Among the allegations are unwanted advances at Trump Tower and groping on a plane. Trump has denied them and threatened lawsuits against his accusers.
"None of this ever took place," Trump said of Jessica Leeds, who said he inappropriately touched her on a flight from Connecticut to New York. Trump added that Leeds was a "disgusting human being."