Donald Trump Has More Campaign Volunteers than Obama Ever Did and Democrats Are Nervous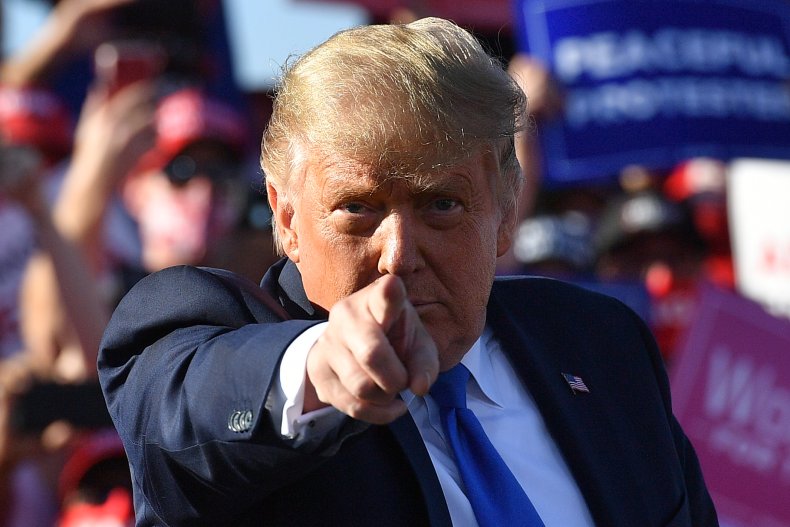 John Purcell, like many Americans, had some time on his hands this past spring. An electrician in the city of Wilkes Barre, Pa., he'd seen his work slow considerably when the worst of the Covid-19 pandemic hit. One day he got a phone call from the local field office of the Trump campaign. Purcell had voted for Donald Trump in 2016 and intended to do so again. He had a pleasant conversation with the Trump staffer and at the end was asked: would he like to make some phone calls for Trump in his spare time? Why not, he thought. The campaign emailed him a list of phone numbers, he persuaded his wife Janice to make calls too, and with that, in a critical part of perhaps the most critical state in the upcoming election, the Purcells became part of what the Trump campaign calls the largest "ground game" in U.S. political history.
If there is one thing, less than three weeks out from the November election, that makes Democrats nervous amidst all the national polls showing Joe Biden with a healthy lead, it is the Trump ground game—which effectively didn't exist in 2016—and the relative lack of one in the Biden campaign. While Biden is vastly outspending Trump in the air war—his television ads were everywhere over the weekend during highly-watched football telecasts—the opposite is true on the ground. Trump, campaign officials say, has a sophisticated 21st century ground game, marrying a $350 million data operation, run in conjunction with the Republican National Committee, to old-fashioned door-knocking and phone banks. According to the campaign's Deputy National Press Spokesperson Samantha Zager, Trump now has more than 2.5 million volunteers—breaking Barack Obama's record of 2.2 million.
The Trump ground game is unusual, campaign officials and independent analysts say. It is rooted in the presumption that 2020 is not, as pollster Robert Cahaly, CEO at the Trafalger Group, puts it, ''a persuasion election. It's a motivation election." The Trump campaign, according to a senior official who spoke on background, is not focused on persuading undecided Democrats or independents—-"there weren't many to begin with, and there are even fewer now," the official says. Instead, its focus is on identifying likely Trump supporters, both registered and unregistered, who did not vote in 2016. And making sure that this time they do.
There is data that suggest the effort is paying off—and that worries many Democrats. Since the end of the Democratic primaries, when it became clear Joe Biden was the nominee, Republicans in three key states—Florida, North Carolina and Pennsylvania—have vastly out-registered Democrats. In Florida in 2016, there were 327,483 more registered Democrats, compared to 134,242 today. Statewide that's only a one percent advantage—the narrowest margin since the state began tracking partisan registration in 1972. Ryan Tyson, a Republican pollster, says Democrats' strong registration advantage in the past correlated closely with election results. In 2008, when Obama won in a national landslide, Democrats had more than 600,000 more voters registered than did the Republicans in Florida. "That advantage has now dissipated," Tyson says.
When COVID-19 struck hard in March, Biden pulled back his ground efforts for public health reasons. Trump did as well—for a time. The fact that the president couldn't do rallies for several months frustrated Team Trump not because they massage the president's ego, but because it set back the ground campaign. The campaign was assiduous about taking down data from as many rally attendees as they could: did they vote in 2016, were they registered Republicans, how committed were they to the president? Would they be interested in volunteering?
In key states the Trump campaign's ground effort got back in business by early summer, utilizing data—much of it purchased from commercial vendors—that show everything from consumers' purchasing habits to their education level, whether they attend church services and whether they have a hunting or fishing license. In Minnesota, says veteran GOP operative Annette Meeks, the Trump campaign hit gun shows and local fishing competitions to try to register new voters. Volunteers in Pennsylvania did the same there.
Late this summer, the efforts got the attention of some Democrats. In Minnesota the Democrat Farm Labor party began warning the Biden campaign that there were 250,000 non-college-educated white males in the state who didn't vote in 2016. That was a target-rich environment for Trump, and GOP operatives have been working on getting as many registered as possible. "If we win in Minnesota it will be because of the ground operation, identifying new voters, registering them and getting them to the polls," says the senior campaign official. ''It will be the difference."
The Biden campaign has consistently downplayed the importance of traditional door-to-door campaigning. In fact, in the pandemic era, they have argued the president's campaign puts people at risk by going door-to-door—which jibes with the campaign's overall message that the president has been reckless in his handling of the pandemic. In September, Biden campaign manager Jen O'Malley Dillon said she has ''over 2,500 staff across all of our battleground states directly engaging with voters, they're doing it over the phone, they're doing it via text, they're doing it online, they're meeting people where they are, and not putting people in harm's way."
The Trump campaign scoffs at that. ''We're now averaging two million doors a week and growing, and we've been doing it safely for months," says the senior campaign official. Trump canvassers have been trained to wear masks and step back six feet from a door when someone opens it, maintaining "social distancing."
The Trump campaign was buoyed by a recent Gallup poll in which 56 per of the respondents said they were better off today than they were four years ago, despite the pandemic. The word went out to paid Trump staffers and precinct captains in the key battleground states to hammer home a simple message to voters already inclined to vote for the president: Trump had built a strong economy once, and is now in the process of doing it again. Now get out and vote.
Public polls don't yet show much movement in Trump's direction, though there has been some tightening in crucial states such as Pennsylvania, Michigan and Wisconsin. But John Purcell, the volunteer from Wilkes-Barre, is following orders. He is delivering the message and will be driving voters—"as many as I can"—to the polls to vote. ''If we do our job on the ground," he says ''we'll win." That's the Trump campaign's bet. It has14 days to make it happen.