The Republican National Committee (RNC) announced on Monday that President Donald Trump's re-election campaign has raised over $742 million this election cycle, $288 million more than the former President Barack Obama's re-election campaign had at the same point.
Bringing in $61.7 million in April, the RNC set a fundraising record for the month, just edging out former Vice President Joe Biden, the presumptive Democratic nominee for the 2020 presidential election, and the Democratic National Committee's $60 million.
"While day-to-day life may have slowed this past month, enthusiasm and support for this president has not," RNC Chairwoman Ronna McDaniel said in a statement Monday, "With their time, resources and ultimately their vote, Americans across the county continue to put their faith in President Trump."
The campaign said these donations are "powering the largest field program and data operation in Party history," which includes more than one million volunteers. In the transition to virtual fundraising efforts, 300,000 new volunteers have been added and the RNC said over 200 million voter contacts have been made.
Although donations to the Trump campaign has almost matched the initial, record-breaking $750 million raised during Obama's 2008 campaign, there is still some way to go before their efforts reach the $1072.6 million raised during Obama's second push in 2012. Obama's re-election campaign saw the most donations in the final six months leading up to the 2012 election, raising roughly $622.7 million, approximately 58 percent, of its election cycle total.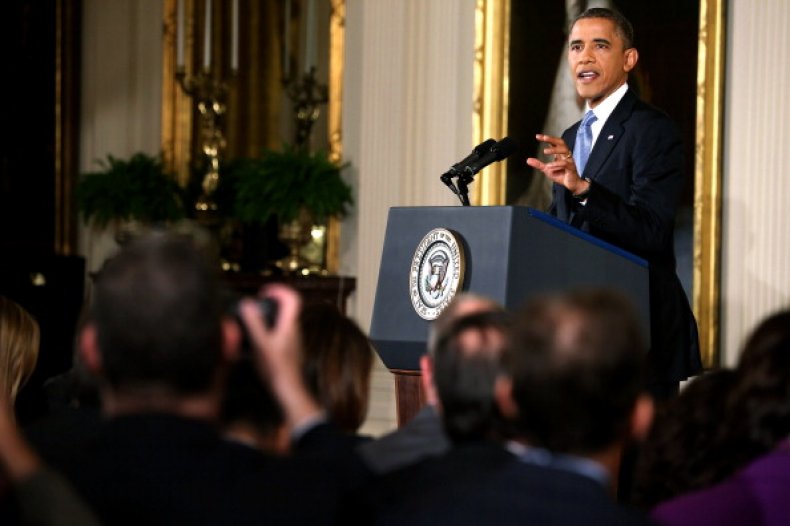 Obama's 2012 campaign saw 23,000 contributions in the first 24 hours of his re-election announcement, almost all of those donations valued at $200 or less.
Back in 2012, Jim Messina Obama's campaign manager pointed out the importance of small-dollar donations. "The most important thing isn't the dollar total but the number of people who pitched in to own a piece of this campaign," he said.
Small individual contributions, donations of $200 or less, make up 65 percent of Trump's source of funds for his 2020 campaign, while another roughly 34 percent comes from large contributions.
Although the majority of Obama's fundraising efforts came from small-dollar donors, large contributions account for 60 percent of Biden's campaign, while small individual contributions constitute nearly 40 percent.
Trump's fundraising success has allowed the campaign to allocate $20 million to its legal budget in order "to combat the Democrats' assault on the integrity of our elections." Those efforts are outlined on the party's Protect The Vote website.
"Democrats are trying to use coronavirus and the courts to legalize ballot harvesting, implementing a nationwide mail-in-ballot system, and eliminate nearly every safeguard in our elections," the RNC's Protect The Vote website reads.
Trump's campaign, which has over $255 million cash on hand, has previously spent more than $10 million on a national advertising blitz against Biden, targeting the senator's relationship with China amidst the novel coronavirus pandemic, which originated in the Chinese city of Wuhan.
Brad Parscale, Trump's 2020 campaign manager said their financial position is representative of the "overwhelming enthusiasm and support" for Trump.
"Once again the Trump campaign's colossal fundraising haul reaffirms that President Trump will lead an unstoppable juggernaut this November," Parscale said.