Donald Trump Has Run 16,000 Facebook Ads About the 'Fake News Media' Since May 2018
President Donald Trump has run about 16,000 advertisements on Facebook discrediting the mainstream media as "fake news," a favorite term of the president's, since May 2018.
A Newsweek analysis of Facebook's Ad Library found about 280 of the 16,000 advertisements are still active, meaning the ads currently run on the social media platform. Those still active ask for donations to help Trump fight back against the "fake news" and encouraged people to take a Trump vs. former Vice President Joe Biden poll.
"President Trump knows that the Fake News Media will NEVER report accurately on his standings in the polls against Sleepy Joe. We want the truth, and we need to hear it directly from REAL Americans, like YOU," one ad stated.
Newsweek reached out to the Trump campaign for comment but did not receive a response in time for publication.
Several national polls put Biden ahead of Trump in November's general election, a piece of data that Trump frequently dismisses. On Sunday, the president reminded people of the 2016 election, where pollsters overwhelmingly picked then-Democratic candidate Hillary Clinton to win and the president chalks up those that put Biden ahead of him to "suppression polls."
"The Trump Campaign has more ENTHUSIASM, according to many, than any campaign in the history of our great Country - Even more than 2016. Biden has NONE! The Silent Majority will speak on NOVEMBER THIRD!!! Fake Suppression Polls & Fake News will not save the Radical Left," Trump posted on Twitter on Sunday.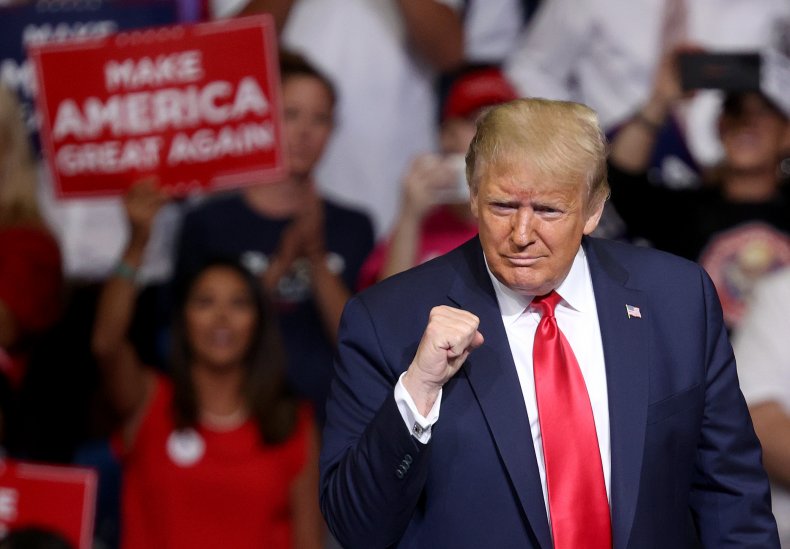 Although voters now believe Biden has a good chance of winning in November, polls continue to find that Trump supporters are more enthusiastic about the upcoming vote. An Associated Press-NORC Center for Public Affairs Research survey released Monday found 42 percent of Trump supporters are excited about the election, compared to 31 percent of Biden supporters.
Facebook's Ad Library works as an archival of current and past advertisements about social issues, elections or politics that have run since May 2018. Newsweek's analysis of the system showed ads with the term "fake news media" that are asking for campaign donations make up about 86 percent of the president's active Facebook ads with that term.
Another current ad of Trump's uses the "fake news media" as a motivating factor to raise donations before the July fundraising deadline.
"I need your help to fight back against the Fake News Media and Do Nothing Democrats. I need your support before this month's fundraising deadline to make sure that happens. Contribute ANY AMOUNT before 11:59 PM TONIGHT to help our movement," a Trump ad released on Tuesday said.
In June, Biden bested Trump in the field of campaign donations, raising more than $63 million to Trump's $55 million, according to Federal Election Commission filings. However, Trump still has more money on hand than Biden by about $4 million.