Donald Trump Has Taken Questions From Reporters Only a Few Times Since 2020 Election
President Donald Trump's interactions with the press have been scarce since the November 3 general election.
According to an analysis from CNN, Trump has taken questions from members of the media on just two public occasions since the presidential race seven weeks ago. He's also done only one on-camera interview during that period, which was with Fox News host Brian Kilmeade.
The first time the president answered questions from reporters was on Thanksgiving, according to CNN. Speaking to the White House press pool, Trump continued to air out his grievances about the 2020 election process and doubled down on many baseless allegations of fraud.
When asked about his willingness to concede the race, Trump got into a spat with Reuters reporter Jeff Mason.
"Don't talk to me that way, you're just a lightweight," Trump said. "I'm the president of the United States. Don't ever talk to the president that way."
Another interaction with the press was during a vaccine summit celebrating Operation Warp Speed on December 8. In his remarks, Trump praised his administration for its work on the vaccine and downplayed COVID-19 spikes around the country by attributing a rise in cases to increased testing.
One reporter asked the president why he was still hosting Christmas parties despite public health guidelines discouraging gatherings, to which Trump responded that there were fewer celebrations and most people wore masks. Another member of the press asked Trump why he didn't include members of President-elect Joe Biden's transition team to the summit. The president's response was: "Well, we're going to have to see who the next administration is."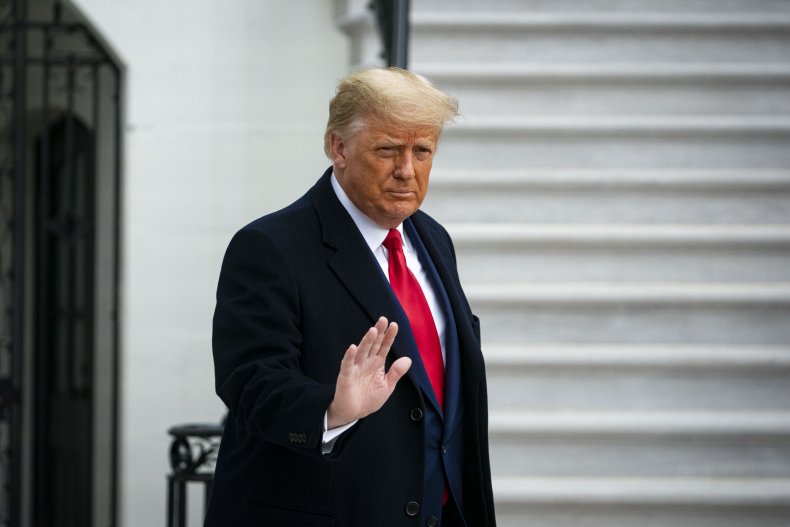 Trump has still not admitted he lost the election, despite the Electoral College confirming Biden's victory on December 14. Biden was awarded 306 electoral votes compared to Trump's 232. The Democrat also led in the national popular vote by more than 7 million votes.
While Biden's win had been evident since November 7, when he was projected the winner of the 2020 election by multiple media organizations, Trump's campaign and his Republican allies have launched dozens of lawsuits aiming to challenge results in key battleground states. Nearly all of the legal attempts have failed, including one lawsuit from Texas Attorney General Ken Paxton that was soundly rejected by the U.S. Supreme Court.
A review of Trump's post-election schedule by CNN showed he's had 24 days with no public events listed on his itinerary, 30 official White House business events, 13 public appearances open to the press and nine golf outings.
Newsweek found that Trump also answered a few questions during a White House ceremony to award the presidential medal of freedom to former Notre Dame football coach Lou Holtz on December 3. The event happened just after Attorney General William Barr announced that the Department of Justice found no widespread voter fraud to overturn the results of the 2020 election.
When asked about the findings, Trump told reporters that Barr didn't look hard enough. When asked if he still had confidence in his attorney general, the president deflected: "Ask me that in a number of weeks from now."
There's also been a handful of occasions where Trump has appeared publicly but refused to answer questions. On November 24, Trump briefly emerged in the White House briefing room to celebrate the Dow Jones Industrial Average breaking 30,000 but left the podium after speaking for one minute, ignoring questions from reporters.
In November, Trump appeared outside the White House to give an update on Operation Warp Speed. As he was leaving the Rose Garden, again taking no questions from members of the media, Playboy reporter Brian Karem asked the president when he was going to admit he lost the election. Trump did not reply.
While Trump hasn't been in the public eye often, he's been extremely active on Twitter. Many of his posts have been flagged by the social media giant for spreading false or misleading claims about the election. On Tuesday, Twitter flagged a post from Trump in which he alleged that "THE DEMOCRATS DUMPED HUNDREDS OF THOUSANDS OF BALLOTS IN THE SWING STATES LATE IN THE EVENING. IT WAS A RIGGED ELECTION!!!"
Newsweek contacted the White House for comment but did not receive a response in time for publication.