Donald Trump's Healthcare Plan Means 'Thousands of People Will Literally Die,' Bernie Sanders Warns
Senator Bernie Sanders warned on Sunday that he believes many Americans could die if President Donald Trump's plan for healthcare moves forward.
"If Trump gets his way, the cost of health insurance... will be so high that many people literally will not be able to afford it," Sanders, an independent who represents Vermont, said on CBS News Face the Nation. "Thousands of people will literally die. That's Trump's health insurance plan."
Sanders has regularly pushed for what has become known as "Medicare for All" — the expansion of a government-funded isurance option to all Americans — and is currently polling as one of the top contenders to win the Democratic nomination and potentially face Trump in 2020. The senator also said Sunday that he plans to reintroduce his Medicare for All plan within "the next couple of weeks."
"What we understand is that it is just not acceptable that 30 million Americans have no health insurance and even more are underinsured with high deductibles and high co-payments," he pointed out.
Despite significant criticism from Republicans and some Democrats, Medicare for All appears to be gaining widespread popular support. A survey released by Reuters last August revealed that 70 percent of Americans support the progressive healthcare idea. It enjoyed support from 85 percent of Democrats and even a slim majority of Republicans, at 52 percent, according to the poll.
Last week, Trump declared that the Republican party would become "the party of healthcare."
"Let me just tell you exactly what my message is: The Republican Party will soon be known as the party of health care. You watch," he told reporters, according to The Hill.
However, the president has repeatedly pushed for the full repeal of the Affordable Care Act (ACA), commonly known as Obamacare. Though they have succeded in effectively gutting some aspects of the law, like the requirement that you have insurance or pay a nominal penalty, efforts to repeal the underlying legislation have been unsuccessful, despite Republicans controlling the House of Representatives and the Senate through 2017 and 2018, as they failed to put forward an alternative that would not leave more Americans without health insurance.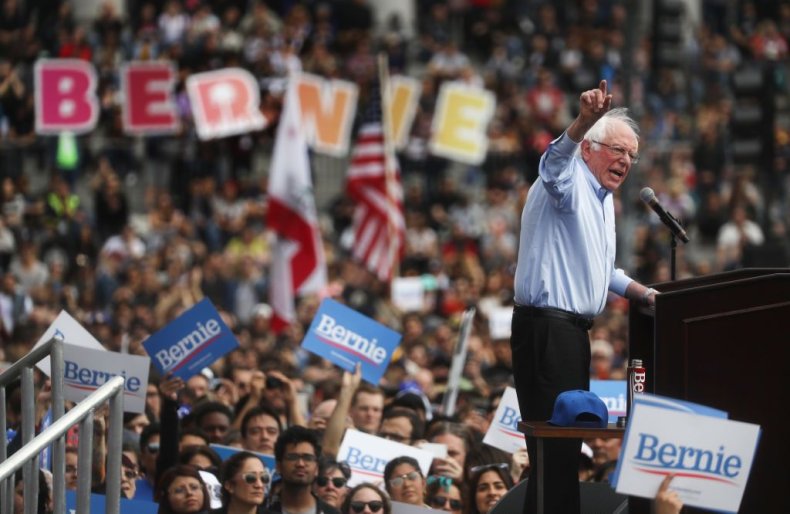 Trump also released a new budget proposal earlier this month that would slash funding for Medicare, Social Security and Medicaid. Many critics were quick to point out that the president had vowed specifically not to cut these programs while he was still a candidate back in 2015.
"I'm not going to cut Social Security like every other Republican and I'm not going to cut Medicare or Medicaid," he said in an interview with the Daily Signal, a publication connected to the conservative think take, The Heritage Foundation.
Sanders was quick to slam the president's proposed budget, arguing it was full of "cruelty."
"It is dead on arrival. We don't need billions of dollars for a wall that no one wants. We need a budget that works for all Americans, not just Donald Trump and his billionaire friends at Mar-a-Lago," the senator said at the time.