Trump's 2020 Strategy: Campaign Against Hillary Clinton
President Donald Trump officially launched his 2020 presidential campaign Tuesday evening, but his strategy remained remarkably similar to his successful 2016 run: Rail against Hillary Clinton.
The president repeatedly called Clinton out by name during his hour-plus speech in Orlando, Florida, stopping and smiling as the crowd fell into familiar "lock her up!" chants. Trump repeatedly brought up Clinton's email server, remarking to the crowd that if he so much as deleted an email, he'd be killed.
"Can you imagine, if I got a subpoena — think of this: if I got a subpoena for emails, if I deleted one email, like a love note to Melania, it's the electric chair for Trump," he said.
Trump also referenced Hillary Clinton's use of the word "deplorables" to describe some Trump supporters. The press clung on to the term deplorable, said Trump but, "she also said irredeemables, I think that's worse." The president remarked that "I think Hillary Clinton made a big mistake with that speech," about the 2016 remarks.
Clinton is not running for president in 2020, but speaking out against the former candidate clearly still resonated with his base who booed and chanted when they heard her name. When Trump referred to Clinton as "Crooked Hillary" the crowd cheered so loudly he had to stop speaking.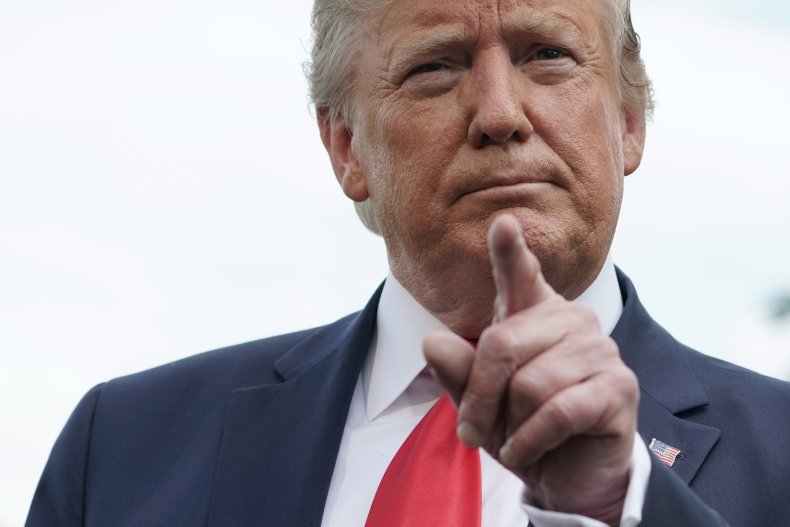 The president made reference to Hillary Clinton many times more than any actual Democratic candidate. "We'll find" Clinton's emails, he told his supporters, indicating that he intended to make this a central part of his 2020 campaign.
The chants and attacks sounded eerily familiar to the president's successful 2016 run where he found success in fighting against Clinton. They also seem to be an intentional strategy, after the president started speaking, Sean Hannity, a media ally tweeted that he would devote his Fox show tonight to investigating the Clinton emails.
Many on Twitter made fun of the president for his choice to focus on Clinton. "Hillary Clinton you must be EXHAUSTED! Cause you've been running through Donald Trump's small mind for a LONG time," wrote former Florida gubenetorial candidate Andrew Gillum. But while 23 Democrats are competing to fight against Trump, he's alone in his primary election and doesn't yet have to campaign against them.
It doesn't matter if his base knows who they're voting against, so long as they know who they're voting for, and a fight against someone who has already been defeated might be a way to frame the president as a winner before the general election even begins in earnest.
Update: This story has been updated to remove a tweet from Politico managing editor Sudeep Reddy.