Donald Trump's Sniffling, Humbling Debate Debacle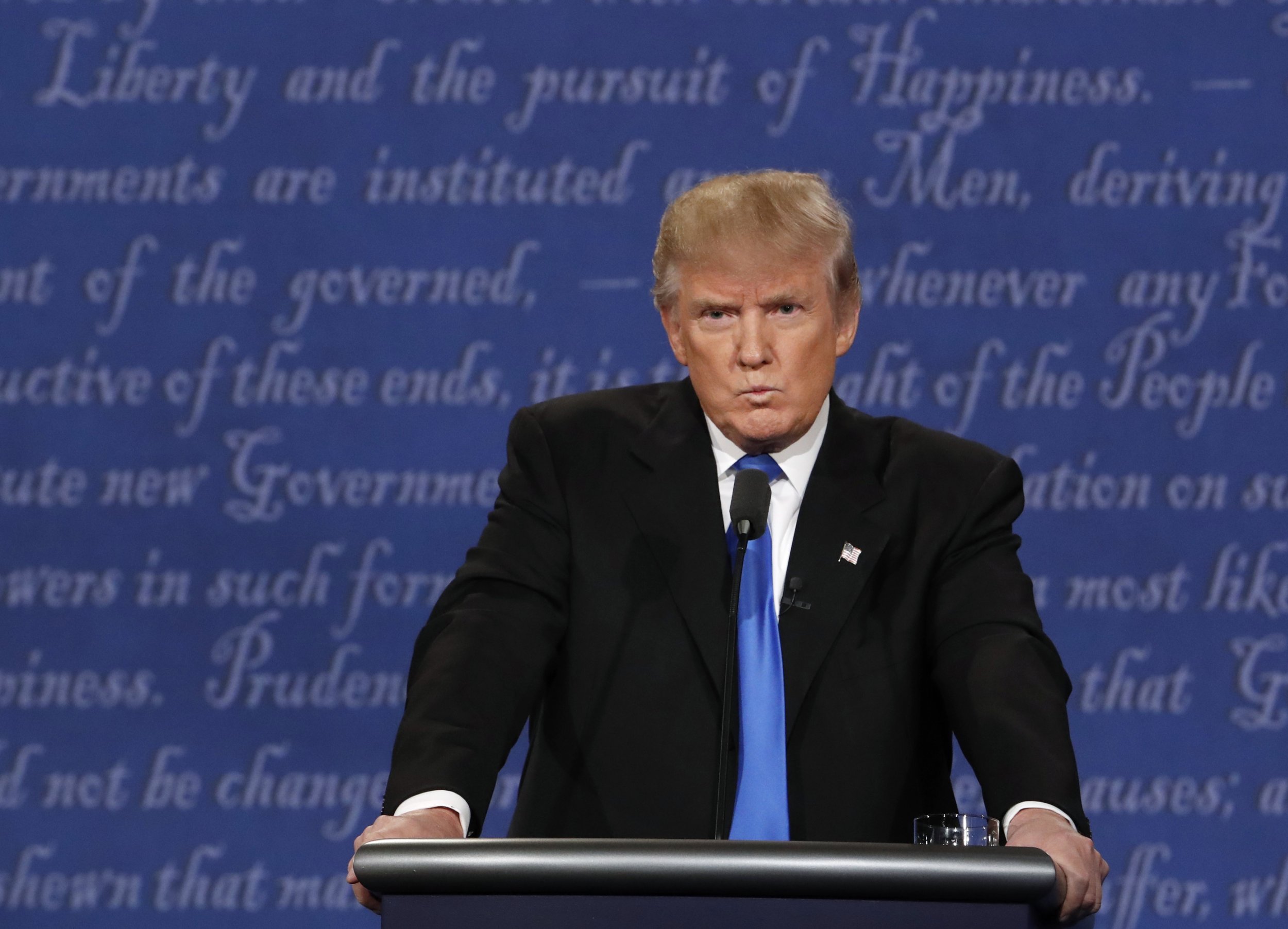 "How are you, Donald?" Hillary Clinton asked as she shook her opponent's hand onstage Monday at Hofstra University in Hempstead, New York. She wasn't going to use the "Mr. Trump" honorific like some sort of Apprentice contestant. Trump, of the other hand, asked her if "Secretary Clinton" was a good label, then slipped and used "Hillary" a few times.
Debates are often won or lost on such details, or on how well you prepare and execute. If you're attacking Janet Yellen, the head of the Federal Reserve, who is not exactly a familiar name, you're wasting your time. Trump did just that, while for most of the debate, Clinton was calm and assured. She was not easily rattled. Most importantly, she exploited her opportunities and effectively chided her GOP rival. In terms of visuals on the split screen, Trump was a collection of smirks and pouts. And what was with the sniffles? Wasn't Clinton supposed to be the sick one? And yet Trump clearly had a cold or allergies.
At times, the Republican nominee also seemed allergic to facts. Clinton hasn't been fighting ISIS "her entire adult life," as the Islamic State group was founded in 2004. Immigration and Customs Enforcement couldn't have endorsed Trump because government agencies like ICE don't do that. (He has been backed by the unions representing border patrol employees and immigration officers.) His insistence that he led the birther movement to protect President Barack Obama was laughable. Plus, his proposals really do blow up the deficit, according to independent watchdog groups.
And yet, some of what Trump said was effective on trade. He lashed out at China, Mexico, Ford and our idiotic trade negotiators who don't "know what the hell we're doing." That was a pretty good round for the New York billionaire, who looked tough and offered his audience some easy enemies. But then he couldn't restrain himself. He chided Saudis who don't pay their bills, NATO freeloaders, Clinton allies Sidney Blumenthal and Patti Solis Doyle, New York Mayor Bill de Blasio and, of course, Clinton herself. He fat-shamed hackers and was unapologetic about insulting Rosie O'Donnell.
Trump is positioning himself as the candidate who will change the country, but he went too far, exaggerating every American problem into an existential crisis. NAFTA was the worst deal ever until he mentioned the Iran nuclear agreement. He again likened African-American neighborhoods to "hell," and he said the U.S. is in such decline, "we're a Third World country," which may come as a surprise to the Third World. Yet when Clinton zinged him on a federal housing discrimination suit against his family's real estate business, Trump offered a lame excuse, saying the firm never admitted any guilt.
Clinton's defense of her stamina, meanwhile, was arch and sly. She noted the 112 countries she has been to and the 11 hours she spent testifying before the Benghazi committee. Her gender-based critiques of Trump were pointed and effective. And many women may see his constant interrupting as a sign of condescension.
The former secretary of state gave supporters reason to go to the polls. She talked about "endemic racism" and vowed to reform police departments—issues especially close to many African-Americans. She cited a Latina beauty contestant Trump had belittled and offered other examples of discrimination that were aimed Hispanic voters. Clinton's coalition of the ascendant—younger voters, minorities, educated professionals—got the kind of reassurance they crave from the Democratic nominee.
Trump gave her some help. He faltered on his tax returns, offering a clumsy excuse for not releasing them, and defended his use of bankruptcy, which won't help him with average American voters. Clinton pounced when he seemed far too casual about nuclear proliferation: A man "who can be baited by a tweet shouldn't be anywhere near the nuclear codes," she quipped. And Trump talked too much about murders in Chicago instead of wages in Pennsylvania.
The GOP nominee was on the defensive for much of the night, but at times he bested Clinton. On the Trans-Pacific Partnership, he forced her to either defend the treaty or denounce President Obama, who supports it. But Trump never quite exploited the email controversy, even when asked about cybersecurity, which was the perfect segue to talk about her private server.
Trump probably helped himself by agreeing with Clinton on child care—even though their plans are quite different. He broke with the National Rifle Association and agreed we should ban gun sales to those on the terrorist watch list. And he wisely presented himself as a non-politician, while dismissing Clinton as a hack who has been around for 30 years, promising everything and accomplishing little. "Politicians," he said, "are all talk and no action."
Usually, the challenger does well in the first debate: Ronald Reagan in 1980, John Kerry in 2004, Mitt Romney in 2012. This time, the challenger faltered. After months of using debates to pummel other Republicans, the GOP nominee failed to reassure the country he's ready to be president. The good news for Trump: He still has two more debates.