Donald Trump Criticized for Decision Not to Go After Hillary Clinton Over Emails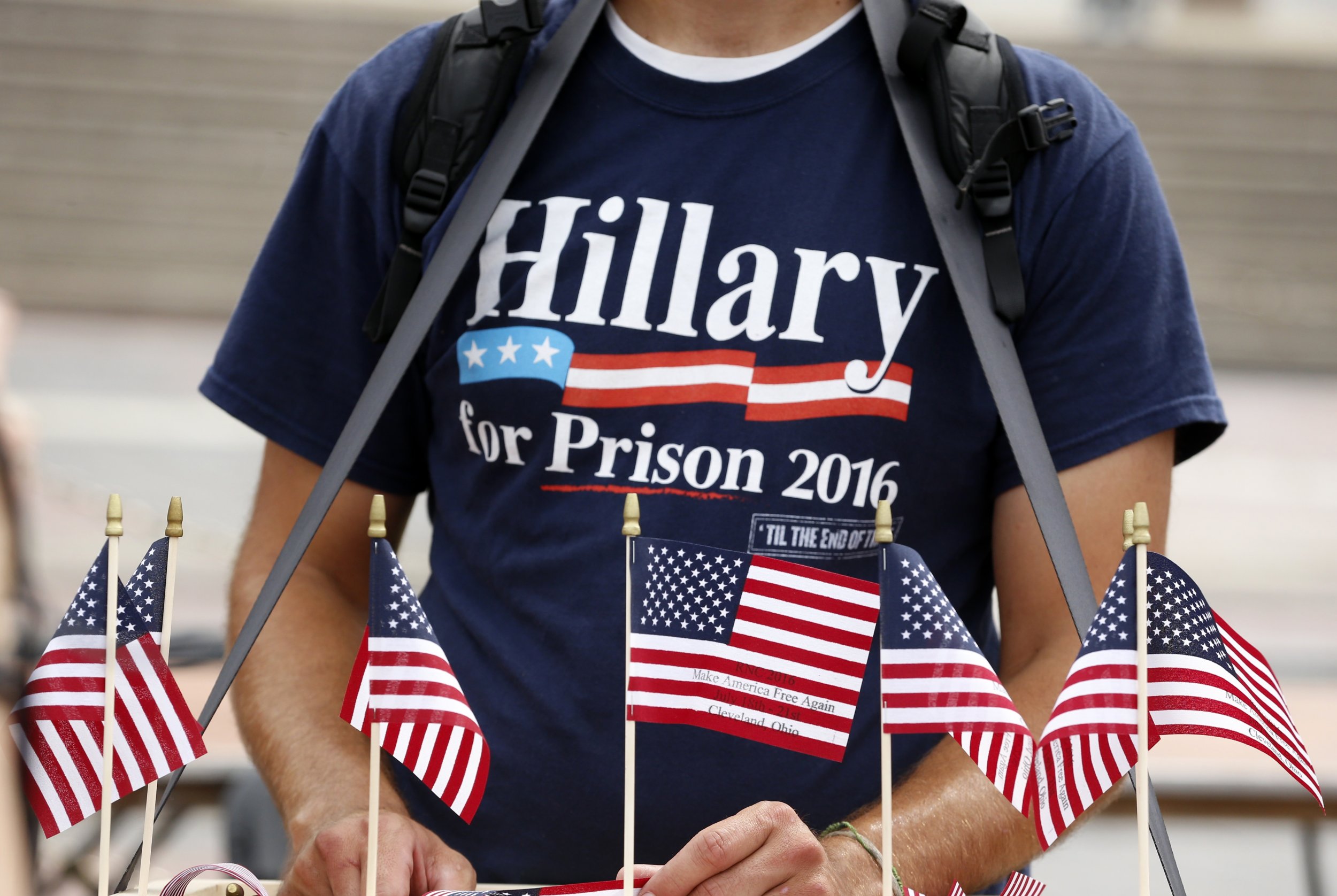 President-elect Donald Trump is being lashed for breaking a campaign promise by deciding not to pursue an investigation into former rival Hillary Clinton for her use of a private email server as secretary of state or for wrongdoing involving her family's charitable organization.
Related: "Lock her up!" Inside the unofficial slogan of the RNC
To his fans' delight, candidate Trump had threatened to appoint a special prosecutor to look into his Democratic opponent's emails and quipped that she would go to jail. He celebrated with his fellow Republicans in the final weeks of the election season when FBI Director James Comey announced the agency was looking into more emails related to her email server. The FBI had cleared Clinton, but had criticized her email use.
On the campaign trail, Trump called Clinton possibly "the most corrupt person ever to seek the presidency of the United States." At another rally, he promised: "Hillary Clinton will be under investigation for a long, long time for her many crimes against our nation, our people, our democracy, likely concluding in a criminal trial." And at the second presidential debate on October 10, he directly said to her: "There has never been so many lies, so much deception, there has never been anything like it.... Honestly, you'd ought to be ashamed of yourself."
But his team on Tuesday said the incoming Trump administration won't pursue charges. "I think Hillary Clinton still has to face the fact that a majority of Americans don't find her to be honest or trustworthy," Kellyanne Conway, senior adviser to the Trump transition, told Morning Joe. "I think he's thinking of many different things as he prepares to become president of the United States, and things that sound like the campaign aren't among them."
The reversal is a broken promise for those who wore "Hillary for Prison 2016" T-shirts at rallies and chanted "Lock her up!"—which became something of an unofficial slogan of the Trump campaign. Democrats also are criticizing Trump for his mere suggestion of pursuing charges against Clinton. "That's not how this works. In our democracy, the President doesn't decide who gets prosecuted and who doesn't," Senator Chris Murphy of Connecticut tweeted.
Many are wondering whether the president-elect will rein in his harsh rhetoric once he arrives at the White House in January. In the two weeks since his victory, Trump has appeared to soften his tone on some of his key complaints. Just five days after his election victory, Americans discovered that some of his campaign issues were not meant to be taken literally, when he told 60 Minutes that he would think about further investigating his former opponent—whom he had called "Crooked Hillary"—and probably would repeal just parts of President Barack Obama's signature health care law.
"I don't want to hurt them. They're good people," Trump said about the Clinton family during his November 13 interview, his first as president-elect. Instead, he said he wanted to focus on things like jobs, health care and immigration, and promised 60 Minutes he would give a definitive answer to his decision on Clinton during his next sit-down interview with the show.
Perhaps the most outlandish anti-Clinton rhetoric came during the Republican National Convention in July. There, Chris Christie, the governor of New Jersey and a close Trump ally, prosecuted Clinton in his mock-trial speech, when he asked the crowd to reply "guilty" or "not guilty." Following the same vein, El Paso County Commissioner Darryl Glenn mocked Clinton's wardrobe: "We all know she loves her pantsuits," he said during his speech. "But we should send her an email and tell her that she deserves a bright orange jumpsuit." And New Hampshire state Representative Al Baldasaro went so far as to say Clinton should be "put in the firing line and shot for treason," specifically in connection with her serving as secretary of state during the 2012 attack on the U.S. Consulate in Benghazi, Libya.
Meanwhile, Clinton's lawyers are denying a demand from the conservative group Judicial Watch that she provide further explanation about the creation of her private server, Politico reported. Judicial Watch has complained that she didn't provide full answers to written questions that a federal judge authorized. The former secretary of state's lawyers on Monday in court said two of the three questions went beyond the scope of what the judge had granted.
Read more on Newsweek.com:
- Trump Foundation's 2015 tax form reports "self-dealing"
- Trump transition: The president-elect will meet with The New York Times
- Trump says he "very much" looks forward to seeking counsel from Obama