Donald Trump and Hillary Clinton Refuse to Let the 2016 Election End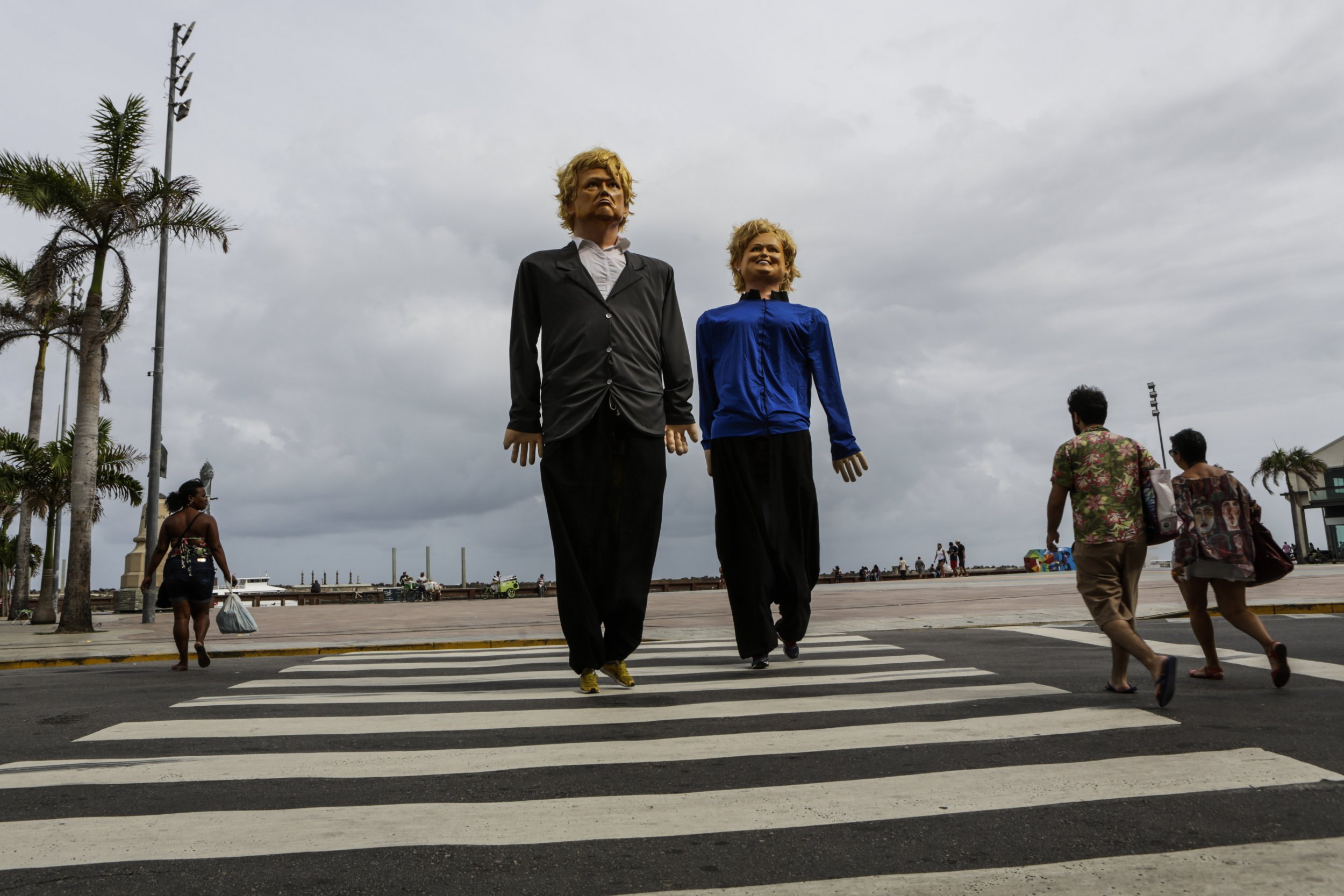 For one brief moment, it appeared President Donald Trump was willing to put aside his beef with Hillary Clinton to focus on leading the free world, while slowly working to heal the wounds of division still felt from the 2016 presidential election.
"Hillary has worked very long and very hard over a long period of time, and we owe her a major debt of gratitude for her service to our country," Trump said during his victory speech on election night in November. "To all Republicans, and Democrats and independents across this nation, I say it is time for us to come together as one united people."
Related: Here's how Donald Trump could actually be impeached
More than 10 months later, however, the commander in chief continues to revel in his upset election victory, regularly tweeting his disdain for "Crooked Hillary," as he affectionately refers to his ex-opponent. Meanwhile, the former secretary of state hasn't let go of her feud with Trump either, recently kicking off a nationwide book tour to discuss What Happened, a chronicle of her experiences battling the Republican billionaire and other challenges she faced as the first female candidate representing a major political party in the United States.
Hours before boarding Air Force One to witness the destructive path Hurricane Irma took across Florida, the president again tweeted some thoughts about last year's competition.
"Clinton blames everybody (and every thing) but herself for her election loss," he wrote. "She lost the debates and lost her direction!"
He added, "She spent big money but, in the end, had no game!"
Trump's tweets arrived late Wednesday night, after a week of exhaustive media coverage of Clinton bookstore appearances and daytime talk show interviews. The president appeared agitated by the wall-to-wall coverage, though he's been tweeting about Clinton ever since assuming the Oval Office in January.
His critics say focusing on Clinton allows him to deflect attention from the ongoing issues surrounding his administration. "Trump wants you to focus on Sessions, Clinton, and Scaramucci this week," Democratic Senator Chris Murphy of Connecticut tweeted in late July, as lawmakers were mulling a bill to repeal and replace former President Barack Obama's landmark health care initiative, the Affordable Care Act. "You need to focus on health care, health care, health care."
The Trump administration has regularly pointed at Clinton during its most controversial moments. "Look, I think if you want to talk about having relationships with Russia, I'd look no further than the Clintons," press secretary Sarah Huckabee Sanders said in July, as reports emerged surrounding the Trump campaign's alleged collusion with Russia.
Clinton seems to have equal tunnel vision when it comes to her old feuds from the election.
"I'll always feel terrible that it happened, that I couldn't figure out how to counter all of the stuff that was coming at me in good enough, fast enough real time," she said during an interview at her home in Chappaqua, New York, on Monday. "Trump mentioned WikiLeaks 160 times in October. Why?… He's trying to let people know what he thinks is important and also what he's done and what he knows about? Which I think is a fair question."
For now, the two faces of the election (and the major parties) remain stuck in 2016, assessing the high and low points from last year while continuing their mutual derision. How their unending, made-for-TV drama and its unprecedented grip on the national conversation affect national politics in future elections is yet to be seen—and could prove just as troubling as the developments arising in real time.