Hillary Clinton Slams Donald Trump: 'Hate Speech Isn't Telling It Like It Is. It's Just Hate'
Hillary Clinton launched a new attack on President Donald Trump, accusing him of intentionally using racially charged language to incite racial tension, and claiming the president "undermines" the country's democratic institutions with his vitriol.
In an op-ed published by The Atlantic Sunday, Clinton went after what she called Trump's "war on truth and reason" as well as his ceaseless attacks on the media, corruption within his administration, his casting aspersions on the country's election process, and his "assault on the rule of law" as he dealt with ongoing allegations of collusion and unfitness for office.
She described the inherent "rowdy" nature of democracies and how they eventually blend together.
"Democracies are rowdy by nature. We debate freely and disagree forcefully. It's part of what distinguishes us from authoritarian societies, where dissent is forbidden," Clinton wrote. "But we're held together by deep 'bonds of affection,' as Abraham Lincoln said, and by the shared belief that out of our fractious melting pot comes a unified whole that's stronger than the sum of our parts."
Clinton continued: "Trump doesn't even try to pretend he's a president for all Americans. It's hard to ignore the racial subtext of virtually everything Trump says. Often, it's not even subtext. When he says that Haitian and African immigrants are from 'shithole countries,' that's impossible to misunderstand. Same when he says that an American judge can't be trusted because of his Mexican heritage. None of this is a mark of authenticity or a refreshing break from political correctness. Hate speech isn't 'telling it like it is.' It's just hate."
Clinton also blamed the powerful Mercer family and the Koch brothers for Trump's ascendance and for Russia's hindrance in the 2016 election.
"Over many years, our defenses were worn down by a small group of right-wing billionaires—people like the Mercer family and Charles and David Koch—who spent a lot of time and money building an alternative reality where science is denied, lies masquerade as truth, and paranoia flourishes," Clinton wrote. "By undermining the common factual framework that allows a free people to deliberate together and make the important decisions of self-governance, they opened the way for the infection of Russian propaganda and Trumpian lies to take hold. They've used their money and influence to capture our political system, impose a right-wing agenda, and disenfranchise millions of Americans."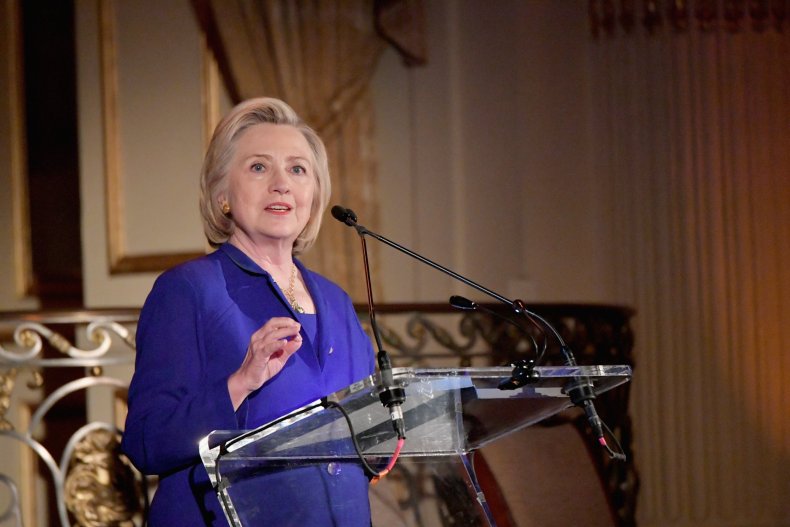 Clinton's blasting of Trump followed a recent speech by former President Barack Obama in which he attacked the current White House incumbent directly as he sought to boost Democratic attempts to take back at least the House of Representatives, if not the Senate, in November's midterm elections.
Obama made statements similar Clinton's regarding race earlier this month, citing Trump's initial reaction to a deadly white nationalist rally in Charlottesville over a year ago.
"It shouldn't be Democratic or Republican to say we don't target certain groups of people based on what they look like or how they pray," Obama said. "We are Americans. We're supposed to stand up to bullies, not follow them. We're supposed to stand up to discrimination. And we're sure as heck supposed to stand up clearly and unequivocally to Nazi sympathizers. How hard can that be, saying that Nazis are bad?"