As Iowans Vote, a Look Back at Donald Trump and How We Got Here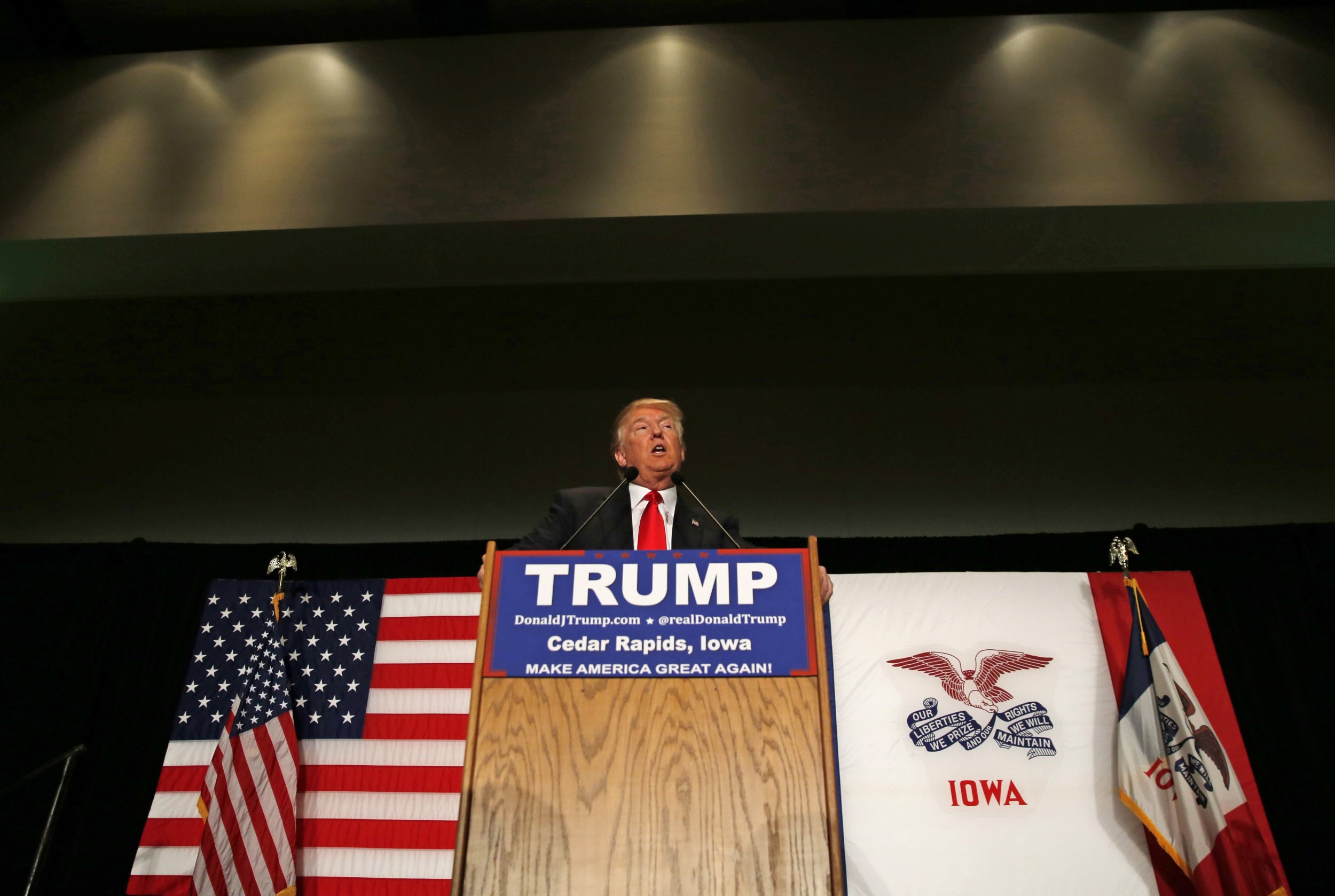 The 2016 presidential race began in 2008, when Hillary Clinton lost her party's nomination to Barack Obama, a first-term senator from Illinois who was long on idealism but short on experience. Clinton couldn't make voters see things that way. Or maybe they just didn't care. Either way, no sooner had Clinton conceded the nomination to Obama than speculation grew that she would run again in 2016.
In 2014, a year after retiring as secretary of state, Clinton began laying the visible groundwork for her campaign. She released a book, Hard Choices, in the middle of that year, and the tour she undertook to promote it looked a lot like a presidential campaign. She was even followed around by a campaign bus, though of course it wasn't called that at the time.
The bus was paid for by—and emblazoned with the logo of—Ready for Hillary, a super PAC founded in 2013 to raise money for Clinton's presidential bid. (The PAC had to change its name to Ready PAC in 2015 to comply with federal elections rules that prevent a candidate's name from appearing in the name of an independent group.) Clinton taking another shot at the White House seemed like an inevitability, and it was.
The Republicans, meanwhile, were looking to their own political dynasty for a new leader. His name was Jeb Bush, the second son of former President George H.W. Bush and younger brother to former President George W. Bush. With a pedigree like that, Jeb seemed like a shoo-in for his party's nomination. As with Clinton, chatter about a possible Bush run began soon after the 2012 election. In December 2014, Bush posted on Facebook that he would "actively explore the possibility of running for President of the United States."
Bush was one of the last Republicans to announce he was running. The first was Senator Ted Cruz of Texas, who announced on March 23, 2015. He was followed by Senators Rand Paul of Kentucky and Marco Rubio of Florida. Then came retired neurosurgeon Ben Carson and businesswoman Carly Fiorina, who both announced on May 4, followed on May 5 by former Arkansas Governor Mike Huckabee and, later that month, former Pennsylvania Senator Rick Santorum.
Former New York Governor George Pataki announced the following day. Then came South Carolina Senator Lindsey Graham and former Texas Governor Rick Perry. Bush announced his candidacy on June 15. Following him were Donald Trump, Louisiana Governor Bobby Jindal, New Jersey Governor Chris Christie, Wisconsin Governor Scott Walker, Ohio Governor John Kasich and former Virginia Governor Jim Gilmore. Seventeen candidates in total.
Bush's strategy from the outset has been to crush all opposition beneath an enormous pile of money. After the Supreme Court ruled in 2010's Citizens United v. FEC decision that groups could spend freely on behalf of campaigns and causes, money has flowed into politics at an unprecedented rate. Right to Rise, the Super PAC supporting Bush, has spent more than $70 million on ads, or about a third of the total spent so far this election cycle, according to Bloomberg.
But, in one of the biggest shockers of this cycle, the backing of the Republican establishment (or part of it, at least) and a seemingly endless supply of cash haven't been enough to propel Bush past the likes of Rubio, Christie or Cruz. In fact, Bush trails all three in the polls by a large margin.
And that's not even counting Donald Trump, the real wrench in the works. Trump's announcement, in June 2015, that he too would seek the Republican nomination was met first with derision (although some saw he had potential). In that speech, Trump accused the government of Mexico of sending drug dealers and rapists across the border. The remark was met with liberal scolding, but as Trump's rhetoric over the course of the campaign became increasingly unpredictable and hostile toward women and immigrants—and his poll numbers continued to climb—laughter turned to concern, then to creeping dread among members of the GOP establishment.
Trump poses an existential threat to that establishment because he neither needs nor wants its support. In fact, his campaign has been largely predicated on rejecting the approval or assistance of the GOP establishment, a message that resonates strongly with a large portion of self-identified Republicans. So afraid was the party of Trump that it convinced him to pledge he would not run as an independent if he failed to win the Republican nomination. The pledge wasn't binding in any sense, and with Trump on the verge of winning in both Iowa and New Hampshire, it seems almost precious now. Of the 17 candidates who started this marathon, five dropped out before any ballots were cast.
On the Democratic side, Clinton's path to the nomination was complicated in May 2015 when Bernie Sanders, the independent senator from Vermont, announced that he would also seek the Democratic nomination. At first, Sanders, a 74-year-old self-proclaimed socialist, seemed to pose no threat to Clinton and her massive and well-funded campaign apparatus. But a series of mistakes—some unforced, others not—have brought Sanders to within striking distance of being President Barack Obama's presumptive heir.
Clinton's biggest error came not during the campaign itself but during her time as Obama's secretary of state. At the time, she used a private email address—hdr22@clintonemail.com—and a private email server, instead of the address and servers provided by the State Department. Clinton's use of private email probably didn't violate any federal regulations (while laws were later enacted requiring all State Department employees to use their official email, those regulations were not in place when Clinton was secretary), and she probably didn't send or receive any classified information.
But Clinton's reaction to the ensuing public outcry—So what?, essentially—only put her in a deeper hole of her own making. Republicans jumped on the issue as an example of Clinton's poor judgment and disregard for the rules. And, despite multiple federal investigations that have found nothing untoward, "Emailgate," as it's become known, just won't go away.
As Iowa Democrats go to caucus Monday night, they will be faced with a choice similar to the one they faced in 2008. On the one hand is the elder stateswoman, Hillary Clinton, who brings decades of experience grinding out policy in spheres both foreign and domestic. (The third Democratic candidate in the race, former Maryland Governor and Baltimore Mayor Martin O'Malley, has been mired in the single digits.)
But a vote for Clinton is also a vote for the Clintons, and all that entails. Questions about how Bill and Hillary have run the Clinton Foundation, their global charitable organization, have plagued the husband-and-wife duo. And Clinton can't seem to escape her ties to Wall Street, which has given vast sums of money to her campaign, while her closest rival refuses its donations. Sanders, on the other hand, must convince voters that his proposals aren't just a leftist's wish-list but actionable policy. He also must also show voters that he has what it takes to contend with foreign leaders, a task he has little experience in.
For Republicans, Iowa represents a chance to embrace their party's establishment or to break with it utterly. The establishment candidates are Bush, Rubio, Christie and Kasich. Together, they poll lower than Trump, who, if chosen to lead the party in November, could cause a Republican schism that might take a generation to heal. The more "traditional" conservative pick is Cruz, although he too is despised by most of his fellow Republicans. The other option available to Republicans is Paul, a libertarian. But his poll numbers have been abysmal for most of the race.
But no matter how Iowans vote, it's been the strangest assortment of candidates ever, from a neurosurgeon who says prison can turn you into a homosexual to a democratic socialist who has voted to protect gun manufacturers. Thirty-five years ago this month, the Talking Heads released their classic song "Once in a Lifetime," with the line "You may ask yourself, 'Well, how did I get here?'"
It seems like a good theme for Monday night's voting.
As Iowans Vote, a Look Back at Donald Trump and How We Got Here | U.S.