Donald Trump Calls Hillary Clinton 'the Devil' as Criticism of Remarks About Soldier's Parents Grows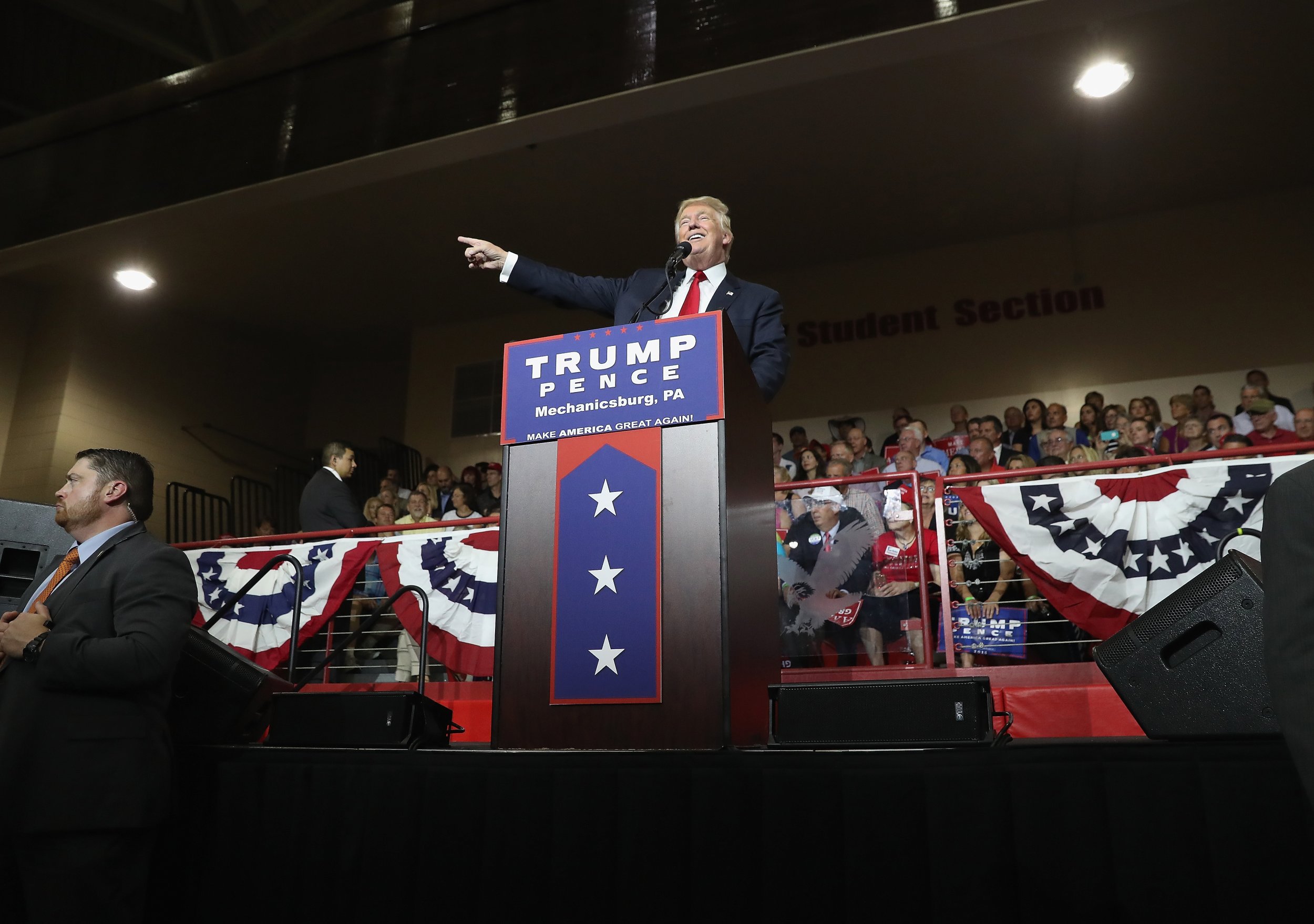 Republican presidential candidate Donald Trump has referred to his rival Hillary Clinton as "the devil," as criticism over his remarks about the parents of a fallen U.S. Muslim soldier continues.
Trump made the comments about the Democratic candidate at a rally in a high school gym in Pennsylvania. He was referring to the decision of Bernie Sanders —Clinton's beaten rival for the Democratic nomination—to throw his support behind the party's candidate.
"If he [Sanders] would have just not done anything, just go home, go to sleep, relax, he would have been a hero. But he made a deal with the devil. She's the devil. He made a deal with devil, it's true," said Trump, according to the BBC .
It is not the first time Trump has characterized Sanders's backing for Clinton as a deal with the devil, but it is the first time he has specifically designated the former First Lady as such.
In an interview with Fox News on Monday, Trump also said the "election is going to be rigged," a suggestion he had previously made at an Ohio rally.
The Republican candidate has come in for criticism from members of his own party and opposition alike for his comments about the parents of U.S. Army Captain Humayun Khan, an American Muslim soldier who was killed by a car bomb in 2004 while serving in Iraq. The soldier's father, Khizr Khan, addressed the Democratic National Convention in Philadelphia, and Trump sparked controversy by suggesting in an interview that Khan's wife Ghazala, who was present on stage with her husband, had been prevented from speaking at the event. Ghazala later made a statement refuting his suggestion.
Former Republican candidate and veteran of the Vietnam War John McCain slammed Trump for his comments, saying that the candidate did not have "unfettered licence to defame the best among us." Trump's comments have also been criticized by his defeated rivals for the Republican nomination, while U.S. President Barack Obama said in a statement that "no one has given more for our freedom and security than our Gold Star families." Gold Star families refer to families of soldiers killed in the Iraq War.
Veterans' associations have also rejected Trump's comments. Brian Duffy, the head of the Veterans of Foreign Wars (VFW)—which has almost 1.7 million members— said that there are "certain sacrosanct subjects that no amount of wordsmithing can repair once crossed" and that "election year or not, the VFW will not tolerate anyone berating a Gold Star family member for exercising his or her right of speech or expression."
In a statement released on Saturday, Trump referred to Captain Humayun Khan as "a hero to our country" and said that "we should honor all who have made the ultimate sacrifice to keep our country safe." Trump added that the "real problem" was the "radical Islamic terrorists who killed him [Captain Humayun Khan]" and that his policies would protect the U.S. from such individuals.