Every Time Trump Tweeted About Hillary Clinton During the First Year of His Presidency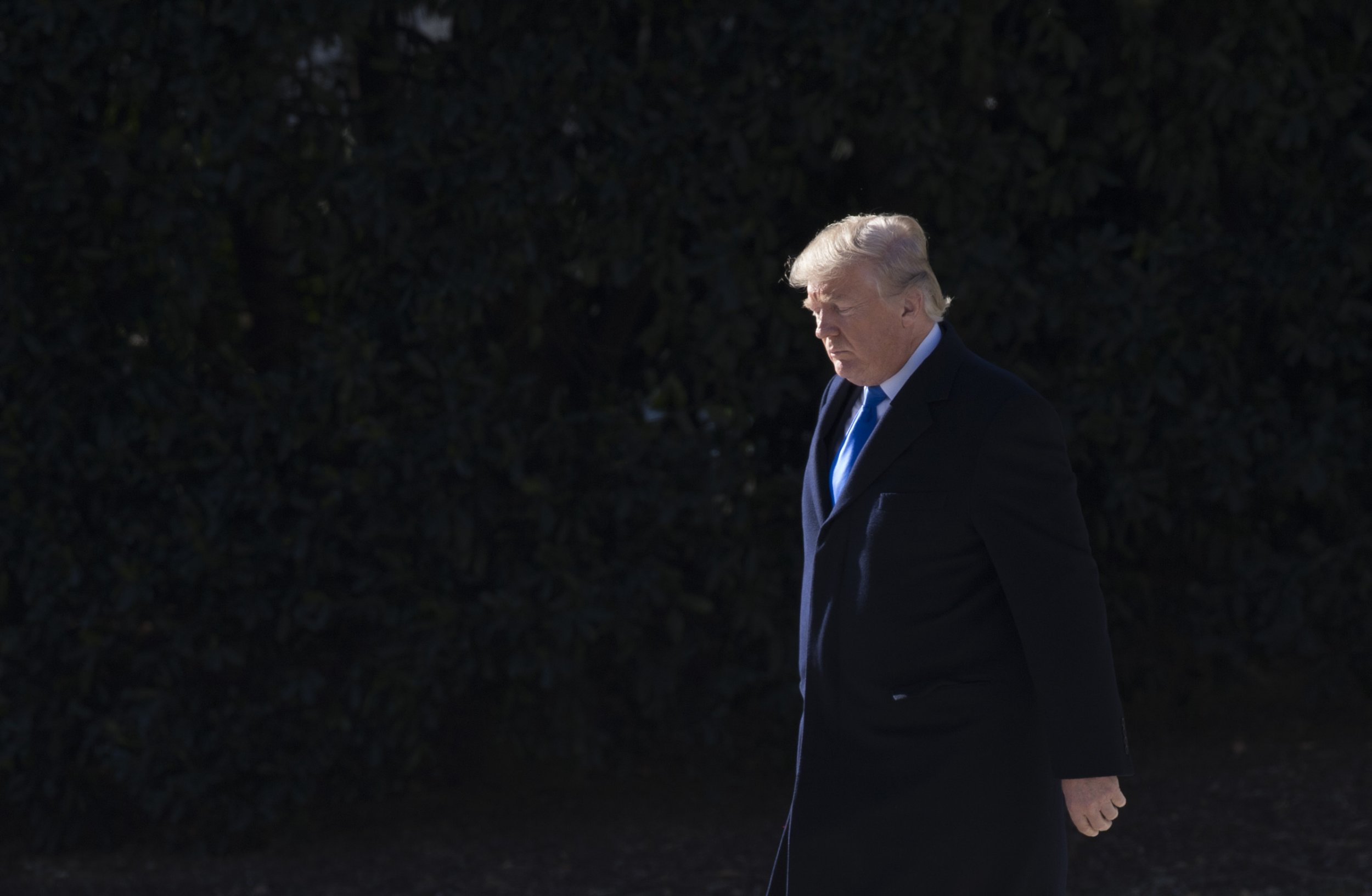 Donald Trump is haunted by a woman from his past.
Hell, who isn't? In President Trump's case, though, it's the Democratic nominee who lost the presidency to him more than a year ago—and who continues to torment his daily existence.
In the year since he took the oath of office, Trump has tweeted about Clinton (or her 2016 presidential campaign) by name (or nickname) 77 times. That is an average of roughly one Clinton-themed tweet every 4.7 days, though the tweets have often appeared in angry bursts rather than evenly spaced out dispatches.
The president fumed over Clinton's bestselling memoir, blasted her as "the worst (and biggest) loser of all time," protested that the FBI did not investigate her emails harshly enough, tweeted about the 2010 uranium deal that occurred when she was secretary of state, relitigated various aspects of the general election and frequently insisted that authorities should be investigating Clinton's misdeeds rather than Trump's own campaign. (More than a few of these tweets were inspired by segments the president watched on Fox and Friends.)
Related: Everything that made Donald Trump 'sad' in 2016, according to his tweets
Trump remained fixated by perceived favoritism for Clinton in the 2016 election, despite the fact that he won. There is no recent precedent for a president this tormented by a prior election rival. (It is difficult to imagine President Obama, for instance, spending his first year in office ranting and raving about John McCain.)
Here is every single time Trump mentioned Clinton on Twitter in 2017. (Warning: It's long.)
February 15: The Russia story is about Clinton, not me!
February 26: Bernie Sanders is a fellow victim.
March 20: Clinton campaign as convenient distraction from the Russia investigation.
March 27: The first mention of the Clintons' 2010 uranium deal.
March 27: A laundry list of forgotten Clinton scandals. One might stick!
March 28: The uranium deal again.
April 3: An early morning Fox segment introduces John Podesta's brother.
April 3: Still smarting over the 2016 presidential debates.
April 23: He could still beat Clinton in the popular vote, Trump claims.
May 2: James Comey was a gift to Clinton (despite the more likely conclusion that he cost her the election).
May 18: And, of course, there was the lack of a Clinton campaign investigation.
May 31: Crooked Hillary is a big liar!
June 13: The Attorney General gave Clinton a "free pass," too.
June 15: Clinton was aligned with the Russians, not me!
June 15: Clinton was the obstructor, not me!
June 24: Clinton was spared by Obama!
June 25: Clinton colluded, not me!
June 26: Actually, President Obama is the obstructor.
June 26: Obama was (unsurprisingly) a Clinton supporter.
July 10: A strange tweet about a hypothetical Chelsea Clinton entry into politics.
July 12: Democrats get a free pass.
July 22: Have I mentioned that Crooked Hillary deleted some emails?
July 22: She deleted emails!
July 22: Back to the uranium deal...
July 24: Why, why, why?
July 25: Even Jeff Sessions prefers Hillary!
July 25: And so does the president of the Ukraine....
July 25: ...and the deputy director of the FBI.
July 26: In case you weren't paying attention on July 25...
August 19: A "Crooked Hillary" reference in a pre-Fire and Fury farewell to Steve Bannon.
September 1: And back to James Comey.
September 13: Hillary Clinton has a book, assigns blame.
September 13: A bizarre airing of Clinton's "deplorables" comment, from a year prior.
September 20: Nuclear tensions with North Korea are her fault! (Fact check: meh.)
September 22: "Dishonest media" and "Crooked Hillary" co-star in one petulant tweet.
September 22: Still fuming over election press coverage.
October 16: And yet, if Clinton were to run again...
October 18: James Comey wasn't harsh enough on Clinton (though authorities said the investigation was largely complete).
October 18: James Comey was a gift to Clinton. (Hmm.)
October 19: Why isn't the media covering Clinton's seven-year-old uranium deal?
October 19: Fox and Friends confirms that Russia favored Clinton!
October 21: Eleven months later and still relitigating the election.
October 25: Trump is the victim!
October 27: Clinton is the colluder!
October 27: A New York Post story frames the Russia investigation as a Clinton-peddled conspiracy.
October 29: That dossier again...
October 30: If nothing else, Clinton provides a convenient distraction from the Paul Manafort indictment.
November 2: Relitigating the Democratic primary via new Donna Brazile revelations.
November 3: Trump, as always, speaks for everybody.
November 3: Hillary Clinton colluded, not me!
November 3: A cameo by Elizabeth Warren.
November 3: Unexpected use of the word "apoplectic."
November 3: The fifth Clinton tweet in one day.
November 11: A Clinton gaffe from 2009 as convenient distraction from the Russia investigation.
November 18: Clinton, "get on with your life" (as he obsessively tweets about her 375 days after the election).
November 28: In case you've forgotten about the emails...
November 29: A plug for Fox's coverage of those emails.
December 2: Clinton didn't face the same consequences as Michael Flynn.
December 2: The return of acid washing, for something other than jeans.
December 3: Remember Andrew McCabe? Fortunately Fox and Friends does.
December 3: FBI is in Tatters!
December 12: Senator Kirsten Gillibrand is insulted as a "total flunky."
December 23: McCabe as Clinton Puppet.
December 24: There is no rest for a Clinton maligner, even on Christmas Eve.
December 26: The return of the dossier.
December 28: A cameo by Condé Nast's Anna Wintour.
December 31: Clinton would have decimated the stock market. Happy New Year!
January 2: A cameo by Huma Abedin.
January 5: A multi-tasker, Trump manages to bash Clinton, the Democratic party, the FBI, the "Fake News Media" and Michael Wolff's Fire and Fury in one tweet.
January 6: The now-infamous "like, very smart" tweet.
January 7: Misquoting (then accurately quoting) a New York Post column.
January 11: New year, same emails.