Donald Trump Hints at More 'Stuff Coming Out' About Joe Biden's Son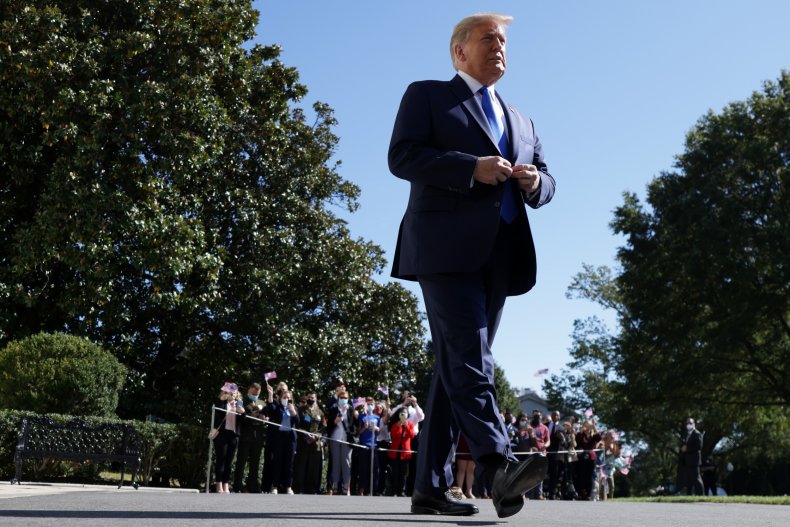 President Donald Trump has hinted that more damning news is forthcoming about Democratic rival Joe Biden's son, Hunter, with fewer than three weeks left until Election Day.
The New York Post reported this week that a Delaware computer repair shop owner found emails and other information on Hunter Biden's laptop that was dropped off in April 2019 but was never picked up. Trump's lawyer and former New York City Mayor Rudy Giuliani gave the emails to the Post and has been releasing more information, including text messages, on his own website.
"I hear they have stuff coming out that you wouldn't even believe," Trump told a rowdy crowd in North Carolina, just hours after the New York Post released its second report on emails suggesting Hunter Biden used his father's position as vice president for his own financial benefit.
Hundreds of supporters turned out for Trump's mass rally that was held in the early afternoon Thursday. After the North Carolina event, Trump is slated to head to Miami, Florida for a town hall with NBC. Biden will have a town hall event at the same time hosted by ABC, after the second of three presidential debates that was supposed to be held Thursday night was canceled.
For more than an hour, Trump riffed to the cheering North Carolina crowd on a variety of issues, including his Supreme Court nominee, protests in cities and health care, among others.
But he kept his most acerbic remarks for the Biden family and the New York Post's reports.
Mocking Hunter Biden, Trump said in an affected voice, "Dad, say hello and, by the way, dad, give them everything they want."
"This could only happen to me," Trump said, laughing and apparently referring to the timing of the reports coming with 19 days left in the campaign. "This is the craziest race."
The initial New York Post story centered on an April 2015 email that Hunter Biden allegedly received from Vadym Pozharskiy, an adviser to Ukrainian energy firm Burisma Holdings. Hunter Biden was a member of Burisma's board. In the purported email, Pozharskiy thanks Hunter Biden for an opportunity to meet his father, who was vice president at the time, and spend "some time together."
That report was followed by another about a May 2017 email that allegedly held the subject line "Expectations" and included details of "remuneration packages" for six people involved in an unspecified business venture.
"Can you imagine? (The repair man)'s fixing the laptop and said 'This is really bad stuff,'" Trump told his supporters, recounting the ordeal in detail on Thursday.
Biden's campaign has said his schedule from his time as vice president shows no evidence of such a meeting with his son's business contacts. It hasn't directly addressed whether the emails are authentic and belonging to Hunter Biden, but Bidens supporters have raised questions about the content of the emails and how they were obtained.
Both Facebook and Twitter have flagged reports on the issue as potential misinformation or stolen information.
"I think Twitter's response to the actual article itself makes clear that these purported allegations are false and are not true," Biden campaign national press secretary Jamal Brown told the news network Cheddar on Thursday.
Biden also has repeatedly denied involvement in his son's business dealings.
"We've always kept everything separate," he said during the first presidential debate.
But the Trump campaign has pounced on the allegations—harkening back to the 2016 race and issues over then-Democratic candidate Hillary Clinton's emails.
"The fact they didn't question the authenticity of the emails at any stage of this would confirm their authenticity," Trump campaign spokesman Tim Murtaugh told Newsweek and other outlets Thursday morning.