Donald Trump and His Supporters Push Ahead With Plans to Reopen Economy Whether Governors Like It or Not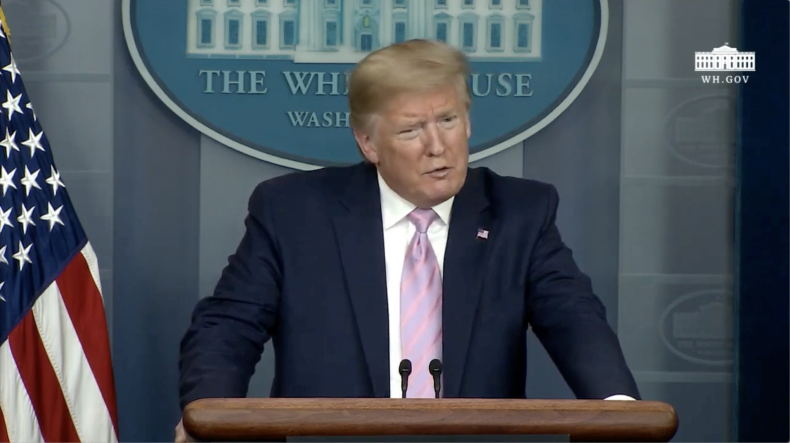 President Donald Trump said he will appoint a commission to develop strategies for jump-starting the economy amid the coronavirus pandemic, heeding calls from prominent Republicans who want him to press ahead with plans despite the reservations of his own medical experts and some governors.
Trump will formally unveil the group Tuesday. It will reportedly be chaired by White House Chief of Staff Mark Meadows.
He has said the group will work separately from the White House Coronavirus Task Force chaired by Vice President Mike Pence and the supply chain "strike force" led by his son-in-law and senior adviser, Jared Kushner. Unlike those groups, it will not meet every day and will most likely conduct most of its business remotely.
According to the president, the council will be composed of a mix of business leaders, executives, medical experts, and governors representing both the Republican and Democratic parties.
"I'm not going to have all of the governors, but I'd like to put some representative governors on the council," Trump said on Friday during the White House Coronavirus Task Force's daily press briefing.
Among the governors he suggested could take part were New Jersey's Phil Murphy, Louisiana's John Bel Edwards, and California's Gavin Newsom—all Democrats—as well as Republican Mike DeWine of Ohio.
Trump has expressed a desire for the economy to reopen with a "Big Bang" after the Center for Disease Control and Prevention's "30 days to stop the spread" guidelines expire at the end of this month.
But one White House official Newsweek spoke with said reports that Trump has been set on a May 1 deadline were not accurate.
"The only people I hear talk about May 1 are those in the media," said the official, who requested anonymity because they were not authorized to speak about internal deliberations. They added that they'd "never heard" anything of the sort from anyone inside the administration.
But White House aides familiar with the task force's work say Trump has remained fixated on the idea of bringing Americans back to their jobs quickly to make up the economic losses suffered over the past month to allow him to resume using a strong economy to make the case for his re-election.
The question of when and how to bring the American economy out of a recession has deepened an existing cleavage between the President, his economic advisers and other confidantes who are in favor of a rapid push to reopen the economy, and the medical experts on his own White House's task force who have continued to urge caution.
Trump is also facing pressure from a prominent member of his conservative media "kitchen cabinet," Fox News host Tucker Carlson.
While Carlson criticized Trump for not taking the threat of COVID-19 seriously last month, prompting the president to admit that the growing pandemic was a serious threat to the country, he has since reversed course and has in recent days been pushing for Trump to begin reopening the economy.
"How do you move a nation of 320 million people from isolation and joblessness back to something better?" Carlson asked during his nightly show Thursday. "You don't hear many people talking about that right now in any detail, but you should be."
One medical expert on the White House task force, CDC Director Dr. Robert Redfield, said Monday that there needs to be a way to quickly and accurately test people to determine whether they currently have the virus and to test people to see if they've developed immunity by successfully fighting the virus off.
Redfield told NBC's "Today" that re-opening the country must be "a step-by-step gradual process, that's got to be data-driven."
But Trump's top trade adviser, Dr. Peter Navarro, dismissed the CDC boss and other top doctors as insensitive to the financial concerns of everyday Americans in an interview with The New York Times.
"It's disappointing that so many of the medical experts and pundits pontificating in the press appear tone-deaf to the very significant losses of life and blows to American families that may result from an extended economic shutdown," he said.
Navarro, a pugilistic China hawk who Trump often refers to as "My Peter," accused doctors like Redfield and Dr. Anthony Fauci, the longtime head of the National Institute of Allergy and Infectious Diseases, of "piously preen[ing] on their soap boxes speaking only half of the medical truth without reference or regard for the other half of the equation, which is the very real mortal dangers associated with the closure of the economy for an extended period."
According to a report by Morgan Stanley analyst Matthew Harrison, the available data shows that the number of new COVID-19 cases could sharply decline in May, but the kind of testing that Redfield and others say is necessary to indicate who is and is not immune to SARS-Cov-2 may not be available until June.
"We believe the path to re-opening the economy is going to be long. It will require turning on and off various forms of social distancing and will only come to an end when vaccines are available, in the spring of 2021 at the earliest," Harrison wrote.
Despite the lack of test availability, one prominent Republican, Texas Governor Greg Abbott, has been pushing for an end to the social distancing which public health experts credit with slowing the spread of COVID-19 and reducing the rate of new infections in so-called hot spots like New York.
During a Friday news conference, Abbott said he would soon unveil an executive order to outline how businesses can reopen in his state.
Abbott said his order "will focus on protecting lives while restoring livelihoods" and stressed that he believes both can be done safely.
"One thing about Texans, they enjoy working and they want to get back into the workforce," he said.
Another Republican governor, Maryland's Larry Hogan, said he doesn't have an "artificial deadline" for re-opening his state during an appearance on ABC News' "This Week."
"Right now, the first thing is saving lives and keeping people safe," he said. "We do also have to think about how do we eventually ramp up and get some folks back to work, but you can't just pick a date and flip a switch. I don't think it's going to be that simple."
Despite the stay-at-home orders that have largely shuttered the U.S. economy are issued by governors and would need to be lifted by governors, Trump said he doesn't need their support to declare the U.S. "re-opened."
In a series of tweets posted Monday morning, Trump claimed that a state governor's authority within his or her own state's borders—a basic feature of American federalism—does not extend to whether governors can decide to keep their stay-at-home orders in place.
Instead, Trump claimed without evidence that the idea that a governor can lift his or her own order is a creation of the "fake news media."
"For the purpose of creating conflict and confusion, some in the Fake News Media are saying that it is the Governors decision to open up the states, not that of the President of the United States & the Federal Government. Let it be fully understood that this is incorrect," Trump tweeted Monday, adding that "for many good reasons" such a decision belongs to the President.