President Donald Trump Raises Questions of Dual Loyalty Amongst Hispanic Americans
Just one month after the president said that Jewish Americans had a dual-loyalty to Israel and the U.S., Donald Trump decided to use a New Mexico rally to question Hispanic Americans' love of the country as well.
Speaking in the state that he lost by 8 points in 2016, the president on Monday night told the crowd that "we love our Hispanics," and said that Hispanics had a better understanding of problems with drugs coming over the southern border than non-Hispanics. He then began talking about Steve Cortes, a CNN contributor who the president said looked to be of European, not Hispanic descent. "He happens to be Hispanic, but I never quite figured it out because he looks more like a WASP than I do," he said.
The president then questioned Cortes, who was at the event, directly. "Who do you like more, the country or Hispanics?" he asked. When Cortes seemingly answered with the country, Trump said, "I don't know. I may have to go for the Hispanics, to be honest with you. We got a lot of Hispanics."
The president later asked the crowd how it was possible that he lost in New Mexico and discussed illegal drug use in the U.S. "And at the center of America's drug crisis, this is where the Hispanics know it better than anybody, people said, 'Oh, the Hispanics won't like a wall.' I said, 'I think they are going to love it,'" Trump said. "You know why? Because you understand it better than other people, but at the whole center of this crisis is the drugs that are pouring in, and you understand that when other people don't understand it."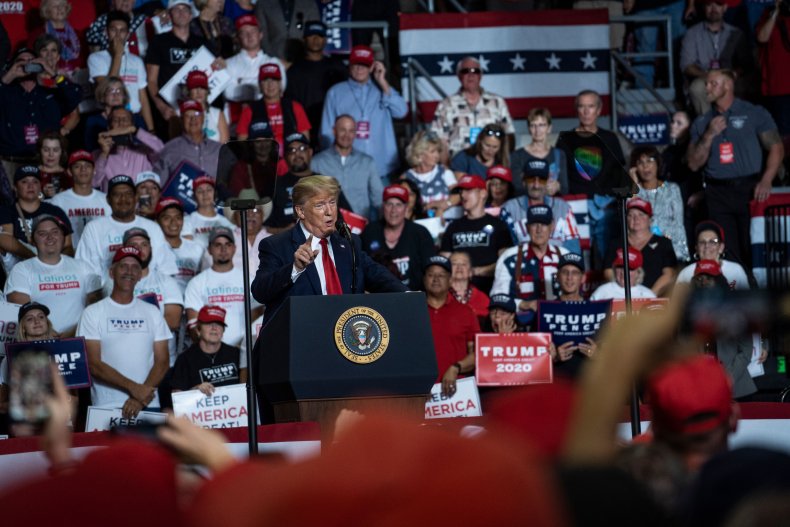 A Washington Post/ABC news poll earlier this month showed the president polling at a 25 percent approval rating amongst Hispanic voters, significantly lower than his overall rating of 38 percent. Still, that didn't stop the president from claiming that his job approval rating by Hispanic Americans had jumped 17 points since he took office. The president did not cite which poll he was referring to and Newsweek was unable to find it. New Mexico's population is about 50 percent Hispanic.
Last month, the president also questioned the loyalty of Jewish Americans.
"I think any Jewish people that vote for a Democrat, I think it shows either a total lack of knowledge or great disloyalty," the president told reporters from the Oval Office. "In my opinion, you vote for a Democrat, you're being very disloyal to Jewish people and you're being very disloyal to Israel."