Watch: Donald Trump Introduces Hispanic Border Patrol Agent: 'Speaks Perfect English'
President Donald Trump thanked a Hispanic border patrol agent in an event at the White House Monday, adding that he "speaks perfect English."
"Adrian come here, I want to ask you a question," Trump said after relaying the story of a United States Customs and Border Patrol Agent who arrested someone trying to smuggle more than 70 individuals across the border. "Come here, you're not nervous are you, speaks perfect English. Seventy-eight lives, you saved 78 people."
The White House pool later identified the man Trump called out as Adrian Anzaldua.
Trump was hosting an event celebrating Immigration and Customs Enforcement (ICE) and Customs and Border Protection services (CBP) amid increasing attacks on the agency for its aggressive approach in tackling illegal immigration. Trump's rhetoric describing Hispanics has long been criticized after he began his campaign for president by describing Mexican immigrants as rapists, drug traffickers and criminals.
More recently, his administration's "zero tolerance" immigration policy was the subject of a major backlash after it resulted in the separation of immigrant families at the U.S.-Mexico border. Trump later issued an executive order to keep families together, however, a number of children remain separated from their parents.
Speaking at the event Monday, Trump lashed out at Democrats for blocking effective immigration laws while touting his planned border wall.
"We're building the wall step by step and it's not easy because we have a little opposition called the Democrats," he said. "I guess they just don't mind crime."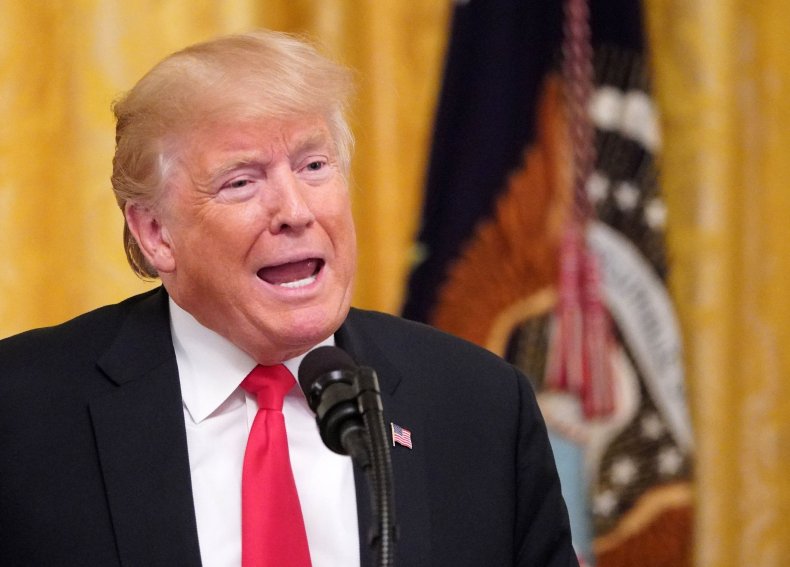 A number of Democrats in Congress have called for ICE to be abolished, something that has regularly attracted the president's ire.
"We condemn these shameful attacks on our great law enforcement," Trump, who earlier sent a letter to local officials across the country emploring them to support ICE, said Monday. "Any politician who puts criminal aliens before American citizens should find a new line of work, because it's not going to work."
Ahead of Monday's event, the White House issued a release that stated: "Calls to abolish ICE are a grave betrayal of these law enforcement officers and the noble sacrifices they make to uphold our laws, secure our borders, and protect our safety."
According to the White House, ICE removed 226,119 illegal aliens during the 2017 fiscal year.