President Donald Trump last week called for a new approach to Iran—demonizing the Islamic Republic as a terror state—but as Washington focuses on its nuclear deal with Tehran, America's Kurdish allies in Iraq are accusing the administration of letting Iran in through the back door.
Amid escalating tensions between the Iraqi government in Baghdad and the country's autonomous Kurdish region in the north, the Iraqi military today made an assault on two major oilfields outside the disputed city of Kirkuk.
Related: U.S. Soldiers Killed In Combat Operations Against ISIS in Iraq
The show of strength by Iraq's central government—following a referendum in favor of Kurdish independence last month—has caused civilians to flee and Kurdish fighters to withdraw from their posts, the Associated Press reported.
The autonomous Kurdish government has condemned the attack emphasizing how Iran-backed militias armed with U.S. military hardware took part in the offensive. "Iraqi forces and Iranian-backed Popular Mobilization Forces … attacked [Kurdish forces] from two fronts ... using U.S. military equipment including Abram tanks and Humvees," the Kurdish military said in a statement.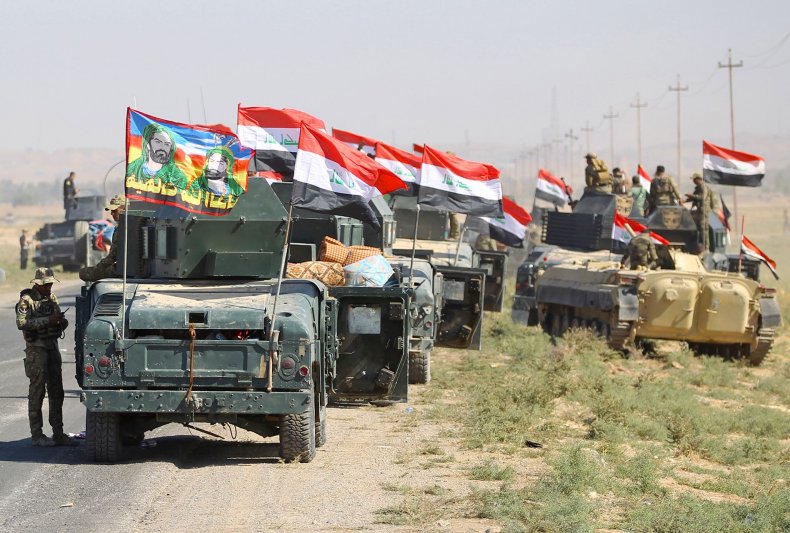 The U.S. has sought to downplay the clashes between its two key allies against the Islamic State militant group (ISIS). The coalition against ISIS said it was aware of "limited exchange of fire during predawn hours of darkness," but called the fighting a "misunderstanding".
Maj. Gen. Robert White, commander of coalition ground forces called for dialogue between the two sides and asked that all parties "remain focused on the defeat of our common enemy," a reference to ISIS.
The U.S. has provided air support to federal and Kurdish forces in Iraq in the battle against ISIS. However, tensions have come to a head in Kirkuk after Baghdad declared the Kurdish referendum in September unconstitutional.
In the summer of 2014 as ISIS made its advance from Syria into Iraq, Kurdish fighters remained in the ethnically mixed city, thwarting the militants' advance. However, the city lies outside the oil-rich Kurdish autonomous area.
In his speech Friday, Trump counted Iran's growing influence in the Middle East as one of the reasons for decertifying the 2015 nuclear deal with Iran and listing the country's Islamic Revolutionary Guard Corps as a terror organization. "This regime has fuelled sectarian violence in Iraq, and vicious civil wars in Yemen and Syria," the president said.
Iran, through the creation of the Popular Mobilization Forces in 2014, has been able to spread influence and power through armed groups like the Badr organization, among others, with strong ties to Tehran.