Donald Trump 'Holding Us All at Gunpoint': Conservatives Angry at 2024 Run
On Tuesday, Donald Trump announced he is again seeking the Republican Party presidential nomination, ahead of the next presidential election in 2024.
Speaking from the ball room of his Mar-a-Lago resort, Trump claimed "our country is being destroyed before your very eyes," and branded President Biden the "face of left-wing failure and government corruption."
However, Trump's announcement went down badly on influential r/Conservative Reddit group, which has one million members, with most of the top-rated comments criticizing the former president.
One commentator, using account name neutralpoliticsbot, received 1,000 upvotes for posting: "He is going to be the Hillary Clinton of republican party in 2024 isn't he?
"I bet he threatens to run third party if [Florida Governor] DeSantis wins primaries which would guarantee a democrat president."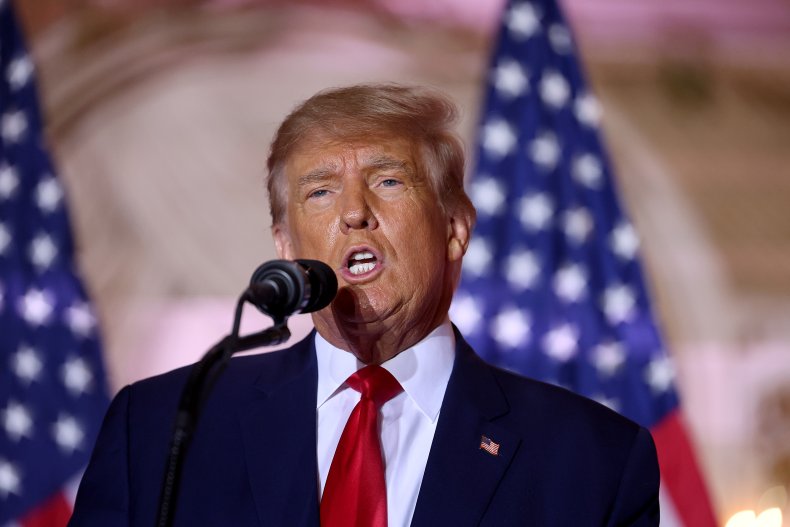 Xixi90 added: "Hard to see this goes anyway but 1 of 2 outcomes:
"1. Trump wins the primary burning everything in the GOP down in the process before losing in the General.
"2. Trump loses in the primary or withdraws and runs 3rd party, guaranteeing the Democrats win 2024 in a landslide."
BillionCub simply wrote: "I feel like he's holding us all at gunpoint."
Apocafeller commented: "This man is going to tear apart the party, and maybe the country in the process."
However, some Reddit posters indicated they hadn't completely given up on Trump yet.
EdgarsChainsaw, who described themselves as "pro-capitalist," said: "He should not have made the unprovoked attack on RDS [Ron DeSantis] last week. That changed a LOT of hearts and minds on him. Still and all, there is lots of time for people to feel one way or another between now and '24."
Meanwhile, WeimarRepublic insisted "conservative populism" is still an election winner, even if Trump himself isn't.
They wrote: "I think Trump had good positions that drove huge turnout for Republicans, and even helped grow minority outreach.
"I can understand the people who said his personality was a turn off, but let's not conflate that with MAGA and conservative populism, those were surely winning positions
"All that said, though, even if Trump has learned how to behave I think he is too old now, and will definitely be too old in 2024. He needs to pass the torch and work as a supporting figure for the next generation."
As Trump made his announcement in Florida around a dozen of his supporters gathered outside Trump Tower in New York, where they shouted "USA" and stamped on a flag bearing the face of DeSantis.
The Florida Governor, who was convincingly re-elected last week, is widely regarded as a possible challenger for the 2024 Republican nomination.
Trump's eldest daughter, Ivanka, has distanced herself from her father, saying she no longer plans to be actively involved in politics.
In a statement given to CNN she said: "This time around I am choosing to prioritize my young children and the private life we are creating as a family.
"I do not plan to be involved in politics. Whilst I will always love and support my father, going forward I will do so outside the political arena."
Donald Trump has been contacted for comment.