Donald Trump Holds 'Incredible' Theresa May's Hand, Says He Wants Her as a Friend
President Donald Trump has heaped lavish praise on British Prime Minister Theresa May, describing the leader as "an incredible woman" whom he'd "much rather have as my friend than my enemy."
The leaders held a joint press conference at Chequers on Friday, during which he repeatedly—and somewhat excessively—paid tribute to May. His comments came following the release of an exclusive interview with The Sun newspaper, in which he slammed May's Brexit white paper and suggested her plan threatened trade with the U.S.
Holding hands with May as he entered the press conference, and doing the same as he left, Trump revealed he had apologized to her for the article ahead of the breakfast they enjoyed together. He repeatedly played up the relationship the pair share—describing it as "the highest level of special."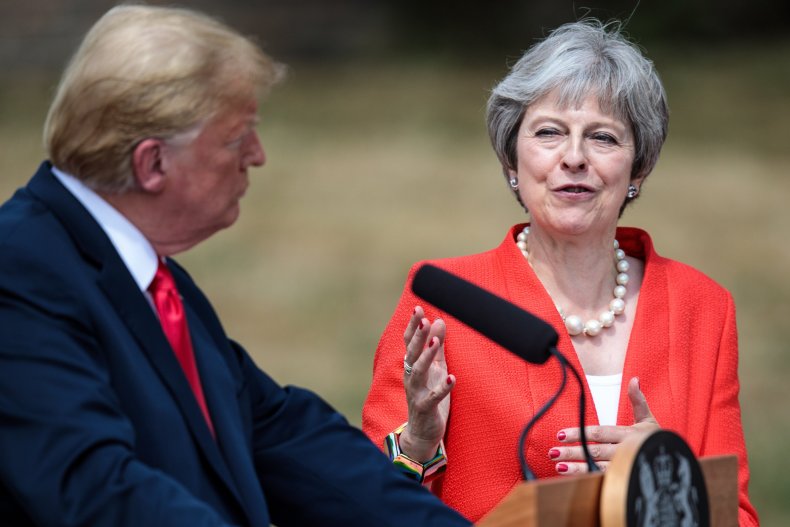 Indeed, the president claimed he and May had developed their relationship during a lavish dinner at Blenheim Palace on Thursday night, commenting he and the prime minister spoke so extensively he felt bad for the people seated around them.
Elaborating on his thoughts on how May is handling Brexit, Trump said: "I think she is a very tough negotiator, she is a very, very smart and determined person…she left a lot of people in her wake; she is a very smart, very tough, very capable person and I would much rather have her as my friend than my enemy, that I can tell you."
In what was a clear change of tone from the newspaper interview released on Friday morning, the president described May as a "smart and determined person," also hitting out at the "fake news" media over the article.
"Did I say nice things about Mrs. May?" Trump shouted to The Sun's political editor Tom Newton Dunn. Dunn responded: "Yes and we reported them, Mr. President."
"Oh good, OK. Where? On the internet?" Trump replied. "I said very good things about her, I didn't think they put it in but that's alright. They didn't put it in the headline, I wish they put it in the headline but that's one of those things."
"And she's a total professional because when I saw her this morning I said I want to apologize because I said such good things about you, she said 'don't worry, it's only the press,'" he added of May.
Newton Dunn, who spoke with Trump for the exclusive interview, told Newsweek the president had flip-flopped on his previous comments during the press conference—initially denying them, then repeating what he told The Sun.