Donald Trump's Hollywood Walk of Fame Star Destroyed With a Sledgehammer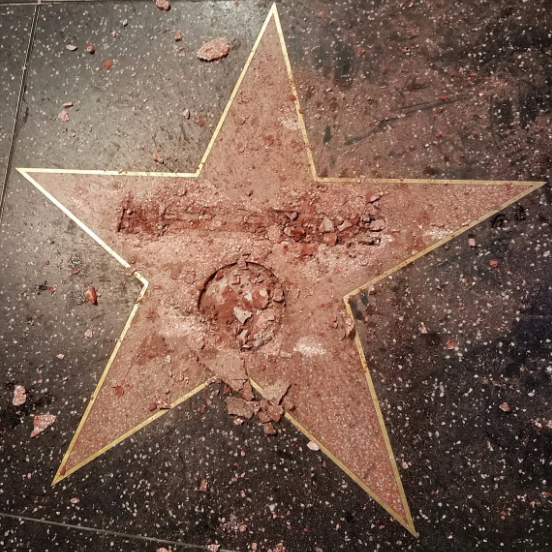 Update | After being bludgeoned beyond recognition by a sledgehammer early Wednesday morning, Donald Trump's star on the Hollywood Walk of Fame has already been repaired. Behold:
While it's been a rough campaign for Donald Trump, it's been just as bad for his star on the Hollywood Walk of Fame, which has served as a canvas for a number of bizarre acts of vandalism since the Apprentice star announced his presidential candidacy. The latest might be the last: At around 5:45 a.m. Wednesday morning, a man dressed as a construction worker took a sledgehammer to Trump's star with extreme prejudice, smashing it beyond recognition.
The man who destroyed the star, who said his name is Jamie Otis, told Deadline he intended to remove the star entirely so he could auction it off to raise money for the women who have accused Trump of sexual assault. Plan B, apparently, was to smash the hell out of it.
Trump's star was dedicated in 2007 in recognition of his work on The Apprentice, and its highly trafficked location near the Dolby Theater on Hollywood Boulevard has made it a popular setting for Trump detractors to express their displeasure with the Republican presidential nominee. Tourists have taken countless selfies while extending middle fingers to the star, while others have gotten more creative. Dogs have defecated on it, humans have urinated on it and swastikas have been spraypainted on it.
That's not all. In July, Los Angeles-based street artist Plastic Jesus built a 15-centimeter concrete wall around the star, in reference to the wall Trump has promised to build along the Mexican border. "I wanted to create a piece that drew attention to [Trump's] potential policies," Plastic Jesus told BBC. "I knew this week was the Republican convention and I suppose I was capitalizing on the momentum of the convention."
Previous acts of vandalism perpetrated on Trump's star have been quickly dealt with by the city. The damage done by Mr. Otis's sledgehammer won't be as easy to repair.
This post has been updated.