Donald Trump's cameo has reportedly been edited out of broadcasts of Home Alone 2: Lost in New York shown in Canada on CBC.
News of the alteration was shared on social media before it was picked up by ComicBook.com. Contacted by the website, CBC said the cameo was to squeeze in commercial time. "As is often the case with features adapted for television, Home Alone 2 was edited to allow for commercial time within the format," CBC told ComicBook.com.
This was confirmed in an email to Newsweek. "The scene with Donald Trump was one of several that were cut from the movie as none of them were integral to the plot," said CBC. "These edits were done in 2014 when we first acquired the film and before Mr. Trump was elected President."
The news has been met with mixed reactions. "When CBC edits out Donald Trump from home alone," one user tweeted on December 15, 2019, with a reaction of Meryl Streep clapping.
"@CBC how pathetic that Trump was edited out of Home Alone 2 while being aired on CBC today. #censorship," said another.
While the omission may be receiving renewed attention this holiday season, it is not the first time Donald Trump's interaction with Kevin McCallister (played by Macaulay Culkin) in the the lobby of the Plaza Hotel has been cut from the 1992 film. Trump's absence from the CBC broadcast has been picked up in previous years.
"CBC cut out the 'Home Alone II' Donald Trump cameo," one user tweeted in 2015.
Some users have accused the Canadian broadcaster of censorship, while others suggested it was "triggered."
"CBC TV in Canada has cut Donald Trump's Home Alone 2 cameo out of their broadcast. They're so triggered by him that they had to edit him out of the film. Absolutely pathetic," Ryan Fournier, a co-founder of the organization "Student's For Trump."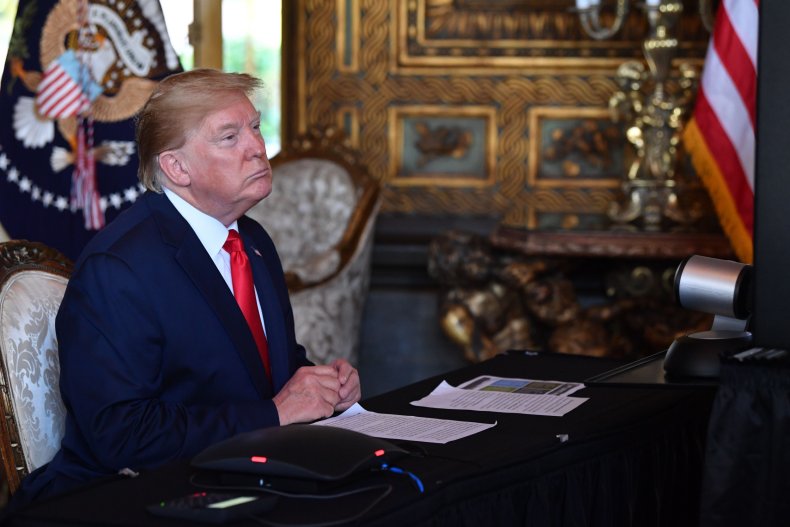 Trump discussed his appearance in the holiday movie during a video call to members of the armed forces on December 24, 2019.
"I'm in Home Alone 2, and a lot of people mention it every year, especially around Christmas," said Trump. "They say 'I just saw you.' Especially young kids, they say, 'I just saw you on the movie.' They don't see me on television as they do in the movie."
"But it's been a good movie and I was a little bit younger, to put it mildly, and it was an honor to do it. And it turned out to be a very big hit; obviously, it's a big Christmas hit, one of the biggest, so it's an honor to be involved in something like that. You always like to see success."
According to his IMDB page, Trump has appeared in 22 movies and TV programs over the years—including Sex and the City, Zoolander and Two Weeks Notice.
In a 2017 interview with The Hollywood Reporter, Matt Damon suggested a Donald Trump cameo may have been a prerequisite for filming in one of his properties.
"The deal was that if you wanted to shoot in one of his buildings, you had to write him in a part," said Damon. "You waste a little time so that you can get the permit, and then you can cut the scene out. But I guess in Home Alone 2 they left it in."
The article has been updated to include a comment from CBC.