Trump Was Being Honest When He Said He'd 'Totally Destroy' North Korea, Nikki Haley Says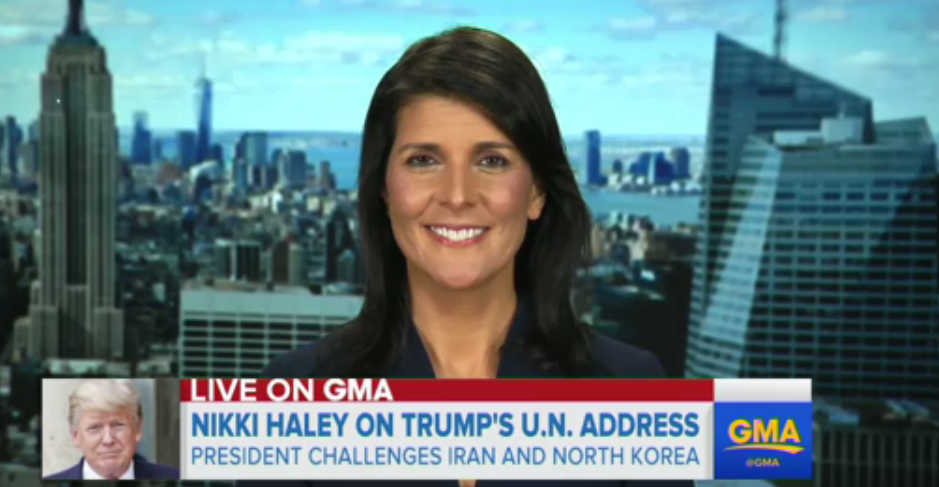 Despite the concerned look on Nikki Haley's face as President Donald Trump addressed the U.N. General Assembly on Tuesday afternoon, she apparently was perfectly comfortable with what was being said.
The U.S. ambassador to the U.N. has repeatedly defended Trump's rhetoric on international diplomacy. She did so again during an interview with ABC News Chief Anchor George Stephanopoulos on Wednesday, asserting that the president "was being honest" in his blunt remarks at the U.N. concerning the North Korean nuclear threat and that nation's leader, Kim Jong Un.
Related: Here's how Donald Trump could actually be impeached
"I know that people and countries don't want to hear it," Haley said on Good Morning America. "What we are saying is we have exhausted every diplomatic means, and we are going to continue to do that...but we've tried to do dialogue, we've now tried to do sanctions, and the international community actually very much appreciated the blunt, honest approach that the president took on North Korea."
Trump's speech included a scathing rebuke of recent North Korea's missile launches, which are in direct violation of U.N. resolutions. The U.N. Security Council recently voted in favor of placing additional sanctions on North Korea that are designed to block the hostile regime from creating an intercontinental ballistic missile capable of reaching the United States.
"Rocket Man is on a suicide mission for himself," Trump said Tuesday, referring to Kim. "The U.S. has great strength and patience, but if it is forced to defend itself or its allies, we will have no choice but to totally destroy North Korea."
The president's comments were met with swift rejection from many world leaders, foreign ministers and career diplomats, including Iran's foreign minister, Javad Zarif, who wrote on Twitter, "Trump's ignorant hate speech belongs in medieval times—not the 21st Century UN."
But to Haley, the speech was a refreshing slap in the face for one of the nation's greatest adversaries. The ambassador also appreciated the "rocket man" nickname, saying on Wednesday, "This is a way of, like, getting people to talk about [Kim]. It worked. Every other international community is now referring to him as Rocket Man."
No word yet as to whether Elton John is upset that the title of one of his most iconic hits is now being used to describe a dictator who wants to kill millions of people. (The singer could not be immediately reached for comment.)