Trump 2020 Campaign is Getting Underway at D.C. Hotel, as President Ignores Conflict of Interest Accusations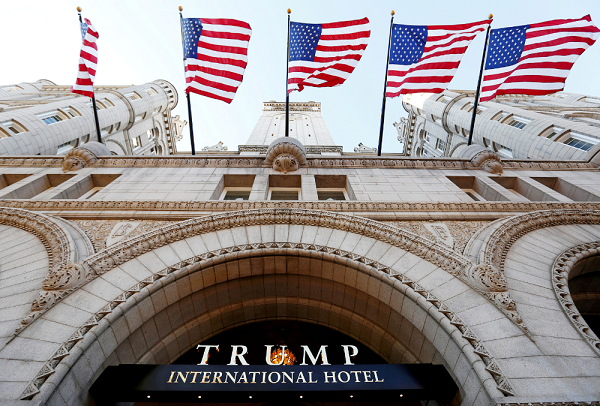 A conflict of interest lawsuit filed by nearly 200 lawmakers isn't stopping President Donald Trump from hosting a 2020 campaign fundraiser Wednesday at one of his properties, the Trump International Hotel in Washington, D.C.
The hotel is just a hop, skip and a jump away from the White House, and Trump's campaign director, Michael Glassner, told the Associated Press that it is a "premiere and convenient" location for the "major-donor event." The invitation-only fundraiser runs a cool $35,000 a plate, and the money raised will be split evenly between Trump's re-election campaign and the Republican National Committee.
Trump's decision to use the hotel for his first re-election event has raised some concern over ethics in the wake of Democratic lawmakers suing the president. The 78 House Democrats and 25 Democratic Senators behind the lawsuit claim Trump, who has already made a reported $20 million off of the D.C. property alone, is in violation of the Constitution's emoluments clause because he is accepting foreign payments through his businesses, including hotels, golf courses and trademarks.
Under the clause, the president and other members of the federal government are unable to accept gifts, emoluments or rewards from foreign states without the consent of Congress.
Trump's administration has contended that the lawsuit will likely be dismissed by the Justice Department, after a similar lawsuit filed by a government ethics watchdog group was thrown out earlier in June. However, some Democrats say their lawsuit may have more legal standing because they contend that Trump has accepted various gifts without asking Congress, in direct violation of the clause.
Unlike most presidents, Trump refused to sell his business holdings following his election. Since announcing his campaign in July 2015 on an escalator at Manhattan's Trump Tower, he's continued to use his properties to conduct government affairs at least 37 times, according to an AP tally.
Despite the millions of dollars it costs taxpayers when Trump decides to use his establishments to conduct business, lawmakers and ethics experts say his appearances at his hotels enriches only him. For instance, the latest annual financial disclosure filed by Trump's Mar-a-Lago resort in Florida, to which he has traveled seven times since becoming president, shows income had increased to $37 million from the $30 million taken in before his May 2016 financial report.