Donald Trump Claims Every World Leader Congratulates Him for U.S. Having the 'Hottest Economy on Earth'
President Donald Trump has claimed that his economic achievements have won him praise from heads of state around the world, with some even attempting to copy his model.
Trump made the remarks Monday during his address to the 2019 White House business session with governors. After touting his efforts to promote deregulation, create jobs and cut unemployment, the Republican leader told his audience that "America now has, really, the hottest economy on Earth."
"Whenever I greet a prime minister or a president, or any leaders of any countries, they always start off by saying, 'Congratulations on your economy. It's been incredible. Congratulations.' And many of them are trying to follow our formula, which was cutting taxes, cutting regulations and many other things," Trump said.
"We give incentives and we work very hard at getting companies to come back in. Those companies that left, we—in particular, we want to work," he added. "They left our country. They fired all of their workers. They moved to another country. They're now coming back. It's a great thing."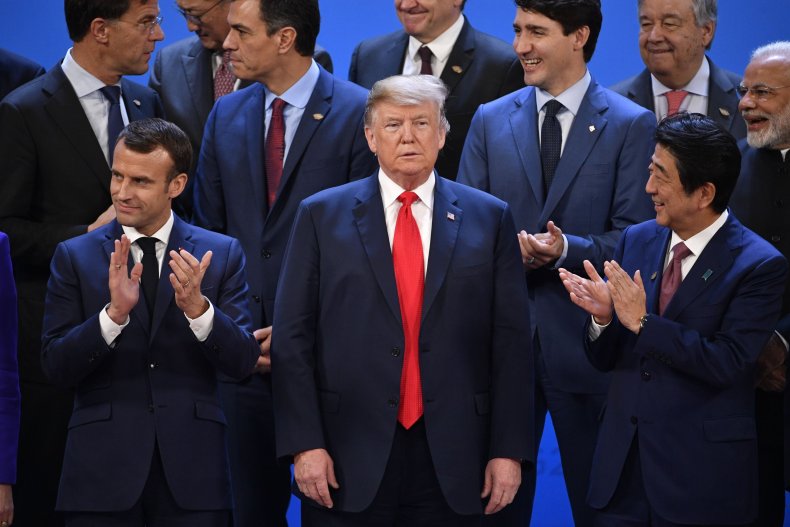 This wasn't the first time Trump claimed that foreign leaders regularly praise him for his economic strategies. Just two weeks ago, he delivered a similar boost to his policies at a rally in El Paso, Texas, saying "nothing like this has ever happened before."
"And you know what? The world is watching, and when prime ministers, and when presidents, and kings and queens, they talked to me, they say, 'Congratulations on what's happened with your economy, Mr. President, it's incredible.' They're emulating what we're doing. They can't believe it," Trump said at the time.
For at least a year, Trump has been making similar comments around the country and even abroad. During the Buenos Aires G20 summit in November, he told Voice of America that "every leader came up to me, virtually, and they said congratulations on the great economy."
Earlier that same month, he told reporters that "when people come to my office—presidents, prime ministers—they all congratulate me, almost the first thing, on what we've done economically" at his post-midterm-election press conference. Near-identical stories were told at more rallies in cities across Florida, Georgia, Indiana, Michigan, Montana, Nevada, North Dakota, Ohio, South Dakota and Wisconsin, and also on the White House lawn in July.
"Once again, we are the economic envy of the entire world. When I meet the leaders of countries, the first thing they say invariably is, 'Mr. President, so nice to meet you. Congratulations on your economy. You're leading the entire world.' They say it almost each and every time," Trump told reporters at the time. "America is being respected again, and America is winning again, because we are finally putting America first."
Trump's leadership has been met with mixed reviews abroad. A survey published in October 2018 by the Pew Research Center placed international confidence in him at 27 percent, beneath the likes of German Chancellor Angela Merkel (52 percent) and French President Emmanuel Macron (46 percent), Chinese President Xi Jinping (34 percent) and Russian President Vladimir Putin (30 percent).
Outlets such as The Washington Post and BBC News have also, while recognizing Trump's contributions to a growing U.S. economy, challenged his claims of a "historic" turnaround from his predecessor.