President Donald Trump revealed he doesn't like to reflect on his decision making process in an interview with Fox News Sunday host Chris Wallace.
"How, when you're sitting at the desk, how do you make decisions?" Wallace asked the president in the Oval Office. "I mean, do you agonize over them, do you second guess yourself?"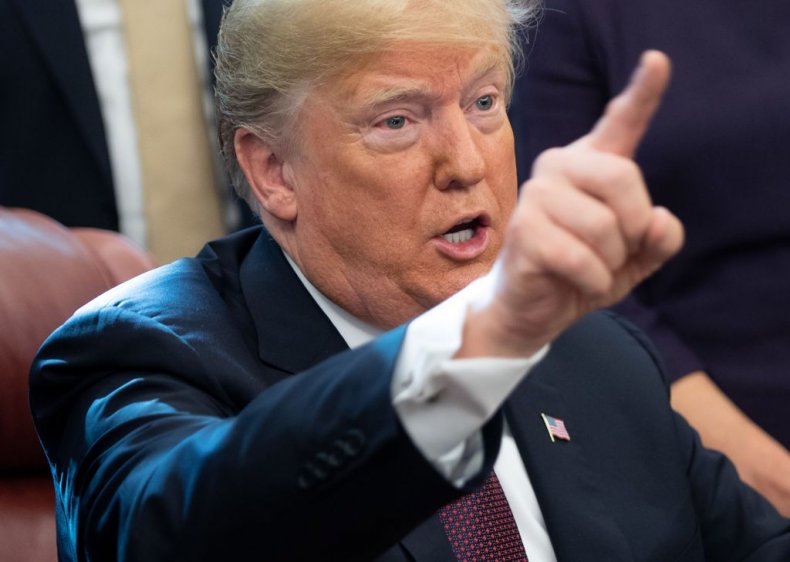 "I don't think about them," Trump replied. "I don't think about, you know, how I make them. I make what I consider the right decision, I have great people working at the White House, they don't get enough credit. I have some tremendously talented people and I will talk to them and sometimes I'll have them go at each other, I do like that, you know let them go at each other. And they do. They've very competitive people and at the end I make a decision and it's certainly—on the economy, a lot of things we've been—we've made a lot of good decisions and I want to keep it that way."
The host asked Trump which decisions he'd found most challenging.
"I think we had a real decision as to which way to go on North Korea and certainly at least so far I'm very happy with the way we went," Trump said.
"Even though there was talk that they putting up new sites?" Wallace asked, referring to a recent New York Times report that showed more than a dozen undeclared operating North Korean missile bases.
Read more: These 38 GOP lawmakers want LGBT protections removed from the new NAFTA deal
"Maybe they are, maybe they're not, I don't believe that, I don't," Trump said. "And you know could be, which is—if that's the way it goes, that's the way it goes. You know, I go with the way we have to go but so far it's been good, we have a very good relationship."
Trump's explanation of how he arrives at decisions reflects comments made by Reince Priebus in an interview with ABC News in March. The former chief of staff said the president likes to pit officials with rival views against each other.
"He puts rivals around him intellectually. You have people like Wilbur Ross ... and Gary Cohn. And he puts those two guys in front of him and says, 'OK, fight out tariffs in front of me.' And they fight it out, the media covers the fight, but ultimately the decision is made ... So the drama is there, but that is how the president makes decisions," said Priebus.