Donald Trump to Hurricane Florence Survivor: At Least You Got a Nice Boat out of the Deal
Another hurricane, another awkward comment from Donald Trump. After spotting a yacht that had washed up in a man's backyard, the president told the survivor of Hurricane Florence, "At least you got a nice boat out of the deal."
The president was visiting New Bern, North Carolina, on Wednesday when he made the remark, according to a White House pool report from New York Times journalist Mark Landler.
Gesturing to a yacht that was sitting in the yard of a man whose home had been ravaged by the storm, and whose insurance company, he said, was unwilling to cover the damage, Trump asked if the boat was his.
On being told it was not, Trump made the remark.
Later, the president said he intended to pursue the matter with the man's insurance company, the Huff Post reported.
Trump's comments came after he had asked about any damage caused by the storm to Lake Norman, which is northeast of Charlotte. A Trump National Golf Club is located on its shores.
"How is Lake Norman doing?" the president asked an official from an energy company. "I love that area. I can't tell you why, but I love that area."
It is not the first time the president has made tone-deaf comments at the scene of a storm disaster. He told survivors of Hurricane Harvey in Houston to "have a good time" and tossed paper towels to a crowd of Hurricane Maria survivors in Puerto Rico, a move that was deemed insensitive.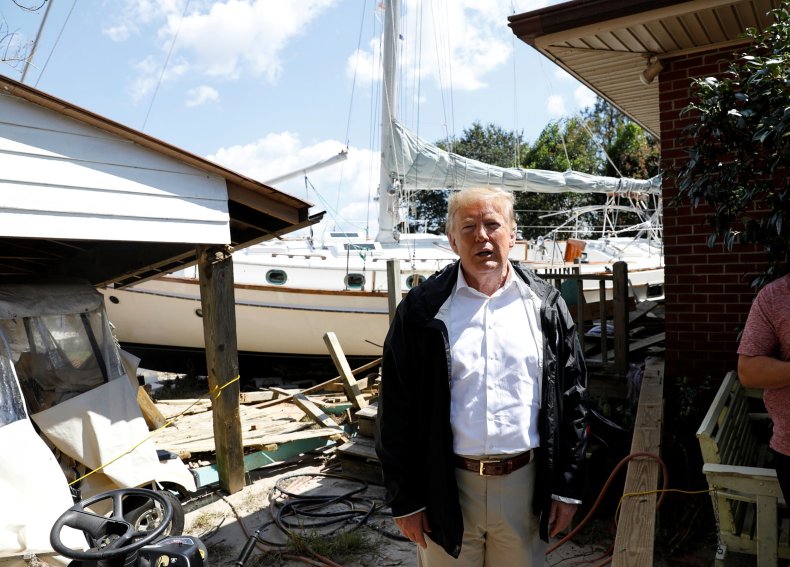 In the lead-up to Florence making landfall on the East Coast, the president issued numerous warnings to residents to heed the advice of authorities and evacuate areas where necessary. But he was also mocked over the language he used to describe the storm.
"The places that are in the way and in the most jeopardy would be Virginia, North Carolina and South Carolina," he said last week. "They haven't seen anything like what's coming at us in 25 to 30 years, maybe ever. It's tremendously big and tremendously wet. Tremendous amounts of water."