Is Donald Trump Profiting Off Natural Disasters Like Hurricane Irma?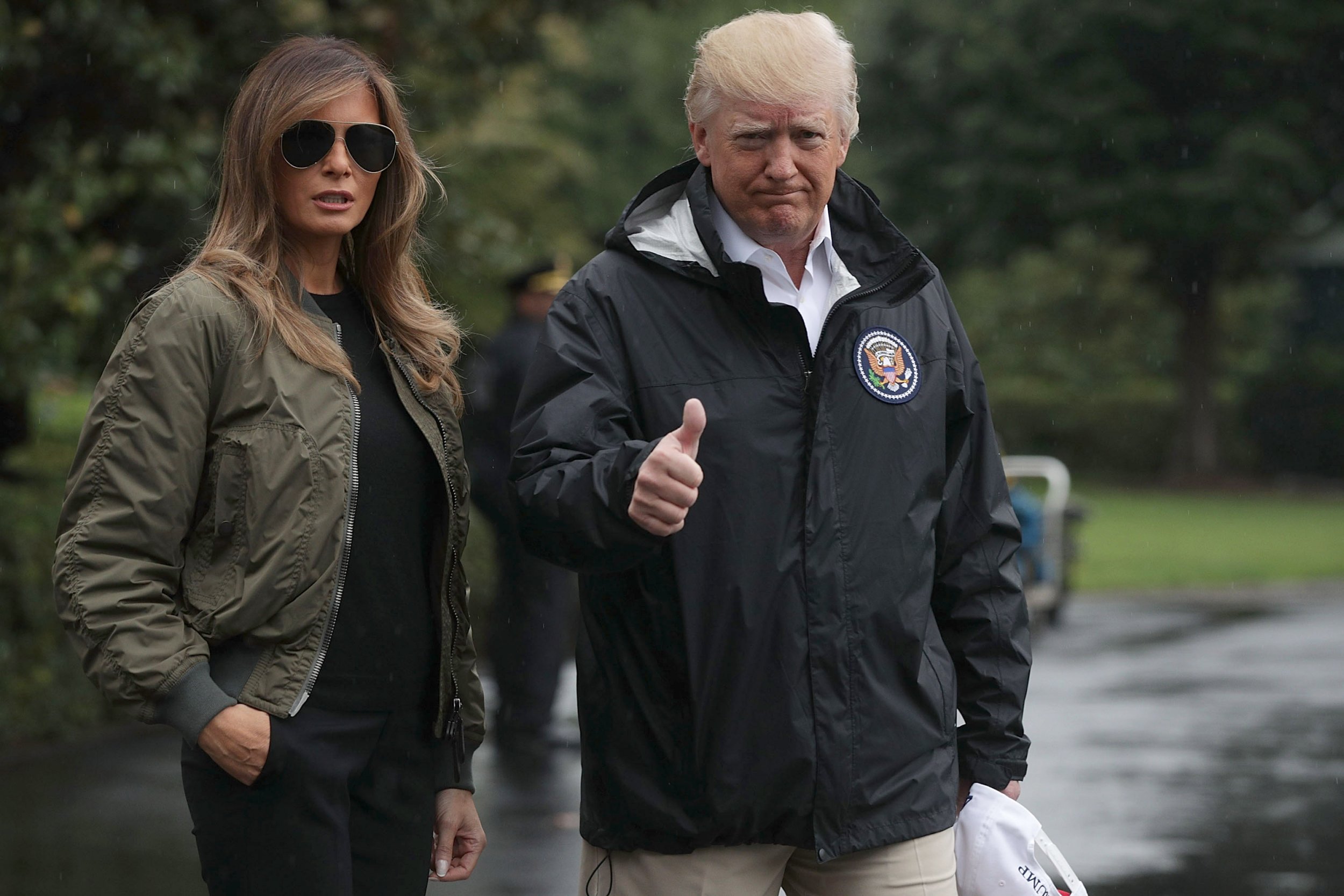 Donald Trump proposed to slash funding for federal disaster relief and emergency preparedness programs just months into his presidency. Now, with Hurricane Irma barreling toward the southeastern U.S. coastline and Houston beginning to rebuild after Hurricane Harvey, the first family stands to add to its bankroll during—and in the wake of—major natural disasters striking the United States.
The president still owns his luxury line of hotels, despite shuffling the daily responsibilities to his sons and saying he is committed to the terms of a blind trust he announced after winning the 2016 election. The Trump National Doral resort is one of those properties. Located in Miami, it has seen a surge in reservation requests in the days before the huge storm hits. "We're at full capacity," a receptionist tells Newsweek. "Luckily our windows are hurricane-proof!"
While those able to pay the high rates ride out what could possibly be one of the most disastrous storms in modern American history from inside the president's resort (built to withstand 200 mile per hour gusts of wind), thousands of local residents are fleeing from the shores of Florida.
Meanwhile, before Trump arrives to survey the expected damage in the Sunshine State, as he did two weeks ago in Texas, his 2020 re-election campaign may be fattening its wallet.
The president was photographed wearing merchandise touting his future presidential campaign during a Harvey press conference, with images of Trump wearing a white hat with "USA" stitched on the front making their way into media coverage and an official White House press release. The $40 "Official USA Cap" is available to purchase on Trump's campaign site, which notes the hat is "worn by 45th President Donald J. Trump, himself."
Ethics experts decried Trump's apparent self-advertising, including Walter Shaub, the former director of the Office of Government Ethics, who tweeted his about his frustrations with the president.
Trump wore his own merchandise during at least three events surrounding Hurricane Harvey, showing off his for-sale presidential gear while boarding Air Force One with first lady Melania Trump en route to Houston, as well as when the two deplaned at a tarmac in Texas.
Meanwhile, the 2020 Trump campaign sent a text message Friday afternoon to subscribers with a quote said to be from the president himself: "I fight for AMERICA. The career politicians and the FAKE NEWS will not stop us!"
"WATCH my new ad," the text continues, "and DONATE so more Americans see the TRUTH!"
Instead of donating to a campaign for an election more than three years away, however, millions of Americans are currently sending their extra cash to charity organizations on the ground aiding the reconstruction efforts across Texas and preparing in Florida, Puerto Rico and the Caribbean.
Trump did vow to donate $1 million to multiple charity organizations to help with relief. Whether he has remains unknown.