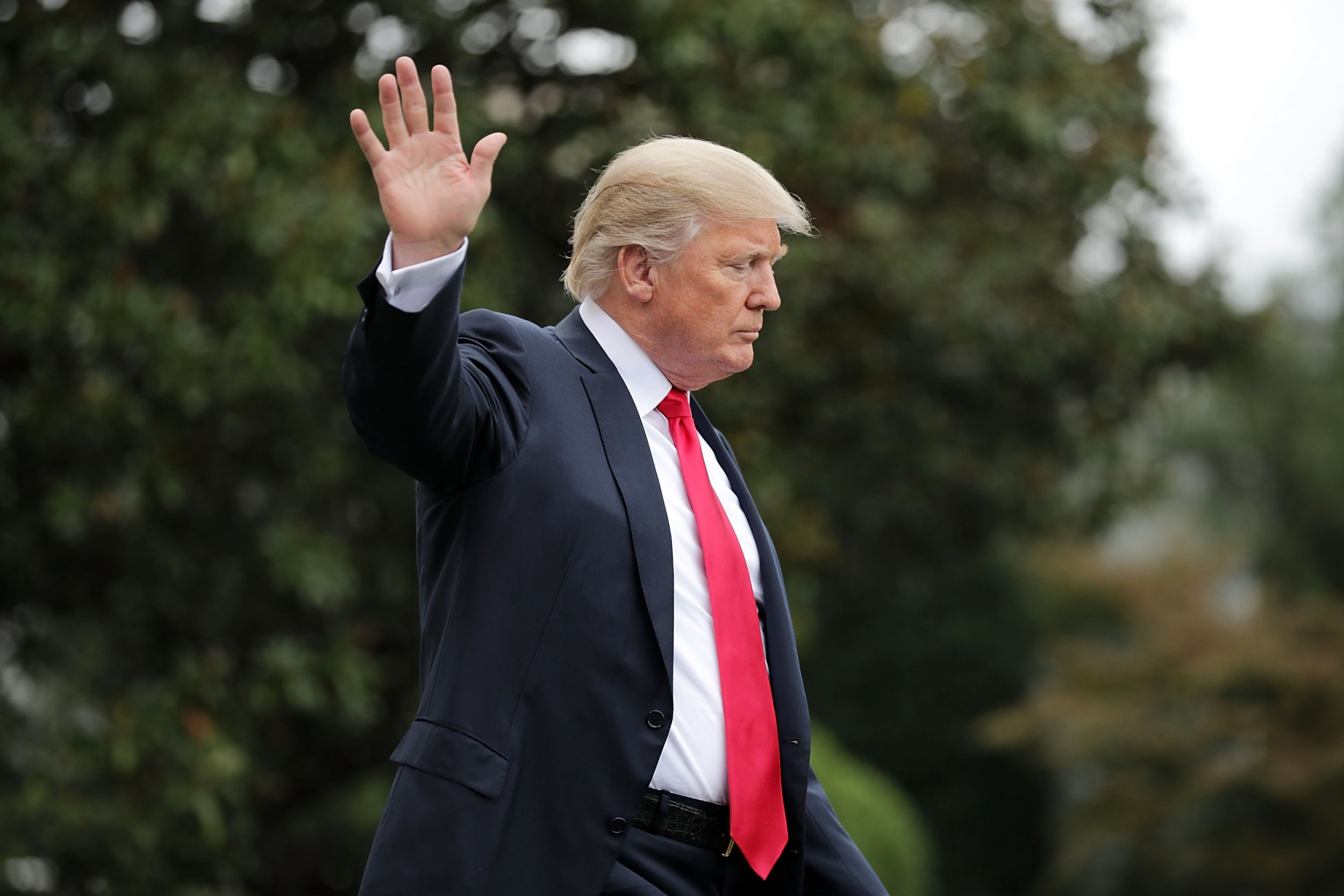 President Donald Trump's thinly veiled Twitter threat against hurricane aid for Puerto Rico on Thursday is the latest example of the striking difference between how the president has reacted to devastating storms in mainland America versus its overseas territories.
Trump's statement that he is losing patience with the relief effort in Puerto Rico came as millions of island residents, who are U.S. citizens, remain without power, clean drinking water and other critical resources, while the death toll rose to 45.
Related: Here's how Donald Trump could actually be impeached
His reaction to the worsening humanitarian crisis was met with disbelief from concerned citizens and lawmakers like Democratic Senate Minority Leader Chuck Schumer, who asked Trump on Twitter, "Why do you continue to treat Puerto Ricans differently than other Americans when it comes to natural disasters?"
Meanwhile, Trump seemed to be working hard for the title of "comforter in chief" following Harvey, the first major natural disaster to affect his presidency. He pledged to donate $1 million of his own money, which went to the American Red Cross, nonprofit Christian organizations and eight other humanitarian groups.
It becomes even clearer just how stark the differences are in Trump's responses when assessing them on a range of issues.
The president's tweets
Trump's response to Harvey in Texas: "TEXAS: We are with you today, we are with you tomorrow, and we will be with you EVERY SINGLE DAY AFTER, to restore, recover, and REBUILD!"
Trump's response to Irma in Florida: "With Irma and Harvey devastation, Tax Cuts and Tax Reform is needed more than ever before. Go Congress, go!"
Trump's response to Maria in Puerto Rico: "'Puerto Rico survived the Hurricanes, now a financial crisis looms largely of their own making,' says Sharyl Attkisson. A total lack of accountability say the Governor. Electric and all infrastructure was disaster before hurricanes. Congress to decide how much to spend … We cannot keep FEMA, the Military & the First Responders, who have been amazing (under the most difficult circumstances) in P.R. forever!"
What he said on the ground
In Texas: "There's a lot of love," Trump said when meeting with hurricane victims at the NRG center in Houston. "Really, I think people appreciate what's been done…it's been done really efficiently, really well and that's what we want. I'm very happy with the way it's been going."
In Florida: "We are there for you 100 percent," Trump said as he shook hands and handed out warm meals throughout Florida. The president promised multiple victims he would return "numerous times." He described Hurricane Maria as a "very special problem" and said, "We're working very hard" on restoring power to impacted communities.
In Puerto Rico: "Now, I hate to tell you, Puerto Rico, but you've thrown our budget a little out of whack, because we've spent a lot of money on Puerto Rico," the president said during a televised meeting with local officials. "If you look at a real catastrophe like Katrina, and you look at the tremendous—hundreds and hundreds and hundreds of people that died—and you look at what happened here, with really a storm that was just totally overpowering, nobody's ever seen anything like this."
The time it took Trump to visit victims
Texas: Four days. (Harvey made landfall August 26; Trump visited August 29.)
Florida: Three days. (Irma made landfall September 11; Trump visited September 14.)
Puerto Rico: 14 days. (Maria made landfall September 20; Trump visited October 3.)
The reactions from local officials
Texas: "The president was heartbroken about what he saw," Governor Greg Abbott said after flying over the damage in Texas aboard Air Force One with Trump. "He is committed to ensuring that Texas can rebuild."
Florida: "This is not a time for politics, this is a time to help people," Florida Governor Rick Scott said in a press conference on September 29 at the White House, praising the president for the federal response to Hurricane Irma. "Our state has come back strong, we have our power back, people are back in business."
Puerto Rico: "@POTUS It is not that you do not get it; you are incapable of fulfilling the moral imperative to help the people of PR. Shame on you!" San Juan Mayor Carmen Yulin Cruz tweeted Thursday following Trump's visit to her city earlier this month. "Your comments about Puerto Rico are unbecoming of a Commander in Chief they seem more to come from a 'Hater in Chief.'"
The call for equal treatment was also made by Puerto Rico's Governor Ricardo Rossello, who wrote Thursday, "The U.S. citizens in Puerto Rico are requesting the support that any of our fellow citizens would receive across our Nation."