Will Donald Trump's Love of Hyperbole Backfire?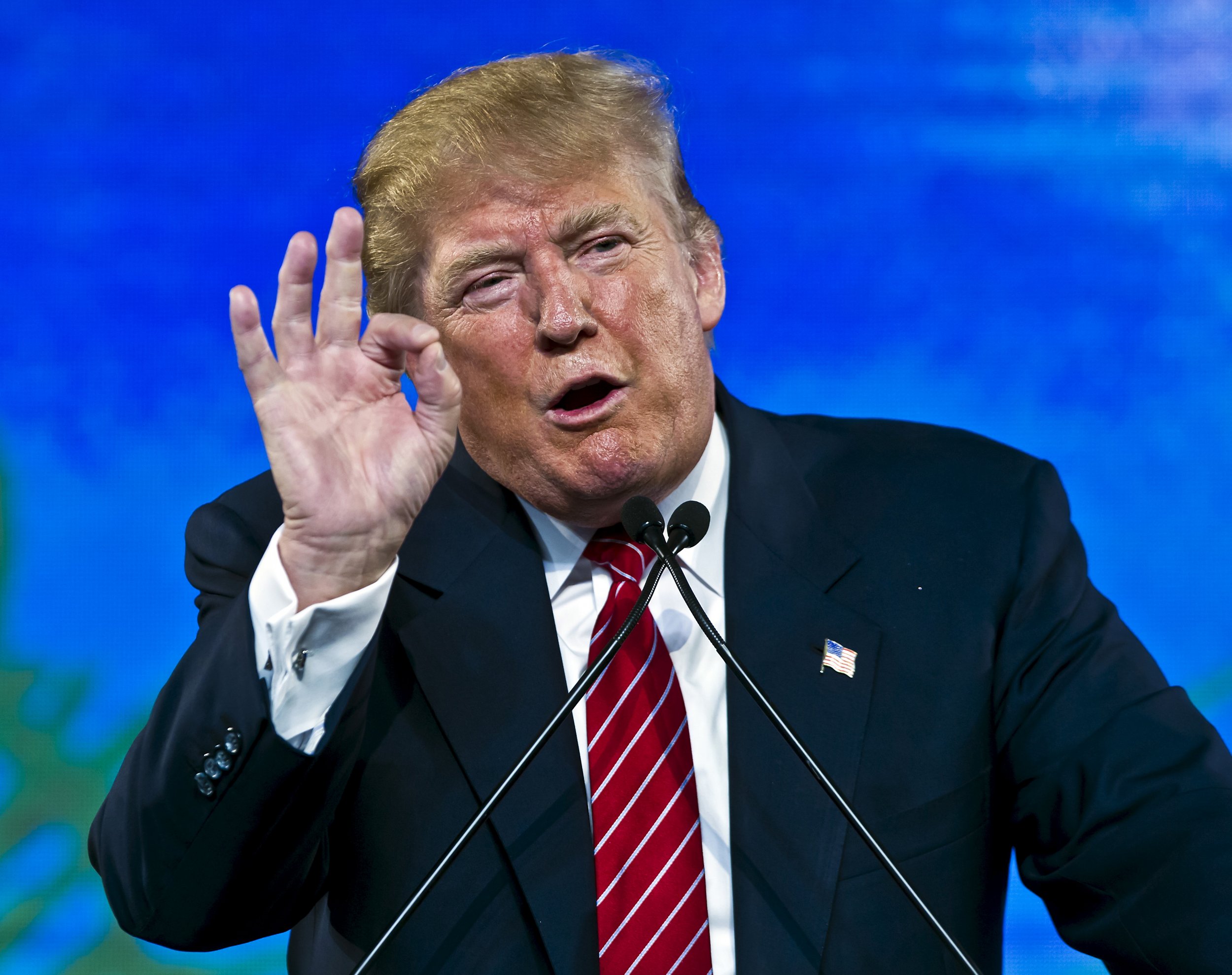 Manhattan real estate lawyer Jon Mechanic remembers the summer day a decade ago when Donald Trump gave him a tour of a vacant retail space inside the Trump Tower on a glittering stretch of Fifth Avenue in Manhattan.
Mechanic was representing Gucci, and the luxury retailer was already sold on opening a flagship store in what was unquestionably a prime location. But the salesman in Trump still couldn't resist pumping it up in his sales pitch. "He said it was the best retail space, in the best retail building, on the best corner, in the best city in the world," Mechanic recalled.
Mechanic still has a copy of Trump's book, "The Art of the Deal," which the billionaire inscribed during the visit: "To the greatest real estate lawyer in the world, best wishes, Donald."
Anyone who has witnessed Trump's meteoric surge to the top of the 2016 Republican presidential field is familiar with that style of Trump Talk - a mix of bullish optimism and hyperbole. It may in part explain his rise in the polls. While his competitors gravely list the country's ills, Trump tells voters how fantastic everything is going to be once he's president.
He has pledged to be "the greatest jobs president God ever created," to be "better on women's health issues" than Democratic frontrunner Hillary Clinton, to seize Iran's oil reserves, to beat up on China while making "them like us," to force Mexico to pay for a new 2,000-mile (3,219 km) wall along its border with the United States, and to round up and deport 11 million undocumented immigrants.
But campaigning for the White House is different than hawking commercial real estate. Trump's penchant for exaggeration could backfire - he risks promising voters more than he can deliver.
Trump himself has recognized this risk, calling out in "The Art of the Deal" former presidents Jimmy Carter and Ronald Reagan for overpromising. More recently, this week on Twitter, Trump referenced former President George H.W. Bush's infamous "Read my lips: no new taxes" pledge.
In a recent interview with The Hollywood Reporter, Trump indicated he understood he would have to tone things down over the long haul of the presidential campaign, saying he would have to be a "little more selective" in the things he says.
Nevertheless, Trump's over-the-top style has its admirers.
For Vincent DeVito, a lawyer who has worked on Republican presidential campaigns, Trump's campaign slogan, "Make America Great Again," says it all.
DeVito said Trump was trying to address a feeling of malaise in the country. He dismissed the idea that the billionaire was overhyping his abilities.
Those trying to gauge how Trump's hyperbole could help or hurt his chances of winning the White House could look at his business record.
Trump's lawyer Michael Cohen said Trump's record of success was "proof positive of Mr. Trump's character and capabilities."
'TRUTHFUL HYPERBOLE'
Optimistic exaggeration, which Trump called "truthful hyperbole" in "The Art of the Deal," is a hallmark of the cutthroat New York real estate world where many developers, accustomed to ramming their way into deals, puff up their portfolios.
"A little hyperbole never hurts," he wrote. "People want to believe that something is the biggest and the greatest and the most spectacular ... It's an innocent form of exaggeration - and a very effective form of promotion."
For Trump, exaggerating has always been a frequent impulse, especially when the value of his Trump brand is disputed. In some instances, braggadocio has served him well, in other cases it has backfired.
In the early 1990s, when a recession swept away large portions of his New York real estate empire, Trump fought with creditors and their lawyers to hold on to his interest in properties like the Plaza Hotel, financed by loans he'd had to personally guarantee.
In one boardroom packed with bankers and lawyers, according to three people familiar with the scene, Trump tried to argue that his name - which was attached to several buildings that lenders were threatening to possess - was worth more than they were acknowledging. Many multiples, he said.
A lawyer for one of the creditors shot back: The cash flow estimates on the properties were demonstrably negative. So, many multiples of a negative number would make a larger negative number, the three sources recounted.
Ultimately, Trump's creditors eventually decided not to repossess some of his properties because they weren't worth the costs associated with the repossession, one of the sources said.
"Every successful individual throughout history has had at one point in their lives a downturn," Trump's lawyer Cohen said. "Mr. Trump's was the result of a down market in real estate during the 1990s. The true test of a man's capability is how he deals with that adversity and where he is today."
Since the 1990s, some investors in Trump projects have complained the developer overpromised investors on their potential returns.
Investors who bought junk bonds to help finance the Trump Castle casino in Atlantic City, New Jersey, filed a class action suit accusing Trump and his company of misrepresenting its financial health when the value of the bonds plummeted.
Trump denied any liability, arguing that the investors were fully informed of the risk involved. The suit later settled for an undisclosed sum.
More recently, pending suits by condo owners in the Trump Toronto Hotel and retirees who spent thousands to attend courses offered by the now-defunct Trump University accuse Trump and his business partners of promising far more than they can deliver.
In the case of the Toronto property, investors in condos complained they were given overly optimistic projections of what they could earn and were not informed that they would have to pay commercial taxes on the property. Trump University customers said in a suit they were promised appearances and instruction by Trump but encountered only a cardboard cutout of the real estate mogul during weekend sessions on business success in a hotel ballroom. In both cases, Reuters obtained and reviewed copies of the lawsuits and subsequent court filings.
Trump and his lawyers have said the pending suit over Trump University is baseless. His lawyer Alan Garten called it "totally lacking in any merit."
A judge dismissed Trump from liability in the Toronto suit, saying it was his Canadian partners who had overestimated potential earnings on the property and that Trump had merely licensed his name, but lawyers for the plaintiffs say they plan to reintroduce the claim in an appeal.
PRESIDENTIAL SETUP
Washington of course is no stranger to hyperbole.
President Barack Obama was criticized for telling voters they would be able to keep their insurance plans intact under his healthcare overhaul, Obamacare, when in fact they couldn't. And Republicans in the House and Senate have yet to fulfill their promise to swiftly repeal the very same healthcare legislation once they took control of Congress, which they did in the 2014 midterm elections.
Anger over those failures is partly what's driving Republican voters toward Trump: In surveys, many respondents say they no longer trust elected officials. But Trump's sweeping pledges could also be setting him up for a fall.
Trump may be promising too much, said Michael Wissot, a Republican strategist and lecturer at the University of Southern California.
"Convincing Mexico to pay for a fence along our border is unrealistic," he said. "Deporting 11 million undocumented immigrants is a logistical nightmare. These are examples of putting himself in a very precarious position even if he were successful," he said.
Recently Trump has been talking up his similarities to Reagan. Both were once Democrats. More important, both spent years in front of the camera, honing their images.
But almost 30 years ago, Trump viewed Reagan with a more jaundiced eye.
"He is so smooth and so effective a performer that he completely won over the American people," Trump wrote of Reagan in "The Art of the Deal." "Only now, nearly seven years later, are people beginning to question whether there's anything behind that smile."