Donald Trump Is a Hypocrite: Jimmy Kimmel Lays Bare President's Many Contradictions After Trump's Attack on John McCain
Fresh from his crusade against the now-dead Graham-Cassidy health care bill, Jimmy Kimmel is taking on President Donald Trump.
On Tuesday's Jimmy Kimmel Live, the late-night talk show host happily pointed out Trump's hypocrisy after the president scolded Senator John McCain for wanting to repeal and replace the Affordable Healthcare Act, only to vote against the GOP bill.
"My oh my has he changed-complete turn from years of talk!" the commander-in-chief tweeted Monday.
But wait. McCain isn't the only person to completely contradict earlier claims, as Kimmel pointed out.
"Donald Trump has more flip-flops than a Jimmy Buffet concert," the comedian joked. "No-one contradicts himself more. We put together the 'bigliest' about-faces from Donald Trump himself."
Cue a video package of pre-presidency Trump, among other things, saying, "Hillary Clinton is a great woman" in 2008 and claiming in 2004 that he identifies "as a Democrat."
Related: Jimmy Kimmel reacts to the Trumps' awkward handshake
Kimmel also played a clip of Trump, while on the election trail, saying, "I'm going to be working for you, I won't have time to play golf" if he were to become president. According to the handy website TrumpGolfCounter.com, the president has visited golf clubs 60 times since his inauguration in January and played at least 24 times.
More doozies from Trump before he entered the White House include: "It just seems the economy does better under the Democrats than the Republicans" in 2004 and, "If I run for office, I'll produce my tax returns, absolutely." The twice-divorced businessman also once said,"I hate the concept of divorce," in an interview with CNN.
All of this prompted Kimmel to giggle: "His memory is shorter than his fingers."
Kimmel said Trump's criticism of McCain was "disgraceful," referring to a report that the president called the Arizona senator's response to the GOP bill a "disgrace" at a private dinner this week. McCain "is at home fighting brain cancer right now," said the late-night host, adding: "What's your brain's excuse?"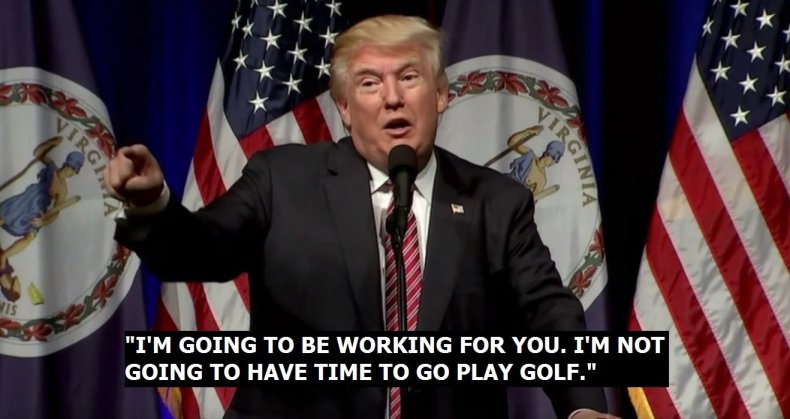 The comedian further praised McCain's heroism during the war in Vietnam, where he was a prisoner of war, and called out Trump for saying NFL players were unpatriotic for kneeling during the national anthem.
"He's insulting a man with a purple heart," said Kimmel. "Senator John McCain, when he was a young man, he went to Vietnam, he was beaten viciously. He was a prisoner of war, they offered to release him but he said 'no,' because he refused to leave his fellow soldiers behind.
"Donald Trump got out of even going to Vietnam because he had a bone spur in his foot."